Casanova #2
By Matt Fraction and Gabriel Ba
$1.99, 16+ pages, Two Colours
Reviewed by Christopher Butcher
PREVIOUSLY IN CASANOVA
   We met Casanova Quinn in the act of stealing the Seychelle Ruby, which turned out to be Ruby Seychelle—a beautiful robot concubine to criminal data mogul Sabine Seychelle. From there, Cass' night goes very badly.
   Something's happened to E.M.P.I.R.E.'s star agent and Casanova's twin sister Zephyr—namely, she died. Cass and his father fight at her funeral. Afterwards Cass has a cracked jaw and a mysterious doohickey in his pocket. The mysterious doohickey… OF DESTINY!
   We won't blow it for you, but by the time the smoke cleared, Cass had been abducted into another timeline by Newman Xeno, his father's arch-rival and the ruler of W.A.S.T.E., an ambiguously-named Pynchon reference that exists to make Cornelius Quinn's life miserable. Here in Timeline 919, it was Casanova that was E.M.P.I.R.E.'s star agent, and Zephyr that was into all the sketchy shit—and nothing is sketchier or shittier than Newman Xeno, who is totally her boyfriend.
   And now, with both the Quinn kids in his pocket, Newman Xeno has sent Casanova to integrate himself back into the awaiting arms of E.M.P.I.R.E.… 
   – From the inside front cover of Casanova #2, by Matt Fraction.
Casanova #2 is a second first-issue of sorts… With #2 the series adopts its standard format of 16 pages, its fully 5 pages of notes and back-up material, and introduces the character's new status quo: totally fucked. That's the problem with being a triple-agent, there are rarely easy assignments.
The theme for this issue? Loosely "fathers and sons," but more accurately "creators and creations." Speaking of the wall of sound technique that author Matt Fraction described last issue, this issue positively resonates with the familial interactions, layered on top of and often bumping into one another. E.M.P.I.R.E. (which is a pain in the ass to type, by the way) inserted double-agent Winston Heath into a hot zone, created a whole new personality and life for him. E.M.P.I.R.E.'s director is sending his son in to retrieve the agent. The bad guys want him killed. And the double agent? Why, he's been writing a comic book version of his life and just wrote his own death scene at the hands of… well, you can figure it out. This issue really digs into its themes by setting Cass as a sort of ultimate teenager; rebellious, horny, buzzing with energy and testing his boundaries. Casanova either attempts or succeeds to rebel against literally every father/creator-figure in this book, this issue, to various (and shocking!) effects. The end of the issue features three great "Fuck you, Dad!" moments that really hammer the point home. He better watch out or he's gonna get grounded…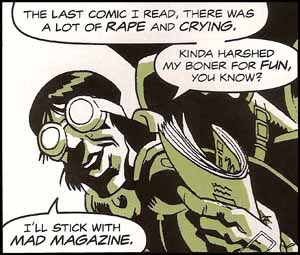 Speaking of hot zones, the area is very hot indeed; the setting for the issue is a tropical city that's powered by massive amounts of sex energy flowing through the air. A non-stop orgy fueled by Mother Earth's own orgone, and facilitated by an army of buxom sex robots. Sex in comics is always… interesting. If it's fun and enjoyable sex, it's labeled porn. If it's dirty, ugly, awkward sex, then it's probably a Dan Clowes comic (no offence to Mr. Clowes of course; his sweaty, uncomfortable sex scenes are always wonderful to read). There's very little sexy middle ground in comics, characters polarized firmly to virgin or whore. I can appreciate the way that superhero writers like Gail Simone get behind and defend the characters they write as sexy without being… well, slutty I guess, but when the dude actually drawing your book is simultaneously showing your character's tits AND ass, that kind of flies right out the window. And Lost Girls by Moore and Gebbie as a work exists to celebrate sexual diversity, but it all feels strangely clinical and un-scintillating to me. Luckily, Matt Fraction addresses that issue head on. Sure, all of the female characters in the first two issues have been either sex objects (sometimes literally, as in the case of the many sex robots…), or his creepy sister, but this issue? Two naked dudes fight for four pages while the sex robots are liberated and rebel against their depraved master! Hott! Seriously, cocks-a-flappin', muscles tensed, men flying through the air all the while debating the central theme of the issue—creator versus creation—and the whole thing ends in a great big violent metaphorical cum-shot! It's a first in my comics reading.
Gabriel Ba is ideally suited to this book, by the way. His work has a sort of organic angularity that lets characters go from fashion-illustration lovely to comically (or terrifyingly) grotesque in a panel's time, and still look consistent and "on model" throughout. He knows when to use shadows, when to reduce or add detail, and how to design pretty-much anything, apparently. It's kind of amazing, actually, how thoroughly realised the world of Casanova is (and he does it all on a book that averages 7 panels a page!). I bring this up because in the back-matter of this issue, we see little snippets, panels and illustrations, from the comic that double-agent Heath had been creating. After 16 pages of Ba's carefully chosen lines and details, the feathery pencil realism of the super-spy-comic-within-a-super-spy-comic is jarring as hell. It's a bit like Phil Jimenez taking over for Mike Mignola half way through an issue of Hellboy. While the other art isn't "bad" and might even be more palettable to a wider spectrum of the comic book buying audience ("superhero fans"), instead we get a style that gives the book a unique visual description, a look unlike anything on the stands. While I may reference author Matt Fraction more frequently in these reviews, I want to state for the record that Ba's art is absolutely essential to the success of this book, and I can't actually think of another artist who could tackle this.
Speaking of the back-matter of the book; this issue sees Matt Fraction provide five full pages of notes and background on the issue. Part of the appeal of the format, part of it's manifesto if you will, is to create a solid read. Something that feels like it was a good chunk of story with a beginning, middle, and end, and worth much more than the $2 you paid for it. It's a bit like, say, an episode of Buffy The Vampire Slayer. One of the good ones from the middle there. It's only 40 minutes long, yeah, but instead of the 20 minutes of commercials you're normally stuck with, at the end Joss Whedon comes on screen and talks to you about the episode and, you know, how things are going. You'd like that, wouldn't you?
This issue's back-matter also seriously digs into the process of writing a comic book, specifically Fraction's and specifically this issue. Honestly, if you're an aspiring comics creator you'll probably get more out of this than looking at someone's scripts or reading a hundred Newsarama interviews. THIS ISSUE: FRACTION ACTUALLY TELLS YOU WHERE HE GETS HIS IDEAS FROM. The unanswerable question answered in 5 pages. It's kind of shocking.
Er, I guess we're at the end now. I enjoyed this issue quite a bit, but then I've enjoyed them all so as a series of "reviews" this probably doesn't work at all, actually. I've just given it away: It's all good, go buy it! Sorry. Still, 4.5 Days of Casanova continues soon.
– Christopher