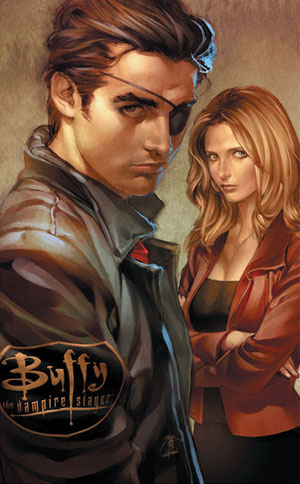 Updated April 2, 2007. Hi there folks. These are the comics that are scheduled to ship to The Beguiling Books & Art in Toronto, Canada this week. These books may not show up at all retailers at the same time, but if you see a title here it's probably at least worth asking your local retailer about… 
Here's my top 5 choices this week:
FEB070070Â BUFFY THE VAMPIRE SLAYER #2Â 2.99
FEB072146Â RUNAWAYS #25Â 2.99
Despite bumping up our orders on Buffy, I just don't think we're going to have enough copies in stock to meet demand (and so I put in a reorder on the weekend). It's pretty incredible, how this book has taken off, and starting this issue we'll start heavily cross-promoting this book with other works. Luckily, Marvel does a little bit of our work for us, by releasing writer Joss Whedon's first issue of Runaways on the same day as Buffy #2. Despite not really digging his Astonishing X-Men run so much, I liked Buffy and am eager to see what he does with Runaways. Here's hoping it hooks readers!
FEB072100Â DARK TOWER GUNSLINGER BORN #3 (OF 7)Â 3.99
I enjoyed the second issue here as well, happily. It's looking like a good series on the whole, and it's shipped very promptly, which I think everyone appreciates.
JAN073935Â DRAGON DRIVE VOL 1 TP (C: 1-0-0)Â 7.99
JAN073552Â SHUGO CHARA VOL 1 GNÂ 10.95
I know 'manga' all seems like it's "For Kids" to most readers over 18, but it's actually really tough finding manga for actual children, as even many of the Shonen Jump titles have a 16+ rating on them. DragonDrive is a new Shonen Jump title, rated and aimed at the under-10 set, and while I have absolutely no interest in it I'm overjoyed that it exists, we'll sell a ton of them just because there's not that much out there for that market… Borders and B&N probably won't do anywhere near as well with it because kids will always grab for the older material, but for librarians and educators? They need stuff on the shelves for kids, and Naruto with it's booby-humour in volume one doesn't make the cut.
On a similar note, Shugo Chara from Del Rey will do well for many of the same reasons. It's about little girls, middle-school cliques, and Guardian Angels. We're gonna sell a ton. 🙂
DEC063960Â ELKS RUN GN (C: 0-1-2)Â 19.95
Now complete after it's aborted run through Speakeasy, Elk's Run got really good word-of-mouth during it's release. I didn't find out until recently that it's illustrated by a Canadian, Noel Tuazon, which is pretty exciting. The Beguiling is teaming up with some local folks to throw a release party for Noel and the book on April 26th. Details forthcoming on the blog. Congrats Noel!
FEB072144Â OMEGA FLIGHT #1 CWI (OF 5)Â 2.99
Speaking of Canadiana, seeing as how Alpha Flight has been treated over the past 10 years or so, at best I hope this just doesn't out-and-out suck. I don't have high hopes. Actually, it's not so much that I care–am I a bad Canadian if I admit to not giving a shit about Alpha Flight?–but that I'd really rather not hear about how bad it sucks from the customers at the store. Actually, I probably didn't order enough of this one either…
JAN070311Â SGT ROCK THE PROPHECY TPÂ 17.99
This was a pretty darned good little mini-series. Glad to see that there's finally a trade paperback.
Complete shipping list behind the cut…