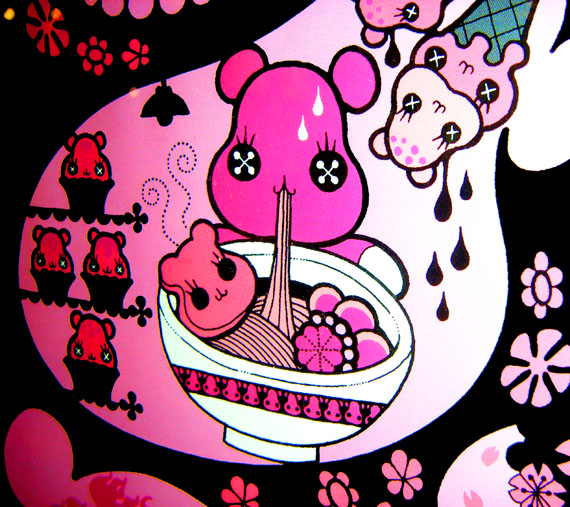 I was out wandering the various Asian malls that make up Toronto and surrounding areas, and was reminded by this poster just how awesome Junko Mizuno is. Mizuno is a mangaka whose work has sporadically been published in English, primarily as part of the defunct Pulp line by Viz. Her three fairy-tale inspired graphic novels, Cinderalla, Hansel & Gretel, and Princess Mermaid mix her trademark cute-grotesque style of art with an end-of-the-millennium Japanese cultural mania and inject them into classic and seemingly comforting tails. In addition to the triumverate of colour fairy-tale manga, Mizuno has also had two black and white manga translated into English; Pure Trance and The Life of Momongo (which appeared in the out of print anthology Secret Comics Japan). Pure Trance is probably Mizuno's masterpiece, a sprawling and depraved journey through the end of the world and the breakdown of society, as viewed through a sort of Kabuki-cho-Powerpuff-Girl lens, though Momongo is probably my favourite for its distillation of Mizuno's themes and style down to a short, sharp story.
As you can see above, that top illustration is just a small part of this larger poster, the art of which inspired these plush toys from the PostPet line… I didn't end up buying the toys, sadly, though I could've got the pair for $40! Maybe they'd have thrown in the poster too? Anyway, if anyone loves me as much as $40, now you know what I'd like for my birthday.
Back to our subject… Mizuno has always been a solid illustrator, and recently she's been moving more and more into the illustration/high-end vinyl toy/fine art world, much to comics' loss (though there are still many volumes of her work that remain untranslated… I've got 3 myself!). In addition to these plush toys, there've been a ton of great vinyl adaptations of her work and you can see more at her blog (linked below). An outstanding collection of Mizuno's illustration is on display in the Mizuno art book Hell Babies, as notable for all of the great illustration it contains as it is for its superlative presentation; puffy, sparkly vinyl covers house die-cut rounded pages and multiple paper stocks. Published in North America by Last Gasp, Hell Babies is out of print at the moment but fret not! A new edition of Hell Babies was released in Japan last year with an additional 16 pages, and I've been led to believe we'll see an English edition sooner than we think…
Of course, for those of who can't wait, The Japanese edition is currently in stock at The Beguiling, thanks to a trip to Japan… It's pretty awesome, and looks lovely as part of my little Junko Mizuno collection. If you want one drop us a line at mail at beguiling dot com, but they should be available everywhere by the end of the year.
Oo! Look! Extra pages with the shiny paper! How can you resist?
For more information on Junko Mizuno, here're a few links:
jaPRESS (Mizuno's North American Agents): http://www.japress.com/
Junko Mizuno @ Wikipedia: http://en.wikipedia.org/wiki/Junko_Mizuno
Junko Mizuno @ Viz: http://www.viz.com/products/products.php?series_id=86
Junko Mizuno Website (Under Construction): http://www.h4.dion.ne.jp/~mjdotcom/
Junko Mizuno's Blog: http://jmnews.exblog.jp/
- Christopher