What you're seeing above is the de-lovely Prada 'epicentre' in Tokyo, decked out in the new face of the line, illustrated by James Jean. I'd previously mentioned the Fables and Umbrella Academy cover artist's work with Prada a few weeks ago, after realizing that no one was covering this story and I felt it was a big one… Anyway according to Wallpaper* Magazine, the James Jean illustration is now covering the Japanese flagship store in honour of the release of the second installment of the Trembled Blossoms animation. Pretty damned impressive! Wallpaper* also had another nice photo of the Prada spring/summer 2008 show that featured Jean's art that I thought I'd include.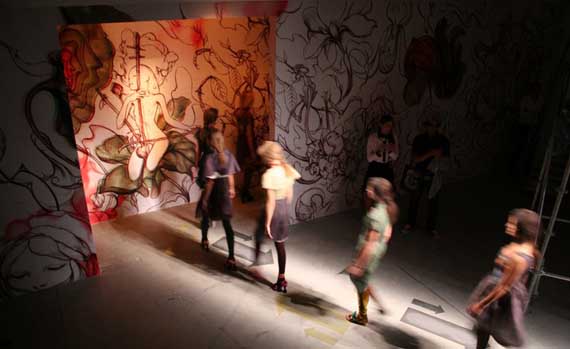 I hope that James get all that's coming to him out of this…
- Christopher
Photos apparently Copyright 2008 Wallpaer* Magazine.