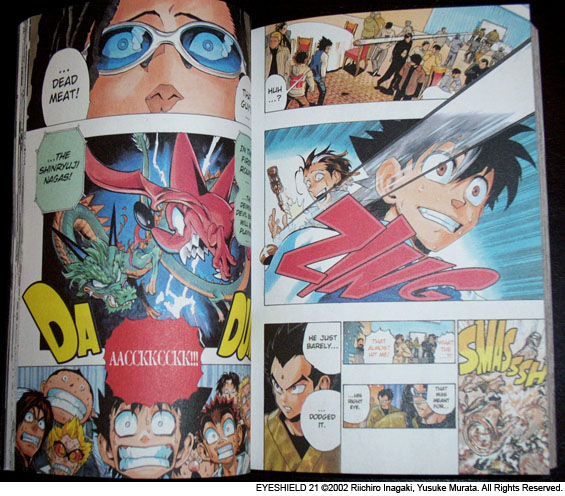 I don't know if this is ruining the surprise or just making sure you don't miss it… Eyeshield 21 Vol 19 hits comics shops everywhere tomorrow, and it features a chapter in full colour! Mirroring the Japanese release of the series, this volume features a chapter that ran in full colour in Japanese Shonen Jump, in what looks like a marker/paint combo by series artist Yusuke Murata. It looks great too, crisp and bright and immaculately produced. I kind of want anything I do in colour to show up on matte/uncoated stock I think? Anyway.
While many manga publishers had begun to print the first few introductory pages of a manga in colour on a special insert, it's very rare indeed to include a full-colour chapter… Other than some of the recent prestige releases like Tekkon Kinkreet, and a very notable sequence at the end of Yotsuba Volume 3, I can't think of too many other North American manga that have gone to such lengths to preserve the integrity of the original release. Very cool stuff.
- Christopher
Thanks to Derek for the pic.