Hey everybody! I just got back from the reason for my little sojourn to New York, a rare in-store appearance of manga-ka Takehiko Inoue, author of Vagabond, Slam Dunk, and Real. The event was part of the opening ceremonies for Kniokuniya Books' new store location on 6th Avenue across from Bryant Park, and it featured an original mural from Inoue-sensei, and a swank little cocktail party followed. I… I actually got to interview Inoue-sensei and I found him to be a charming, thoughtful creator and it really was a once-in-a-lifetime interaction. The results of my interview will be making their way online in the next little while, but I did take a ton of photos of the event that I'm gonna share with you here… enjoy!
Kinokuniya's new location is lovely, and packed to the gills with manga and anime. The location was decked out in Viz schwag and featured a rather nice Inoue boutique selection.
The centerpiece of the event was this giant mural that greets customers at the top of the escalator. According to reps, each wall took about 3 hours to get to the stage you see them at, and the lower-right side of the standing figure (and the characters eyes) would be finished during the event, in front of an audience.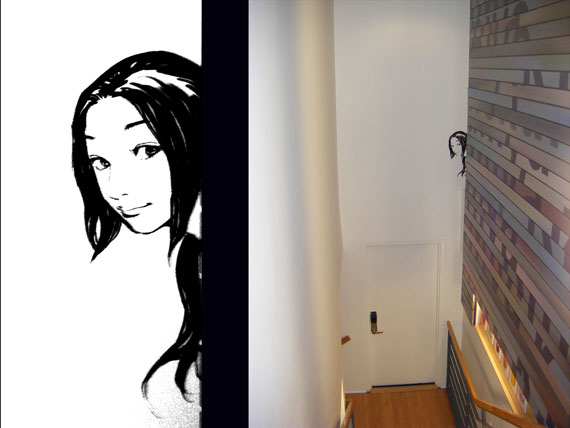 Fewer attendees picked up on this much smaller painting in the stairwell… but it's pretty darned great.
Before the event got underway, Inoue-sensei gave a number of interviews which should be making their way onto the internet momentarily. From l to r, Takehiko Inoue and Viz Editor and translator Andy Nakatani.
The show got underway, with Inoue-sensei mixing up his paint and getting ready to finish his mural.
I can think of fewer things more terrifying than trying to paint a mural to be seen by thousands, and doing it while 30 people are constantly photographing you.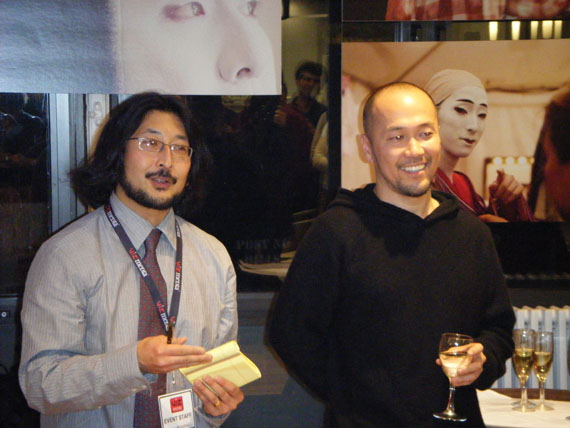 Following the completion of the mural, representatives from Viz addressed the audience, announcing that in addition to the launch of Inoue's Slam Dunk in the Shonen Jump line, Viz will be releasing Inoue's wheelchair-basketball saga REAL this summer, and will be reformatting Vagabond this fall into an omnibus edition that will collect 3 standard-sized volumes in each new volume, as well as releasing both of Inoue-sensei's artbooks in English language editions. Inoue then addressed the audience directly thanking them for coming, and enjoying his work. Then we toasted! Bubbly for everyone.
Audience members included indie cartoonist and SVA Professor Tom Hart, and Sva Prof and soon-to-be-Dad Matt Madden.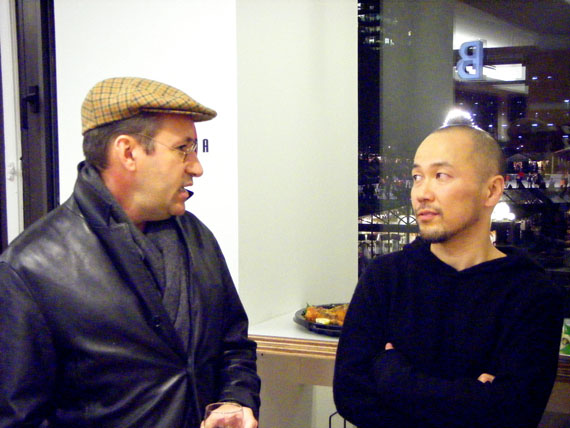 Towards the end of the evening super-fabulous designer Chip Kidd arrived and the two artistic gurus conversed and bonded over the galley Kidd brought with him of his new book for Pantheon, a collection of Adam West-inspired 1960s Batman manga! (It looks absolutely AWESOME, by the way.)
Then, like all good things, it came to an end and it was time to go. I snapped a few photos of the finished murals on the way out.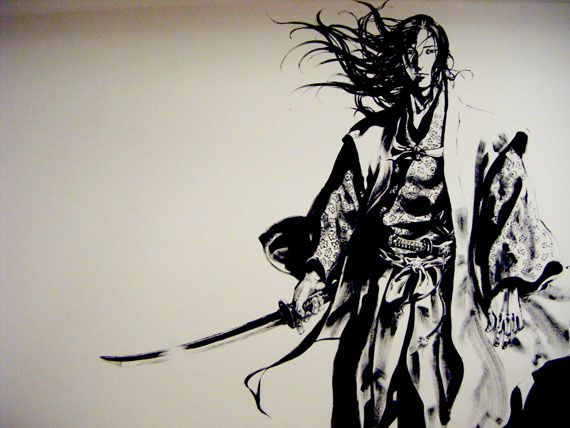 Congratulations to Kinokuniya on a fabulous new store, and to Viz throwing a wonderful bash celebrating the work and career of Inoue-sensei, a wonderful creator. I'm looking forward to even more-stuffed bookshelves in the coming months.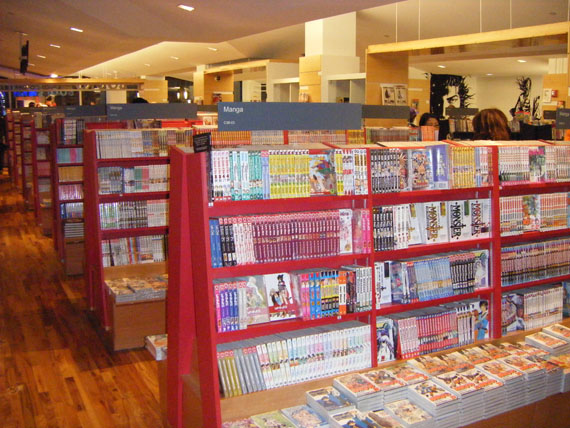 Viz's full press release for the event and the Takehiko Inoue announcements is after the cut: