PLEASE INCLUDE IN YOUR LISTINGS
TCAF PARTY: SONGS & PICTURES
Featuring Kupek, Little Brown Bat, and Ragni
Saturday, August 18th, Doors Open at 9PM
Sneaky Dees, 431 College St. @ Bathurst
Second Floor
$5 Cover
What to do after TCAF? Why not head to Sneaky Dees (just 15 minutes walk from both The Beguiling and Victoria College) to hang out at the TCAF PARTY! Featuring plenty of cheap eats and drinks, the evening will feature performances by a number of talented Canadian comics creators who also play fantastic music as well!
Featuring (in order of appearance):
KUPEK: Scott Pilgrim creator Bryan Lee O'Malley's one-man-band starts off the night with it's acoustic guitar-pop tracks. Fun Fact: Scott Pilgrim 4 is set inside Sneaky Dees. Meta! Check out Kupek on MySpace.
LITTLE BROWN BAT: Violet Miranda: Girl Pirate creator Willow Dawson plays the saw and sings in this atmospheric alt/folk band out of Toronto. Check out Little Brown Bat on MySpace.
RAGNI: Brenden Fletcher and Jakub Zapotoczny create moody soundscapes that chill and delight, and their debut album RAGNI features a full graphic novel by Karl Karschel! Check out RAGNI on MySpace.
Cover is just $5 at the door, doors open at 9PM with the first act on at 9:30, or thereabouts.
Note: As with all musical performances at this venue, SONGS & PICTURES will take place in the concert space on the second floor, not in the first-floor restaurant.
–
TCAF AFTERPARTY: INDIANA JONES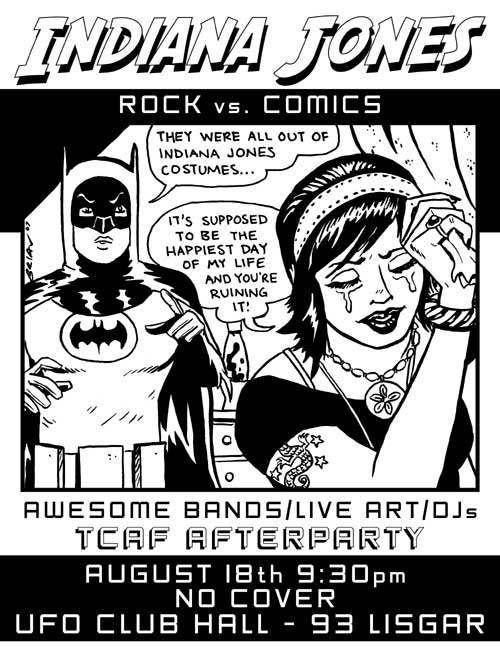 Indiana Jones: Rock Vs Comics
Saturday, August 18, 2007 at 10:00pm
@ UFO CLUB HALL
39 Lisgar St, Toronto, ON
Come to another Toronto Comic Arts Festival afterparty. It will be the awesomes. Hear music rock your socks off (and then back on again! and then off again!) Watch and participate in live art! Enjoy a beverage! Dance! Dance! Dance! Etc.
–
Two great tastes that go great together! When one of the clubs fills up (and it will!) you can go to the other! And vice versa!
- Christopher