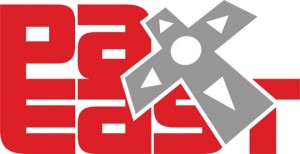 Hello! I'm going to be in Boston this weekend (March 10th-13th) for PAXEast, the East-coast edition of the Penny Arcade Expo! I'll be working for UDON Comics, Booth #124. PAXEast is put on by Penny Arcade (the webcomic) and ReedPop (the New York Comicon people) and I'm expecting it to be a lot of fun.
I don't think I've ever mentioned it on the blog, but this September I headed out to Seattle for PAX "Prime", as the employee of UDON Comics. It was a fun time and it went well–record sales and all that–so they invited me out to help them run their Boston appearance too. I'm happy to do it. I really like UDON's output, it's extremely high quality licensed comics and the industry needs more of that. And on a personal note, UDON Publisher Erik Ko is an exceptionally fair and generous guy (let alone for a comics publisher) and I'm happy to get behind their work. And hell, I just like going to conventions, seeing how they run… and what I can steal for my own event. :)
This weekend should be a hell of a lot of fun, as UDON's got a couple of new convention exclusive books at the event and I hand-picked the selection of books we'll be carrying. Lots of art books, lots of comics, and UDON peeps Jim Zubkavich (Street Fighter Legends: Ibuki) and Omar Dogan (Also SF Legends: Ibuki) are gonna be drawing and chatting with fans all weekend long. While I sell mad amounts of books to all y'all reading this (hopefully!). Also, I'll be at a giant video game convention, and those tend to be pretty fun all on their own, even standing behind a booth for 12 hours a day.
Oh, and I should mention that the fine folks from Oni Press are going to be our booth-mates for the show, Booth #123/124. We're directly across from the Show Store. All kinds of books and swag will be available!
As a final note, a very cool thing I discovered in getting ready for the show is called The Conventionist (http://conventionist.com). It's an iphone/Android App that lets you plan convention attendances by downloading the maps, schedules, exhibitor lists, etc., for a whole whack of different shows. It is fantastically useful and highly recommended, and I sincerely hope I can work with them to put together a similar schedule for TCAF!
Alright! If you're going to PAXEast speak up in the comments and tell me what you're most looking forward to (especially if it is seeing me).
- Chris