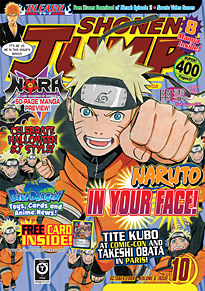 So, I read Deb Aoki's transcript of the panel The State of the Manga Industry from last weekend's New York Anime Festival. Did you? You probably should, it's very interesting in spots, particularly Kurt Hassler's answers about Yen Press's plans as they approach their first anniversary (Black God Volume 1 shipped through Diamond on October 10th, 2007). I certainly hope Haruhi hits for those guys…
Anyway, I bring it up here specifically because part of the panel has been bugging me for days now, the part about manga magazines. I've been following all of the manga magazines since their inception, I have a real interest in serialized manga anthologies going back to when I bought untranslated Shonen Jump volumes from a Japanese grocery store every month. I gotta say, Michael Gombos from Dark Horse's comments on the nature of Shonen Jump… That really didn't sit well with me. Here's the relevant section from the Panel:
Is America Ready for More Manga Anthology Magazines?
Dark Horse launched and then folded their anthology magazine Super Manga Blast years ago. Several others came and went like VIZ Media's Pulp and Animerica Extra, Raijin Weekly from now defunct Raijin Comics and TokyoPop's Mixxzine.

Fast forward to Summer 2008, when Yen Press launched their anthology magazine Yen Plus and Del Rey Manga published the first issue of their manga-lit anthology, Faust. So is America ready to read and buy more manga magazines?

Michael Gombos, Dark Horse: "(Dark Horse) did put one out, Super Manga Blast, which was canceled a few years back. You can put out an anthology, but I don't think it'll be profitable, or at least that's been our experience. For VIZ's Shonen Jump, they treat it like an advertising expense."

"I can only speak from Dark Horse's experiences, but it only made enough to pay for the translations for the paperback editions. There's a burst of energy when something starts, but its hard to sustain over the long term."
Italics emphasis mine.
Speaking as someone who really researches manga, I don't think that's actually true. The last circulation numbers that I was made aware of put Shonen Jump in the 200k/month sales bracket, possibly higher. Just working on available information like price, rough costs, and the amount of advertising in the magazine, there's no way that Viz's Shonen Jump isn't turning a profit. Further, I've never, ever heard anyone from Viz ever refer to Shonen Jump as an advertising expense.
I also… and I'm sorry for seeming worked up here, but… how can you even begin to compare Super Manga Blast to Shonen Jump? They're for audiences that differ in age and taste, one of them never got newsstand distribution, one of them never had nationally syndicated cartoons based on the properties it contains, one never came with Free Yu-Gi-Oh Cards. Where is Gombos getting this information from? Because this contradicts everything I know about Shonen Jump, and I think in the end it's him, not me, that's wrong about this stuff.
Particularly when, at the beginning of the next paragraph, he starts "I can only speak from Dark Horse's experiences…".
So, yeah. I would take that statement with a grain of salt.
I don't imagine Viz will ever publically comment on an offhand remark like this, they don't tend to, uh, engage their fellow publishers in public fora… But I'm super, super curious about where Gombos got his information now…
- Christopher