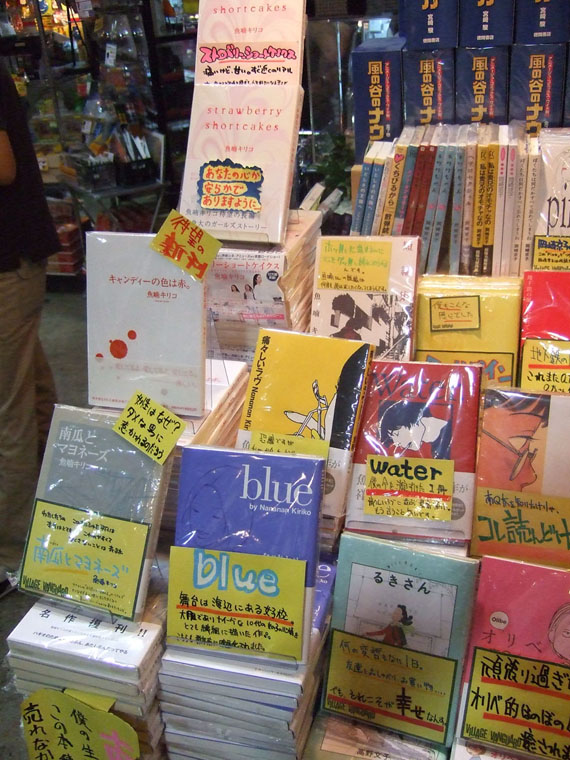 So just what do we want the manga industry to look like, anyway? I mentioned at the end of that last post that I let my own hopes and fears inform any predictions I might make… Prescribing the future of the industry, any industry is something of a sucker bet, something could happen tomorrow to send that industry wildly off course. Besides, predicting the future is best left to the people managing your retirement portfolio, I'd much rather describe what I would like to see, rather than what I think will happen.
In response to my last message, and probably to Kai-Ming Cha's blog post from the floor of Anime Expo, David Welsh put up a really lovely, reasonable little essay about a mature manga industry, and the schedule upon which it will arrive. David makes the very salient point that manga, up until the Gekiga movement in the late 60s, really was considered a medium entirely for children. In that regard, Gekiga (as practiced by folks like Yoshihiro Tatsumi and Seiichi Hayashi) acted a lot like underground comics in did in the North American comics industry, giving both longtime readers and brand new folks a way into the medium that showed that it wasn't all stories for children and teenagers… Granted we're in the midst of a classic comics revival, with dozens of comic books, strips, and cartoons from the past being repackaged in such a way as to be reevaluated by an adult audience, but… yeah. It was nice having someone come along and shout "Hey, look what I can do with this medium! We don't have to read adventure stories forever!"
Another thing I think that's important to note is how many of what we consider mature or prestigious manga releases in a given year actually had their origins in work for children. The most shocking one to anyone who's read it is probably The Drifting Classroom, by Kazuo Umezu. This story of a school full of 5-10 year old children that go on a "lord of the flies" themed adventure through time and space was actually intended for (and enjoyed by) children right around 10 years old. For a book that features shrink-wrapping, warning labels, and an 18+ rating, and that all of my friends and coworkers love, there's a real disconnect there between the intended audience and the actual audience. Similarly, the high-end releases by Vertical of select bits of the Osamu Tezuka library take pains to remind us that there were readers of all ages coming into those stories, and they probably weren't doing so because the books were $25 each in hardcover. You can see the early-adult and mature audiences for works by the D+Q and PictureBox crowd, not to mention the ultra-contemporary adult readership for works by PULP and Fanfare/Ponent-Mon alumni, but I don't think it's breaking any confidences to note that Tezuka's Buddha is the most popular "mature" manga release in English in the last 10 years at least… and perhaps its intent as appealing to readers of all ages is at least partially responsible for that.
So what do I want the manga industry to look like then? I think that Drawn + Quarterly has a good idea, with one prestige-format (meaning a format with actual prestige, like a hardcover book with lovely thick paper and a beautiful design, and not those flimsy little 48 page superhero comics with a spine) release of "mature manga" per year. If there were 3 or 4 publishers doing that, each with a nicely designed manga release per season (spring/fall), that'd be maybe 8-10 wonderful books per year, which I think that the market could bear, and that'd be lovely. Currently the number of high-end manga releases in a given year is about half of that, which accounts for the loud noises I make when they manage to drop. Add in the serialization of older seinen and adult books from publishers like Vertical, Viz, and Tokyopop? I think I'd be okay with that.
Heidi MacDonald seems to think that someone is missing the point (I'm not sure who since she hasn't linked me on this subject…), and that there's a fundamental disconnect between the current generation of shojo and shonen manga fandom and a literary manga readership; it's her contention that manga is more fashion than hardcore readers. Sort of how Harry Potter didn't magic-up overwhelming book sales for the rest of the industry. I don't entirely disagree, but reading her post on the subject I couldn't help but think that she was selling the current generation of readers a little short. I don't think it's likely that fans of Bleach are going to turn into fans of Red Colored Elegy, but I do think there are middle-steps, a natural progression from Bleach to Vagabond, from Slam Dunk to Real, from Naruto to… well, grown-up Naruto I guess.
I think that… well I think that if we build it, they will come. If we build an industry with a proportionate diversity of material, of target audience, and we advertise the whole thing intelligently, we can build a market for older material, even for the literary stuff. Even if that number is 1%, or half a percentage point, of readers of shonen and shojo that go on to normal material, that's great! That's a hell of a lot more than we had last year, or the year before, or the year before. Anecdotally at the least, I can tell you about three amazing young customers at The Beguiling. All of them are 12-14 years old and have been shopping at the store (with their parents) for 3 or 4 years now. Over that time I've seen their tastes broaden considerably, and it's kind of amazing to see someone go from Naruto to Naruto + Ruroni Kenshin to Naruto + Ruroni Kenshin + Buddha, to asking me about Dororo, Vagabond, Black Jack. But also work by creators like Seth and Chester Brown, Darwyn Cooke, Bryan O'Malley. They like what they like, but they see there's other work out there that we at the store like, and wanna try it out. So we talk to parents and explain what they're going to find in them and let them decide together if they're cool with boobs or swears or bloody disembowelment. If you've got a store that believes in the material, and that keeps it in stock, not just makes it available for pre-order, then you can sell the material. In short, we have to invest in the industry we want, not just as retailers, but as journalists and pundits by covering the material we like, and as consumers by supporting the books we like with our dollars.
That's my prescription for the manga industry: let's make the industry we want, do our best to convert fashion into function, and celebrate our successes where we find them rather than complain that we're not quite successful enough.
Next time: Tokyopop for reals.
- Christopher