11:15pm: Oh man, what a day. Honestly I have no idea if I'm going to make it all the way through this, but there are a lot of really great, worthwhile projects in the back half of the catalogue this month and hell if I'm not gonna try and send some readers their way. So on the off chance that I drop out half way through, passed out at my desk: Sorry! I'll try and pick it up again tomorrow morning.
So, Page 218, and we have Aardvark-Vanaheim's triumphant(?) return to Previews after going POD a few months back… With "The CEREBUS GUIDE TO SELf PUBLISHING EXPANDED EDITION", at 120 pages for $18.00. Frankly, that price point sort of implies digital POD, so caveat emptor.
I found the original guide to be hugely informative and helpful back when I was doing minis 15 years ago, so I have a genuine curiosity about just what might be lurking between these pages… Though my.. tolerance… for Dave Sim text-pages has definitely lessened since I first pick this up. "Updated with new material assessing the pros and cons of the computer revolution that continues to rock the comics publishing world from top to bottom", according to the solicit. Honestly, I'm going to order the minimum on this, and then reorder if it turns out that what Dave Sim has to say about publishing in 2010 is in any way still relevant.
11:20pm: SLG Publishing (amaze ink) has a really interesting new series, and the first issue is only a buck! It's called THE ROYAL HISTORIAN OF OZ, and the first issue is on page 218. Here's what SLG has to say about the book:
THE ROYAL HISTORIAN OF OZ #1
(W) Tommy Kovac (A) Andy Hirsch
Frank Fizzle wishes his writer father would have just a single original idea, but instead Jasper Fizzle sees himself as the new "Royal Historian of OZ" as he insists on writing new OZ stories. When the failed writer discovers that Oz really exists, he makes an error in judgment that brands him a criminal in two worlds. Can Frank save the day and redeem the Fizzle family name, or will the drizzly ghost of the Wicked Witch of the West destroy them all?
24pgs, B&W SRP: $1.00
I'm gonna read that… As it is I dig Tommy Kovac's work (though I'm not familiar with Andy Hirsch), and that's a great high concept.
Also of note on page 218 (and shown in the image to the right there) is SHADOWEYES, a new original graphic novel from the increasingly prolific Ross (WET MOON) Campbell. It sounds like Campbell is branching out a bit into a sort of superhero/sci-fi realm, but with plenty of his trademark contemporary gothic horror. Sounds good. Ross Campbell has a fledgling website for the book here: http://www.shadoweyes.net/.
11:28pm: Ah,page 220 brings us to the Antarctic Press section, which is normally a mess. But honestly? Antarctic turns in their nicest catalogue spread yet. It's still marred by a few basic design things (learn how to use columns consistently) but really, it's totally readable with almost no eye-strain. It even has negative space for the eye to rest…! Good stuff. Oh, and a book! David Hutchison returns with another TIME LINCOLN one shot, this time called Fists of Fuhrer. The cover has Lincoln fighting Hitler ON the statue of Lincoln at Mt. Rushmore, which is kind of hilarious. #1 is $3.99 for 32 pages.
11:36pm: You know what's picking up steam for us? Sonic The Hedgehog Comics. And it's like a 60/40 split between hardcore nerds and actual children. That's AWESOME. Archie continues to produce two series featuring the character, Sonic The Hedgehog #214 and Sonic Universe #17, both of which are on page 228, and they'll set you back $2.99 a piece (30 cents more than a regular Archie book!). If I had to hazard a guess why this is happening? I really think it's the Sonic Archives trade paperbacks, the much-demanded collections that finally give kids a 'way in' to the long, long running series. Glad that they finally published those…!
11:39pm: Speaking of continuing to do well, Warren Ellis and Paul Duffield's FREAKANGELS gets a fourth collection in June (or later, probably) in softcover, hardcover, and signed hardcover editions. For a series serialized for free, online, it continues to do well for us in sales. It's slowed a little bit, but honestly? Good stuff, and I'm glad to see the web-serialization to print-sales model actually works. All three versions of volume 4 are available on page 235 from Avatar, and they'll run you $19.99, $27.99, and $39.99 respectively.
Also from Avatar, a collection of their NIGHT OF THE LIVING DEAD prequel (p236, 192 pages, colour, $24.99) that took absolutely forever to be released. They put about 200 variant covers of those 8 issues into the market, but a trade paperback collection couldn't happen for 5+ years. No idea how that works.
12:18am: Here's something funny; in the Dynamite Entertainment section (p.267), they're doing the upcoming "Prince of Persia" movie prologue graphic novel as a four issue limited series. We've already ordered the graphic novel version of this, and so far as we're aware it's going to be out at least a month or two before this four issue mini-series.
Are people really going to pick up a comic book serialization of an already-existing graphic novel? That seems odd.
12:26am: It looks like Del Rey is going to start off their Penny Arcade collections picking up where Dark Horse left off… I was half-convinced they'd do an omnibus or something. Penny Arcade Volume 6: The Halls Below is another 208 pages of material for $15, on page 279.
Also on that page from Del Rey's manga division comes Avatar: The Last Airbender Film Comic #1 (96 pages, $7.99) which is, funnily enough, a new edition of Tokyopop's cinemanga from back in the day, hopefully with MUCH better binding. There's also Dave Roman, Alison Wigus, and Joon Choi on The Last Airbender Movie Adaptation Graphic Novel (176 pages, 10.99), which looks alright from the cover art, and should be getting a preview at FCBD this year. That said, I'm pretty conflicted about the film as a whole, but I'm not sure how far that extends…?
Finally on p.279, Tyler Page takes another run at self-publishing with NOTHING BETTER VOLUME 2: INTO THE WILD, the next 162 pages in the lives of a pair of mismatched college roommates. If you're curious, you can check out the series at http://www.webcomicsnation.com/tylerpage/nb/series.php.
12:42pm: So I don't normally mention the porn very much (sorry!) but I did want to note that Eros Comix has a brand new mangarotica title for the first time in a good long while! TOO HOT TO HANDLE is absolutely filthy-sounding, and comes from mangaka Tsukino Jyogi (don't google that at work), 184 pages for $18.99.  You can find a slug that says "more info in the adult previews" if you turn to page 283, but of course they don't publish that anymore, so if you wanna find out more I recommend you head to Icarus Publishing's website. Specifically, every month Simon at Icarus goes through the Previews Adult catalogue, highlighting hentai and yaoi releases for you. Unfortunately he's not including cover images (which are censored in the catalogue anyway), but he'll give you links to the mangaka's websites and more.
Speaking of Icarus, flip ahead to page 294 and you'll see the fine folks at Icarus soliciting the AREA graphic novel by Tetsu Hagane, 208 pages for $19.99. It sounds similarly filthy, and if you want to sneak a peak the first chapter is available LEGALLY to read in "Comic Ag Digital #5", available at http://www.icaruscomics.com/wp_web/?page_id=1034.
12:52pm: So the cover to Anders Nilsen's BIG QUESTIONS #14 is lovely (48 pages, $7.95, Drawn & Quarterly), and I just want to run it here.
Yeah. Awesome. May or may not be the final issue…? Hmm.
Also from D&Q this month is Brecht Evens' Wrong Place (184 pages, $24.95) about which I know nothing but it seems lovely, and the fifth Moomin book ($19.95, 100 pages), which is guaranteed to be lovely.
1:11am: Wow, the Fantagraphics section is lovely this month, very easy to read and clear as to what's new, and what isn't. Bigger font size this month too, cheers all around.
It's also CHOCK FULL of amazing graphic novels…! So cool! Page 284 has LUCKY IN LOVE: A POOR MAN'S HISTORY, a graphic novel by George Chieffet and the extremely talented illustrator Stephen DeStefano. I really like DeStafano's work; Fanta compares his cartooning to Milt Gross and classic Disney Animation and comics, and I'd say that's probably bang on. Destefano's got an infrequently updated blog at http://stephendestefano.blogspot.com/ which has some examples of his cartooning, but folks with a wide-variety of material in their collections may remember his work from 'Mazing Man or Instant Piano, from the last several years of CARTOON NETWORK books at DC, or from his animation work on The Venture Bros. (!) (!!!). LUCKY IN LOVE is 120 pages, hardcover, for $19.99 and will be gorgeous.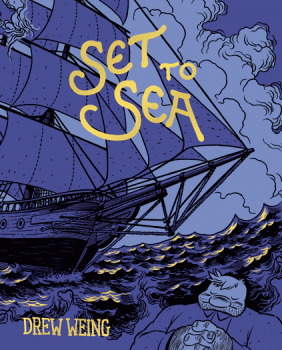 Similarly gorgeous is Drew Weing's SET TO SEA, a graphic novel he's been serializing a panel-at-a-time over at his blog, http://www.drewweing.com/. It's a beautifully drawn story though I have to admit that I'm going to hold off reading it until the book is in my hands–Drew's work really seems to LOVE being in print, and all of his minis and comics I've bought to date have been better for having been in physical form… Maybe I'm just a paper fetishist? Anyway, SET TO SEA is a 144 page graphic novel, HC, for $16.99.
Moving to page 285, NEW JASON GRAPHIC NOVEL!  Woo hoo! Werewolves of Montpellier is the next 'monster' book from Jason, where he uses classic monsters to illuminate the human condition in ways that always surprise. His Zombie epic "The Living and the Dead" is probably my favourite so far, but his "You Can't Get There From Here" about Frankenstein's Monster and Bride is also lovely. Both of those were recently collected, btw, in the book ALMOST SILENT and that's worth tracking down. Anyhow, WEREWOLVES OF MONTPELLIER is a full cover graphic novella, 48 pages for $12.99, and worth every penny I assure you… if every other book he's released has been any indication.
Wrapping up Fantagraphics' best month ever (maybe)? 2 new IGNATZ books, SAMMY THE MOUSE #3 from Zak Sally ($7.95, 32 pages) and HOOLIGANS ($7.95, 32 pages), the third in the Wish You Were Here series by Gipi. Ah, new Gipi comics, we're truly blessed aren't we?
They have a new Drew Friedman collection, and a new strip collection of very strange stuff too, but I gotta leave something to the imagination, don't I?
1:18am: Well here's something you don't see everyday. "Feral House" publishing presents SIEGEL AND SHUSTER'S FUNNYMAN TP, 240 pages, $24.95, page 286. The solicit describes the project thusly:
SIEGEL AND SHUSTER'S FUNNYMAN TP

(E) Thomas Andrae, Mel Gordon (W) Jerry Siegel (A) Joe Shuster

Here is a kaleidoscopic analysis of Jewish humor as seen through Funnyman, a  little-known super-heroic invention by the creators of Superman, Jerry Siegel and Joe Shuster. Following the completion of their 10-year-long contract with DC writing and drawing their first creation, Superman, Siegel and Shuster were determined to create a new superhero; one that would prove that justice, fair-play, and zany craftsmanship were the true "American way", and would lead to their ultimate victory. This book tells the back-story of the unsuccessful strip and Siegel and Shuster's ambition to have their funny Jewish superhero trump the Man of Steel. Included are complete comic-book stories and daily and Sunday newspaper panels from this lost classic. (C: 0-1-2)

SC, 7×10, 240pgs, FC SRP: $24.95
Does anyone know if the Siegel/Shuster estates are getting any money out of this? Or is it one of those projects that falls between copyrights? At any rate, it sounds fascinating.
1:33am: So! Last year maybe, webcomics creator Tracy J. Butler dropped by a nice little package with her work LACKADAISY, a beautifully illustrated furry comic about the prohibition era, and she did absolutely everything right in promoting her work to us. But sometimes shops… fall down a little, heh, and despite that first burst we haven't been very good about keeping that work in stock. But with the solicitation for LACKADAISY VOLUME 1 (p.288, 98 pages, colour, $19.95) we'll have the book back in stock again soon.
Tracy, thanks for all of your hard work getting the word out! And if you reading here have never checked out Lackadaisy, you can find it online at http://www.lackadaisycats.com/.
1:42am: On page 290 now, imagine my surprise to find that Scholastic/Graphix is doing a Doug Tenapel graphic novel? It's called GHOSTOPOLIS, 272 pages, full colour, for $12.99 (or $24.99 in hardcover).
Also on that page we get a new Keither Knight collection, THE KNIGHT LIFE: CHIVALRY AIN'T DEAD (208 pages, $17.99).
Oh, here we go, page 291? HUMANOIDS IS BACK! After a series of… fairly disastrous publishing partnerships… Humanoids returns to self-publishing and self-distributing in North America. Their first month on the job is a great, surprising range of comics and graphic novels… The comic book thing is a little shocking to me actually, though I guess Archaia and Devil's Due must have had a measure of success with the individual issues collecting French graphic albums that they've been soliciting.
Anyway, the books that they're debuting with include:
– The Bouncer: One Armed Gunslinger #1 (32 pages, $3.50), alongside an offered again of The Bouncer VOlume 1 HC ($15.95)
– Jodorowski and Gimenez's Metabarons Volume 4: Ahgora & The Last Metabaron ($17.95, 136 pages) alongside offered agains of the first three volumes of the series
– Unfabulous Five: The Greasers From The Black Lagoon #1, a new edition of the Lucha Libre comics previously released by Image Comics I believe, by Jerry Frissen and Bill… I hadn't heard about this moving pubs or changing names, I'd hope some journalist out there would get the scoop
– and finally Whispers in the Walls #1 from David Munoz and Tirso, a spooky-sounding Czech horror story.
Good month for those dudes.
1:53am: Thieves & Kings creator Mark Oakley's been pretty quiet as of late, and I'd guess the brand new 194 page STAR DROP original graphic novel on page 294 would explain why ($9.99, iBox Publishing). The description, about a gentle alien princess escaping intergalactic conflict to try and fit in as a normal girl on earth… It reminds me a little of Miyazaki's Kiki's Delivery Service, but then Oakley's work has always echoed Miyazaki's, and that girl-out-of-context-riding-a-train-car on the cover doesn't do much to dissuade comparison. Still, there are faaaaar worse things to be reminded of when looking at someone's work, you know?
Always nice to see new graphic novels from Oakley, and hopefully this means more Thieves & Kings soon too!
2:04am: My, I do go on don't I? Man I gotta wrap this up. Okay, only mentioning the most awesome things from now on…
So of course there's one one page later.
PAGE 295 has Not Quite Dead: Last Gig in SHNAGRLIG, the 48 page graphic album collecting Gilbert Shelton's recent story serialized in the pages of MOME magazine! This stand-alone edition comes to us from Knockabout Comics, and is now in full colour for just $9.99. I'm a bit behind on Mome, but I liked the first few chapters of this satire piece, and Shelton's a consistently interesting creator, and has been for the better part of 40 years! Interesting format for this release, as the offered again section reminds us that Knockabout's two most-recent Gilbert Shelton releases were massive 200+ page omnibus editions.
Page 298 brings us to NBM's solicitations, and a brand new volume of Rick Geary's MURDER books. This time it's A Treasury Of 20th Century Murder Volume 3: The Terrible Axe-Man of New Orleans HC, at $15.99 for 80 pages.
Page 299 huh, Netcomics is publishing again.
2:13am: ONI PRESS on page 300 with one of the funnest looking original graphic novels in a long, long time. I'm not even a big wrestling guy, but I gotta admit that Super Pro K.O.! Volume 1 by Jarrett Williams ($11.99, 256 pages) looks like a hell of a lot of fun. Here's PREVIEWS:
So I don't normally do that, but man, doesn't this look totally fun, and utterly unlike everything else on the stands? Make sure not to miss that one.
2:23am: Page 312 has a new graphic novel from Roaring Brook Press that sounds like it's going to be a very big hit. Tracy White's How I Made it To Eighteen is memoir about a young girl's mental breakdown and transformation, and this is a book that I'm very happy to see is coming. How rare was it to get a book from the perspective of a teenaged girl even 10 years ago? Let alone one actually for teenaged girls, and that dealt with real issues? I can count the creators on one hand. Anyway, good to see more interesting work, more unique voices, and more work for young women coming out.
2:29am: Page 313 has a new Sunday Press Book, worth buying almost regardless of content and just for their superb presentation. This one happens to be KRAZY KAT: A CELEBRATION OF SUNDAYS, a best-of collection of George herriman's Krazy Kat Sunday pages produced in colour, and at their original size. Includes a bunch of material not reprinted in other Krazy Kat books. 16.5 inches by 14 inches, 160 pages, full colour, for $100.
Oh my God… the staff pics on page 314 really are something… Let's just say that of the 5 books picked on this staff picks page, not one of them is one I've mentioned in my write-up. Previews: Written by and For people who like PREVIEWS. Iccccccccccccck.
2:35pm: Okay, that last one broke my spirit. Sorry, I'm done. Maybe I'll pick up tomorrow morning. Sad. Still a hundred pages to go.
Okay, it's now Thursday, April 15th! I am in a better mood. Let's finish off the Previews catalogue together.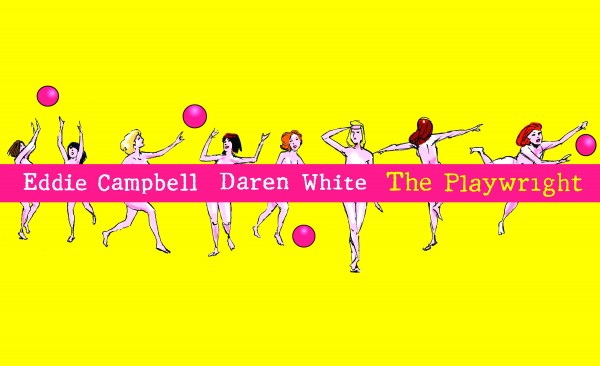 1:06pm: Top Shelf productions on 318 looks to be having a good month! Their big release is Eddie Campbell and Darren White's The Playwright, a brand new 160 page, full colour graphic novel for the princely sum of $14.95. It is, and I quote the solicitation here, "a dark comedy about the sex life of a celibate middle-aged man," and doesn't that sound like something you don't read every day? I like both of these fine creators, and I'm looking forward to this release.
The solicit also mentions that the book is co-published between Top Shelf and Knockabout, the same UK publisher that acted as co-publisher of Alan Moore and Eddie Campbell's A Disease of Language HC, and I wonder if co-publishing would make sense for more independent publishers? Just an idle thought though.
Also from Top Shelf on the same page is the fourth of James Kochalka's new kids books, JOHNNY BOO AND THE MEAN LITTLE BOY. These are profoundly strange books for kids, and kids seem to love that. The pacing and production and everything, it's so idiosyncratic and so Kochalka, it's kind of amazing. The fourth book is another HC, 40 pages, for $10.
Finally, Top Shelf are soliciting a new edition of Nate Powell's SWALLOW ME WHOLE, a fantastic graphic novel, truly excellent, and I'm chuffed to see that it's needed a second (or third?) printing. Powell's an underrated gem of a cartoonist, and this book really shows off his chops. $19.95 in hardcover.
1:24pm: I
know I'm not supposed to 'give away secrets' here on the blog, about work and things like that… but I honestly can't believe how successful UDON's Manga for Kids line has been for us. Finding manga for the under-10 set is difficult at the best of times, and finding series that appeal to girls (rather than 'for-boys, but equally-for-boys-and-girls'), and UDON's stuff is great. They're friends of mine so this is all horribly biased, feel free to disregard, but the numbers don't lie. Kids _love_ these manga. UDON has the next round of books this month with The Big Adventures of Majoko Volume 5 and Fairy Idol Kanon volume 4 for $7.99 a piece, and the full-colour Swans in Space Volume 3 for $8.99 on page 323.
1:30pm: Do you like adorable pictures of kittens on the internet? If you said yes, you are likely "a person" because if you don't like pictures of adorable kittens I worry that maybe you're not real, but also if you said yes then you are the audience for Vertical Inc.'s newest manga CHI'S SWEET HOME VOLUME 1 (Page 324, 176 pages, $12.95). The latest release from Vertical is the second that moved away from their initial publishing plan of 'classic' manga into releasing more contemporary manga works, alongside their releases of contemporary fiction. This book is about a kitten that is adopted by a family that isn't allowed to have pets in their apartment building, it all sounds gentle and funny and worth reading.
Incidentally, the first book in Vertical's 'new direction' is Twin Spica, the second volume of which is solicited this month (page 324, 200 pages, $10.95), and the first volume of which is due in stores any day now, I believe.
1:35pm: Still on page 324 we've got Villard Books (imprint of Random House) and the first official collection of Meredith Gran's Octopus Pie Volume 1: There Are No Stars In Brooklyn (240 pages, partial colour, $16.00)! This is one of my favourite webcomics, a funny slice-of-life story about mismatched roommates living together in Brooklyn. It's really, really well-observed and Gran's background in animation really gives the art a polish and sheen; the characters feel real, which is about the nicest compliment you can pay a funny slice-of-life comic. I'm buying it… ARE YOU!?
P.S.: Meredith Gran will be appearing at the 2010 TORONTO COMIC ARTS FESTIVAL, May 8th to 9th in Toronto, Canada. More info at http://torontocomics.com.
P.P.S.: You can check out Octopus Pie online at http://www.octopuspie.com/.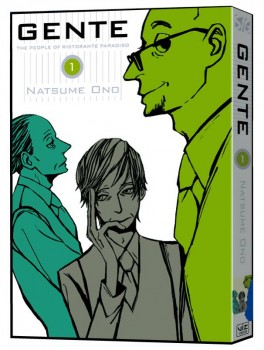 1:41pm: Still on page 324, and it looks like ONI isn't the only pub doing wrestling comics this month. Viper Comics is releasing Battle Smash vs. Saucer Men From Venus ($3.25, 32 pages), a group of non-superpowered luchadores that defend their neighborhood from threats. This fullcolour one shot comes your way from Dale Mettam and artist 'Zanker'. So.
Meanwhile, finally flipping the page to 325(!) we get to Viz's section. The first release is Gente Volume 1 (176 pages, $12.99) by Natsume Ono. This is the ongoing series follow-up to Ono's recently released one-shot Ristorante Paradiso, which I greatly enjoyed. It's about a young woman coming to confront her mother about years of abandonment, and finding herself coming to understand her mother and the choices she made. It's all set in a restaurant run by attractive older men…! It's like, a whole thing. Anyway, it was a lovely way to spend an hour or two, and I imagine Gente will be similarly enjoyable. 🙂
Actually in getting to the Viz section, I noticed I accidentally skipped over Tokyopop. I'm too lazy to go back and write about that, but I will say that it's great to see new volumes of Sgt. Frog and Suppli in there.
Moving forward, not much else in the Viz section was worth noting for me. Following that, apparently Zenescope is producing a CHARMED comic, based on the long-finished TV Show. And hey, it's about the original three characters, and not the crappy fill-ins that they secured when Alyssa Milano and Shannon Doherty wanted off the show. Heh.
Geezus, I just admitted to knowing something about Charmed, didn't I? Does that mean that people are going to by this? Or does it mean that, like me, they're going to feel a deep sense of shame when they realize they know about Charmed? Developing.
Moving on, not a whole heck of a lot jumping out at me in the books & magazines section… and that's it. Just the wasteland of products beyond.
Well, while it took… 5 days this month, I want to thank everyone who read. I hope you found something cool in the Previews, and I hope you'll tell your local comic book store to make sure to bring it in for you and other folks at the shop, and I hope the industry doesn't collapse between now and when it's supposed to ship…! 🙂
– Christopher