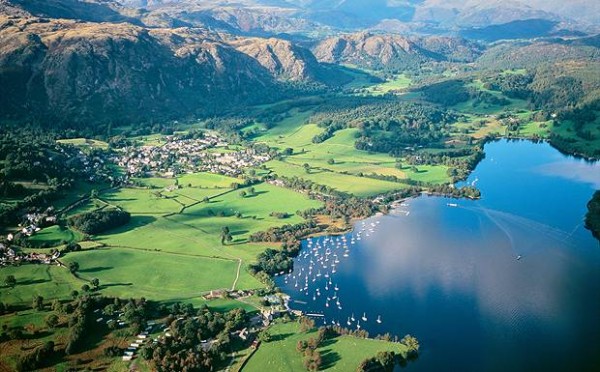 I'm quite happy to note that folks that live around the above picturesque area, the Lakes District in England, north of Manchester, are holding a comic book festival. It's called The Lakes International Comic Arts Festival, and they've got a robust website at http://www.comicartfestival.com/. The show is just around the corner, scheduled for October 18-20.
The show is being put together, near as I can tell, by Sean Phillips, Brian and Mary Talbot, and some wonderful people who live in the Lakes District. The idea behind the show? It's a little like TCAF in terms of scale (and name), and a little like Angouleme in terms of their desire to bring the whole town to life with the medium of comics (in this case, the town's name is Kendal). I find this thrilling. One of my most fervent desires in administering TCAF since its second year has been to more thoroughly involve Toronto in the Festival and the medium of comics, and just in their planning alone these fine folks seem to be doing in their first year what we haven't quite managed in 10. Granted, Kendal is beautiful and lovely with a population of 28,000, and the Greater Toronto Area is perhaps 100 times that big, but that's still a hell of a lot of moxy and I'm impressed.
I'm happy to be travelling to Kendal to take in their first show and, where possible, offer any advice or assistance gleaned from running TCAF for the past little while. Mostly though, I'm excited by a strong slate of programming and I'm looking forward to getting reacquainted with guests including the Talbots, Ed Brubaker, and Darryl Cunnighamn, and meeting some of their other fantastic guests including Charlie Adlard, Sean Phillips, Gary Pleece, Kurt Busiek, and more besides. Hell, I don't think I got to meet their guest Glyn Dillon (The Nao of Brown) when he was at MY show this year!
Now, it's probably too late for most of you to plan and book a trip to England in two weeks, but if you happen to be in the country I sincerely hope you'll consider making the trip to see some of the many very cool events taking place, and meeting some of the exhibitors. That website address, again, is http://www.comicartfestival.com/.
If you do see me, feel free to say hello. I won't be anywhere in particular at the event, just wandering about, but looking in the pub probably isn't a bad idea. 😉
Best,
– Chris