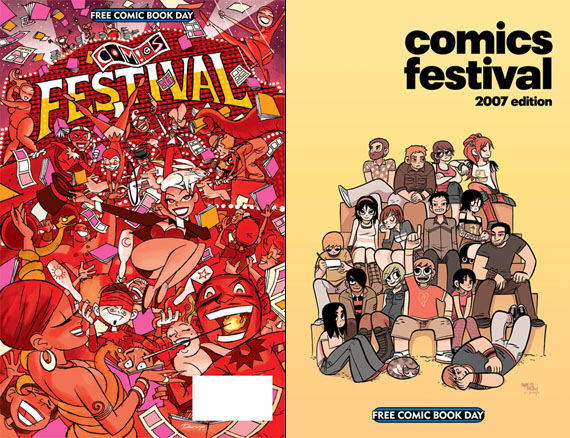 Comics Festival Covers. Left by Darwyn Cooke. Right by Bryan Lee O'Malley. 
Hey there folks! We just put the finishing touches on the line-up and layout for our contribution to Free Comic Book Day, Comics Festival 2007! I'm so excited that I just wanted to share it with all of you, and give you a sneak peak at some of the material in the book.
All of these creators have contributed BRAND! NEW! comic stories and comic strips to the book, that will only be available in Comics Festival! Also! This book features 16 pages of full colour material! It's gonna be awesome!
So, here's the line-up:
Flip Covers by Bryan Lee O'Malley and Darwyn Cooke
J. Bone, "Jett Vector"
Michael Cho, Brian McLachlan, and Darwyn Cooke, "True Romance"
Darwyn Cooke, "The Alex"
Rob Coughler and Ramon Perez, "Butternutsquash"
Ray Fawkes and Cameron Stewart, "The Apocalipstix"
Eric Kim, "Battle Academy"
Hope Larson, "S is for Salamander, S is for Snow"
Steve Manale, "Superslackers"
John Martz, "The Time Machine"
Jim Munroe and Salgood Sam, "Therefore Repent!"
Ryan North, "Dinosaur Comics!"
Bryan Lee O'Malley, "The Wonderful World of Kim Pine" & "Scott Pilgrim"
Steve Rolston, "Good For Nothing"
Howie Shia, "The Century of Love"
Kean Soo, "Jellaby"
R. Stevens, "Diesel Sweeties"
Zach Worton, "George Washington Carmack"
Doug Wright, "Nipper"
Chip Zdarsky, "Monster Cops"
Jim Zubkavich, "The Makeshift Miracle"
COMICS FESTIVAL 2007! will be available at great comic stores everywhere on Saturday, May 5th, 2007: Free Comic Book Day. If you want copies for you and all of your non-comics-reading friends, make sure to ask your local comic distributor to see if they'll be carrying copies of the book. Let them know that the order code is:
FEB070041Â – COMICS FESTIVAL 2007 FCBD ED – FREE!
For more information, visit http://freecomicbookday.com/, and look for the official Comics Festival 2007 website soon.
– Christopher