Hi there folks. These are the comics that are scheduled to ship to The Beguiling Books & Art in Toronto, Canada this week. These books may not show up at all retailers at the same time, but if you see a title here it's probably at least worth asking your local retailer about…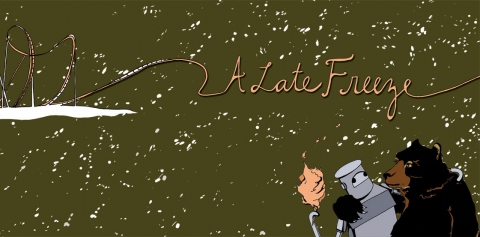 JAN073653Â A LATE FREEZEÂ 6.50
I was lucky enough to have the creator of this book, Danica Novgorodoff, send a copy to the store for me to take a look at. I'm really glad I did too, because this "mini-comic", a full-colour, full-length dreamlike story, is absolutely excellent. The winner of the "Isotope Award for Excellence in Mini-Comics," A Late Freeze is all about lost love and family and is really beautifully illustrated and realised. If all of my effusive praise isn't enough for you to track down a copy for yourself, you can check out some strips from the book online at the author's website, http://www.danicanovgorodoff.com.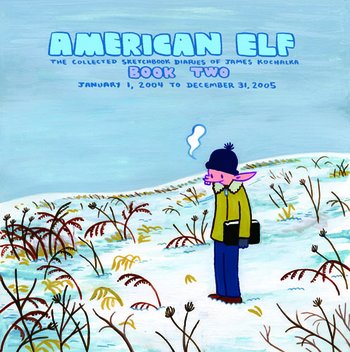 DEC063936Â AMERICAN ELF VOL 2 COLL SKETCHBOOK DIARIES OF JAMES KOCHALKAÂ 19.95
The book we were all kind of worried would never be published! This second collection of James Kochalka's fantastic diary comics weighs in a bit less than the previous collection (Volume 2 collects 2 years of strips to the first volume's 5-or-so) but I don't think it's an exageration to say that this material is his best work. While Kochalka may actively be trying to shine a light on the nature of art and comics in his more formal productions, it's the small illuminations that dot his sketchbook diaries that really speak work for me.
JAN070051Â BUFFY THE VAMPIRE SLAYER #1Â 2.99
…if you think retailers 'under-ordered' Captain America… Seriously, the only saving grace is that the press on this book has been a slow, consistant build and is unlikely to get the blitz that the 'death' did. But I have a feeling that this book will be just as tough to find, in its way.
OCT061854Â COMPLETE INVINCIBLE LIBRARY VOL 1 HCÂ 125.00
OCT061855Â COMPLETE INVINCIBLE LIBRARY VOL 1 LTD ED SGN HC (CÂ 175.00
You know, I actually really like Invincible and am buying this series in Hardcover, more for readability and durability than not, but I don't actually think the material warrants this sort of collection. It's fun, pulpy, well-done superhero material, but this kind of retrospective presentation is generally reserved for works that have… you know… stood the test of time. It's a pretty audacious move at the very least. I probably shouldn't say anything at all here, and I don't begrudge the creative team the mortgage payment or two that they're going to make with this thing, but even Kirby's work doesn't get this kind of treatment.
JAN073850Â KING CITY VOL 1 GN (OF 3) (MR)Â 9.99
A Direct-Market exclusive! You won't find this one in your Borders or Barnes & Noble. Honestly, it's because they didn't think they would sell any of it, but then they've got pretty specific ideas about what works and what doesn't. Let's try and prove them wrong, shall we?
King City is the new graphic novel series by Brandon Graham, a very talented young artist who's been floating around the periphery of alternative comics for quite some time. The most easy-to-find collection of his work is Elevator, a bunch of short stories collected into a very handsome little book by Alternative Comics. King City is his first long-form work, and I'm really curious to see how Graham works in this format, let alone within the constraints of Tokyopop's OEL line (which I'm not foolish enough to get into right now). Publisher's Weekly put an eight-page preview of the book online, and I gotta say it looks pretty great. Gives me a lot of hope. Graham is a contemporary of Bryan Lee O'Malley and L0cke, as well as a member of the Meathaus group with Farel Dalrymple, Becky Cloonan, and James Jean, amongst others. I guess what I'm getting at is that I Think This Might Be A Very Good Book, cuz it reads well, has a great concept (cat-as-weapon-of-mass-destruction), and has a pedigree, if you will.
Don't miss out.
OCT063730Â STREET FIGHTER LEGENDS VOL 1 SAKURA TPÂ 11.95
APR063425Â STREET FIGHTER VOL 1 TP NEW EDITIONÂ 9.99
APR063426Â STREET FIGHTER VOL 2 TP NEW EDITIONÂ 13.99
MAY063447Â STREET FIGHTER VOL 3 FIGHTERS DESTINY TPÂ 13.99
I've got a bigger post on this, but I just wanted to give props to my buddies at UDON because their new trades look fantastic. They're on way better paper, and seriously, the books are so much sharper looking than before and twice as thick. The material is not to everyone's tastes (heh, no, really?) but if you want to see Chun-Li kicking some dudes in the face, it has never looked better.
JUN063096Â TIMES OF BOTCHAN VOL 3 GN (OF 10)Â 19.99
Just a heads-up, really, as if you're not already reading this story by Jiro Taniguchi about Japan opening it's bordered to the West at the turn of the last century, you probably won't start doing so now. You totally should, of course, because it's surprisingly wonderful and the narrative antithesis of pretty-much anything else on the book shelf, but… yeah.
OCT063547Â TOWN OF EVENING CALM, COUNTRY OF CHERRY BLOSSOMS GNÂ 9.99
This right here? This is one of those important manga that you hear about every once in a while. Two short stories about the after-effects of the dropping of the atomic bomb on Hiroshima, Japan, years after the blast. I've already had the good fortune to read this and it's absolutely incredible. Look for a review soon, but if you do happen to see it while you're at the shop this week, pick it up.
And that's it for this week!
Click on the link below to see the full list:Â 
 
JAN070275Â 52 WEEK #45Â 2.50
JAN073653Â A LATE FREEZEÂ 6.50
JAN072359Â AMAZING SPIDER-GIRL #6Â 2.99
DEC063936Â AMERICAN ELF VOL 2 COLL SKETCHBOOK DIARIES OF JAMEÂ 19.95
JAN073708Â ANGEL AULD LANG SYNE #5Â 3.99
SEP061807Â ANT #11Â 2.99
DEC062300Â AVENGERS EARTHS MIGHTIEST HEROES II #7 (OF 8)Â 3.99
JAN073984Â BACK ISSUE #21Â 6.95
JAN070324Â BATMAN STRIKES #31Â 2.25
NOV063458Â BATTLESTAR GALACTICA #7Â 2.99
DEC063460Â BATTLESTAR GALACTICA CYLON APOCALYPSE #1Â 3.50
NOV063459Â BATTLESTAR GALACTICA SEJIC VIRGIN CVR INCV #7Â 2.99
NOV063475Â BATTLESTAR GALACTICA ZAREK SKETCH INCV CVR #3Â 3.50
DEC063313Â BETTY & VERONICA #225Â 2.25
JAN072363Â BLADE #7Â 2.99
JAN070080Â BLADE OF THE IMMORTAL #123 (MR)Â 2.99
JAN070054Â BPRD GARDEN OF SOULS #1 (OF 5)Â 2.99
DEC063461Â BSG CYLON APOCALYPSE VIRGIN CVR INCV #1Â 3.50
JAN070051Â BUFFY THE VAMPIRE SLAYER #1Â 2.99
JUL063777Â CARNIVAL THE WORLD OF KATSU AKIÂ 32.99
JAN070328Â CARTOON NETWORK ACTION PACK #11Â 2.25
DEC063443Â CEST BON ANTHOLOGY VOL 2 GN (MR)Â 17.95
DEC063540Â CHINESE HERO VOL 1 TALES O/T BLOOD SWORD SCÂ 19.95
DEC068162Â CIVIL WAR FALLEN SON DAILY BUGLE EDITION (BUNDLE OÂ PI
DEC064027Â COMICS REVUE #251 (#151 ON COVER)Â 6.95
OCT061854Â COMPLETE INVINCIBLE LIBRARY VOL 1 HCÂ 125.00
OCT061855Â COMPLETE INVINCIBLE LIBRARY VOL 1 LTD ED SGN HC (CÂ 175.00
DEC060208Â CRISIS ON MULTIPLE EARTHS THE TEAM UPS VOL 2 TPÂ 14.99
NOV060044Â CRYING FREEMAN VOL 5 TP (MR)Â 14.95
DEC063805Â DAMNED #5 (MR)Â 3.50
DEC063805Â DAMNED #5 (MR)Â 3.50
NOV063844Â DEATH COMES TO DILLINGER COLL EDÂ 6.99
NOV063844Â DEATH COMES TO DILLINGER COLL EDÂ 6.99
DEC063884Â DIVALICIOUS VOL 1 GN (OF 3)Â 9.99
DEC064057Â DUNGEON APR 2007 #145Â 7.99
DEC063892Â ELEMENTAL GELADE VOL 3 GN (OF 10)Â 9.99
DEC060264Â EMMA VOL 3Â 9.99
DEC060298Â FABLES #58 (MR)Â 2.99
DEC063996Â FIREFIGHTER DAIGO OF FIRE COMPANY M VOL 18 TP (C:Â 9.95
JAN072372Â FRANKLIN RICHARDS MARCH MADNESSÂ 2.99
JAN070362Â FRIDAY THE 13TH #4 (MR)Â 2.99
DEC063330Â GARTH ENNIS CHRONICLES OF WORMWOOD #2 (OF 6) (MR)Â 3.99
DEC063331Â GARTH ENNIS CHRONICLES OF WORMWOOD WRAP CVR #2 (OFÂ 3.99
DEC063282Â GD SOURCEBOOK OFF HANDBOOK TO THE GD UNIVERSE #3Â 3.95
JAN070346Â GEN 13 #6Â 2.99
JAN072373Â GHOST RIDER #9Â 2.99
JAN070289Â GREEN ARROW #72Â 2.99
JAN070294Â GREEN LANTERN CORPS #10Â 2.99
JAN070342Â GRIFTER MIDNIGHTER #1 (OF 6)Â 2.99
JAN073980Â GRIMM FAIRY TALES #13 (RES) (MR)Â 2.99
JAN073559Â HACK SLASH VS CHUCKY MORENO CVR CÂ 5.50
JAN073558Â HACK SLASH VS CHUCKY RODRIGUEZ CVR BÂ 5.50
JAN073557Â HACK SLASH VS CHUCKY SEELEY CVR AÂ 5.50
NOV063812Â HARDY BOYS VOL 8 BOARD TO DEATH GNÂ 7.95
NOV063813Â HARDY BOYS VOL 8 BOARD TO DEATH HCÂ 12.95
JUL060023Â HARLAN ELLISONS DREAM CORRIDOR VOL 2 TP (C: 0-1-Â 19.95
NOV060014Â HELLGATE LONDON #3 (OF 4)Â 2.99
NOV061859Â HIP FLASK CONCRETE JUNGLE HCÂ 29.95
DEC063933Â INNOCENT BIRD VOL 1 GN (OF 3) (MR)Â 9.99
DEC063539Â IRON WOK JAN GN #23Â 9.95
JAN072380Â IRREDEEMABLE ANT-MAN #6Â 2.99
NOV062345Â JACK KIRBYS GALACTIC BOUNTY HUNTERS #5Â 2.99
JAN070301Â JLA CLASSIFIED #36Â 2.99
DEC063887Â KEDAMONO DAMONO VOL 1 GN (OF 2) (MR)Â 9.99
JAN073850Â KING CITY VOL 1 GN (OF 3) (MR)Â 9.99
DEC063717Â KNIGHTS OF THE DINNER TABLE #124Â 4.99
NOV063466Â LONE RANGER #5Â 2.99
NOV063467Â LONE RANGER VIRGIN CVR INCV #5Â 2.99
DEC063453Â LUCKY LUKE I/T SHADOWS O/T DERRICKS TPÂ 9.99
JAN070332Â MAD CLASSICS #14Â 4.99
JAN070331Â MAD MAGAZINE #476Â 3.99
FEB073980Â MAGIC MIRROR OF MC ESCHER TASCHEN 25TH ANIV ED (C:Â 12.99
JAN070306Â MARTIAN MANHUNTER #8 (OF 8)Â 2.99
JAN072381Â MARVEL ADVENTURES FANTASTIC FOUR #22Â 2.99
JAN072424Â MARVEL MASTERWORKS DOCTOR STRANGE VOL 3 HC VAR EDÂ 54.99
JAN072423Â MARVEL MASTERWORKS DOCTOR STRANGE VOL 3 NEW ED HCÂ 54.99
DEC062308Â MARVEL SPOTLIGHT CIVIL WAR AFTERMATHÂ 2.99
JAN072455Â MARVEL TALES FLIP MAGAZINE #22Â 4.99
DEC063454Â MELUSINE HOCUS POCUS TPÂ 9.99
DEC063888Â METAMO KISS VOL 1 GN (OF 3)Â 9.99
DEC063924Â MOBILE SUIT GUNDAM ECOLE DU CIEL VOL 5 GN (OF 8)Â 9.99
JAN073903Â MODERN MASTERS VOL 1 ALAN DAVIS SC 2ND PTG (NOTE PÂ 14.95
DEC060266Â MOON CHILD VOL 6Â 9.99
OCT062164Â MOON KNIGHT #8 CWÂ 2.99
JAN072446Â MS MARVEL VOL 1 BEST OF THE BEST TPÂ 14.99
JAN070308Â MYSTERY IN SPACE #7 (OF 8)Â 3.99
JAN072387Â NEW AVENGERS #28Â 2.99
JAN072445Â NEW EXCALIBUR VOL 2 LAST DAYS OF CAMELOT TPÂ 19.99
JAN072409Â NEW X-MEN #36Â 2.99
AUG063404Â NININ GA SHINOBUDEN VOL 2 GN (APR068190)Â 9.95
DEC063444Â PIRACY IS LIBERATION VOL 1 INFORMATION WANTS TO BEÂ 13.95
DEC063987Â PLEASE SAVE MY EARTH VOL 21 TPÂ 9.99
DEC062358Â PTOLUS CITY BY THE SPIRE #5 (OF 6)Â 2.99
JAN072390Â PUNISHER WAR JOURNAL #5Â 2.99
OCT061863Â PVP VOL 4 PVP GOES BANANAS TPÂ 12.99
DEC063999Â READ OR DREAM VOL 3 TPÂ 9.99
DEC063893Â RECAST VOL 2 GN (OF 6) (MR)Â 9.99
DEC063926Â REDRUM 327 VOL 3 GN (OF 3) (MR)Â 9.99
JAN070263Â ROBIN #160Â 2.99
JAN074105Â ROCCO VARGAS SKETCHBOOK HCÂ 39.95
DEC063891Â ROSE HIP ZERO VOL 2 GN (OF 4) (MR)Â 9.99
DEC063318Â SABRINA VOL 2 #83Â 2.25
JAN071942Â SAM NOIR RONIN HOLIDAY #2 (OF 3)Â 2.99
JAN070378Â SANDMAN MYSTERY THEATRE SLEEP OF REASON #4 (OF 5)Â 2.99
SEP063790Â SCRIBBLINGS VOL 3 SC (MR)Â 15.00
NOV063442Â SOULSEARCHERS #82Â 2.50
JAN074010Â SPACESHIP AWAY AUTUMN 2006 #11Â 15.00
JAN072360Â SPIDER-MAN REIGN #4 (OF 4)Â 3.99
NOV060033Â STAR WARS 30TH ANNIV COLL VOL 1 HC FREEDON NADD UPÂ 16.95
JAN070350Â STORMWATCH PHD #5Â 2.99
DEC063929Â STRAWBERRY MARSHMALLOW ICHIGO MASHIMARO VOL 3 GN (Â 9.99
OCT063730Â STREET FIGHTER LEGENDS VOL 1 SAKURA TPÂ 11.95
APR063425Â STREET FIGHTER VOL 1 TP NEW EDITIONÂ 9.99
APR063426Â STREET FIGHTER VOL 2 TP NEW EDITIONÂ 13.99
MAY063447Â STREET FIGHTER VOL 3 FIGHTERS DESTINY TPÂ 13.99
DEC068028Â SUPER REAL VS COMIC BK INDUSTRY SPCL JIM MAHFOOD AÂ 3.50
NOV060188Â SUPERMAN #660Â 2.99
DEC060196Â SUPERMAN BATMAN THE GREATEST STORIES EVER TOLDÂ 19.99
SEP063424Â SWEETY VOL 2 GNÂ 9.95
JAN073471Â TAG CURSED CVR A #2 (OF 5)Â 3.99
JAN073472Â TAG CURSED CVR B #2 (OF 5)Â 3.99
JAN070322Â TALES OF THE UNEXPECTED #6 (OF 8)Â 3.99
DEC060249Â TEEN TITANS #44Â 2.99
DEC063931Â THREADS OF TIME VOL 9 GN (OF 11)Â 9.99
SEP063550Â THRUD THE BARBARIAN #5 (MR)Â 3.95
JAN072396Â THUNDERBOLTS #112Â 2.99
JAN072397Â THUNDERBOLTS FERRY VAR #112Â 2.99
JAN072395Â THUNDERBOLTS PRESENTS ZEMO BORN BETTER #2 (OF 4)Â 2.99
JUN063096Â TIMES OF BOTCHAN VOL 3 GN (OF 10)Â 19.99
OCT063547Â TOWN OF EVENING CALM COUNTRY OF CHERRY BLOSSOMS GNÂ 9.99
JAN073276Â TOYFARE HASBRO SPIDER-MAN 3 MOVIE CVR #117 (C: 0-1Â 4.99
DEC061873Â TRAKK MONSTER HUNTER TPÂ 15.99
JAN073694Â TRANSFORMERS BEAST WARS MANGA VOL 1 TPÂ 9.99
DEC063890Â TRINITY BLOOD VOL 2 GN (OF 7) (MR)Â 9.99
DEC063932Â TSUKUYOMI MOON PHASE VOL 6 GN (OF 10) (MR)Â 9.99
DEC063889Â TWELVE KINGDOMS VOL 1 SEA OF SHADOWS NOVEL HCÂ 16.99
JAN072434Â ULTIMATE SPIDER-MAN ULTIMATE COLLECTION VOL 1 TPÂ 24.99
SEP063761Â VIDEO WATCHDOG #129Â 7.95
JAN073632Â WALT DISNEYS SPRING FEVER VOL 1 TPÂ 9.50
DEC063881Â WARCRAFT VOL 3 GN (OF 3)Â 9.99
NOV063402Â WHAT WERE THEY THINKING GO WEST YOUNG MAN ONE SHOTÂ 3.99
JAN070354Â WILDSTORM FINE ARTS SPOTLIGHT J SCOTT CAMPBELLÂ 3.50
JAN072406Â WOLVERINE ORIGINS #12Â 2.99
JAN072431Â WOLVERINE ORIGINS VOL 2 SAVIOR PREMIERE HCÂ 19.99
AUG060310Â WOMEN OF THE DC UNIVERSE ZATANNA BUSTÂ 45.00
JAN070319Â WONDER WOMAN #5 (RES)Â 2.99
SEP063015Â WONDERLAND #3Â 3.50
AUG060049Â WORLDS OF AMANO HCÂ 27.95
DEC063685Â WORMWOOD GENTLEMAN CORPSE #6 (MR)Â 3.99
JAN073684Â WORMWOOD GENTLEMAN CORPSE VOL 1 TP (MR)Â 19.99
DEC064000Â YAKITATE JAPAN VOL 4 TPÂ 9.99
DEC063240Â YURI MONOGATARI VOL 4 GN (MR)Â 15.95