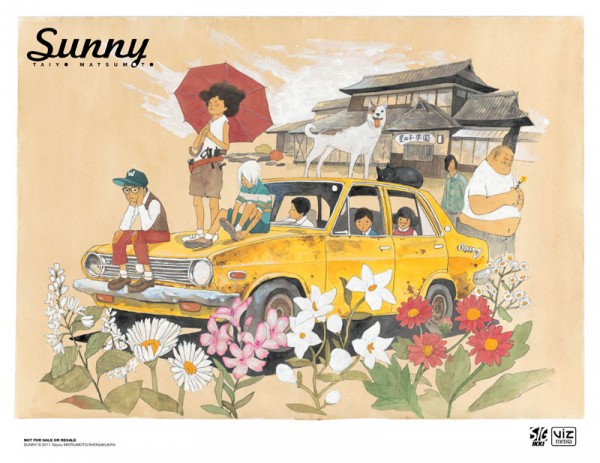 I just wanted to write a brief note to let you all know that The Slate Annual Cartoonist Studio Prize has been announced, and the winners are Taiyo Matsumoto, for Sunny, and Emily Carroll, for Out of Skin. You can see all of the nominees, with links to their work, at The Slate Magazine website.
I was lucky to be one this year's guest judge, alongside Slate Books Editor Dan Kois, and the faculty and students at the Center for Cartoon Studies. I just wanted to take a second to talk a little about these two authors' works, and why I'm so happy that they've one.
Emily Carroll: What a wonderful year for Emily Carroll!! Like most I discovered her work with the outstanding His Face All Red, which used the medium of webcomics in an unique, wonderful, and truly beautiful way. This year Carroll had a fantastic run of releases online, but for my fellow judges and I, the creepy and haunting Out Of Skin was the strongest, and one of the strongest stories of her career. As a bit of a closet-formalist, I love the methodologies that Carroll uses to tell her stories as much as the stories themselves, and I'm very excited to see how these iconic stories translate to the printed page in her debut print later this summer. You can view her winning work, and a selection of her comics, at her website.
Taiyo Matsumoto: I think it's pretty well-known, by this point, that I've been a fan of Taiyo Matsumoto's work for nearly 20 years now, and I'm happy that with the semi-autobiographical Sunny that he's finally getting some of much-deserved respect and recognition for his work. Moreover, I was thrilled to find that my enthusiasm for Sunny was eagerly returned by my fellow judges. With two volumes of Sunny released in 2013, and two more scheduled for 2014, 2015, and beyond, I'm thrilled to know that Matsumoto's work will continue to be discovered by new audiences for years to come. You can find more info at U.S. Publisher Viz Media's page, and Japanese publisher IKKI Magazine's page.
In closing, I'd like to offer my thanks to my fellow judges Dan Kois,  and Nicole Georges and the students and faculty of The Center for Cartoon Studies, for this opportunity to shine a spotlight on some truly phenomenal comics work. It was a surprisingly difficult experience to choose the best of the best, but a truly worthwhile one.
Best,
– Christopher