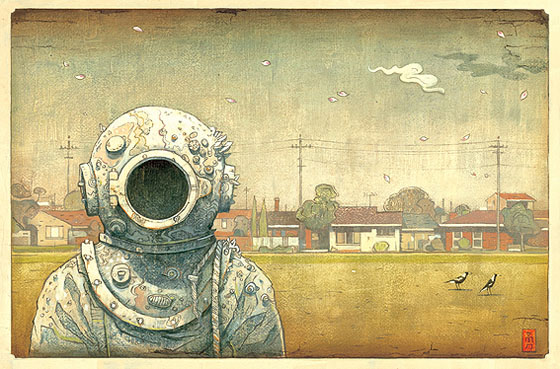 Shaun Tan Signing in Toronto
In Support of his new book, Tales from Outer Suburbia
Tuesday, October 28th, 5pm-7pm
@ The Beguiling, 601 Markham Street, Toronto
Free to attend
The Beguiling is proud to welcome Australia's Shaun Tan to Toronto, on tour for his new book Tales from Outer Suburbia. Despite being an accomplished and award-winning illustrator, Tan first came to the attention of graphic novel fans around the world for his epic, wordless graphic novel The Arrival. The Arrival won all sorts of awards and brought the extremely talented Tan to the attention of the comics industry, a rare "crossover" and, according to lumnaries like Art Spiegelman, a graphic novel in the truest sense of the phrase.
Tales From Outer Suburbia is a fascinating hybrid storybook and graphic novel, showcasing Tan's gorgeous art through prose, comics, and gorgeous full-page illustrations. A collection of short stories to be enjoyed by readers from 6 to 60, Tales From Outer Suburbia is exactly the sort of book that could become anyone's favourite.
The book will go on sale for the first time at this event.
For more on Shaun Tan, check out his website at http://www.shauntan.net/.
—
I'm quite excited about this signing. I'm sorry I haven't mentioned it until now, but if you can manage to make it out you won't be disappointed. All art from Tan's new book, Tales From Outer Suburbia, Copyright 2008 Shaun Tan.
– Chris