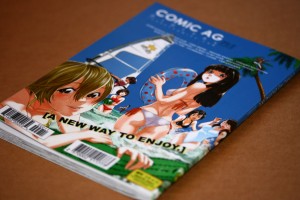 So it looks like Simon Jones from Icarus Publishing has been doing his own experiments with the various post-paper formats for comic books, with extensive testing of Barnes & Noble's Nook reader getting numerous posts as the good pornographer tried to figure the optimal format for reading comics on the device… full of helpful hints for any indy pub looking to distribute work in that format! But it's his most recent post on print-on-demand that I think y'all should immediately go and read.
http://www.icaruscomics.com/wp_web/?p=3843
In the comments section to my last post, POD organization Lightning Source was mentioned, frequently, as doing the highest quality POD material on the market, and the majority of creators I've talked to about their experiences had high praise for the pub, though the quality (it was admitted) didn't match-up with traditional offset. Well Mr. Jones has taken a test-run and printed Icarus' "Comics AG Digital Issue 00", a best-of sampler anthology, through Lightning Source's new partnership with Drive-Thru Comics. Their intention is to produce POD comics as both a printing and distribution service, similar to what I was discussing with ComiXpress in that last post (Drive-thru already exists as a digital distribution service).
Jones verdict on the final POD product? Not too shabby! But more than a little disappointing in some areas.
I really do encourage you to read the whole post about his experiences with quality control and output; it's well-balanced being informative and interesting for the layman/potential Icarus customer, and technically-detailed enough to give aspiring publishers something to think about.
I'll cut to the chase and say that Icarus plans to make all 5 of its Comic AG Digital issues available through the service at a cost of $7.99 per issue, which is 3 bucks more an issue than their offset-printing endeavours, and a whopping $7.49 more expensive than their digital downloads of those same issues… Which certainly highlights the economic imbalance of POD… but that said, that's $7.99 for 104 (ish) pages of content, which itself isn't too shabby! Simon, if you're reading, I'd love to know what kind of profit breakdown that price entails…
Of course I'm biased because I'm "Noted Comics Retailer" Christopher Butcher and POD sort of necessarily excludes traditional retail from the transaction. But take it from a guy who used to schlep his mini-comics to the Motor City Comic-Con for 4 or 5 years: I'm genuinely curious about POD and its applications to present high-quality printing for limited-run material. But I go to something like SPX or MoCCA and see creators investing as much time and effort into the physical presentations of their comics as the contents of those same books, and how can I not have a clear bias against a cookie-cutter production with so few of the benefits that mass-production entails (like consistency and quality…)?
Anyway, I've found the discussion very rewarding at least… and I'm probably going to try my own POD experiment in the next month or so. I'll letcha know. 🙂
– Christopher