Let me show you something.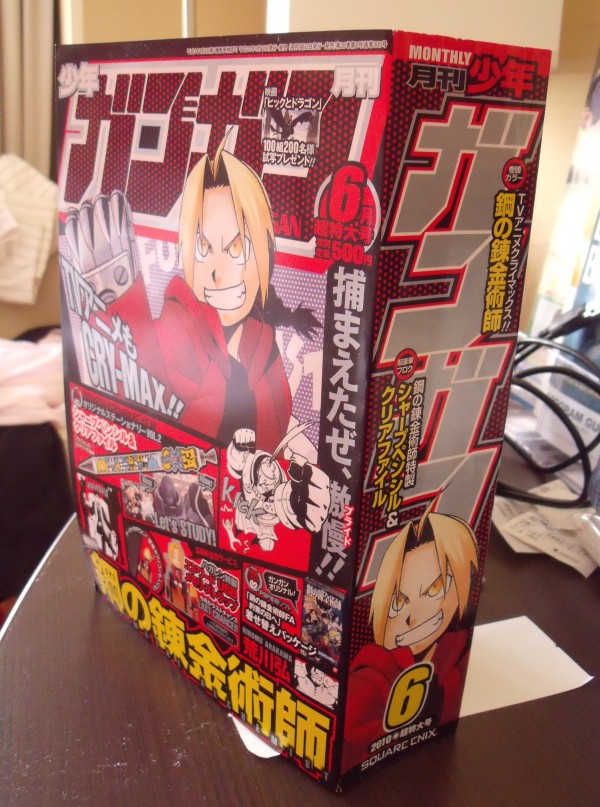 This is Monthly Shonen Gangan, a monthly manga anthology published by Square/Enix, best known in the west for their video game properties. It is where the very popular Shonen series Fullmetal Alchemist, published in English by Viz, is originally serialized. This is one fat piece of comics.
For comparison's sake, here's how this puppy stacks up against my USB plug… it's about 3 inches thick, and about a 90/10 split comics and advertising.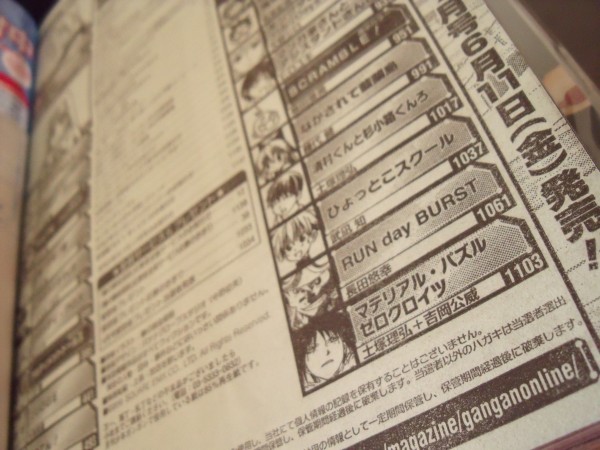 As you can see, the final story begins serialization on page 1103. The magazine, by my count, weighs in at 1144 pages. In addition to FMA, it serializes a number of popular stories currently being released in English, including Soul Eater from Yen Press. Stan Lee has a serial in here too (really) called HEROMAN, which I'm sure is coming to the U.S. annnnny day now.
In addition, the magazine was even FATTER on the shelf, coming with two gifts! A double-sized Fullmetal Alchemist folder, and a Fullmetal Alchemist mechanical "sharp pencil". A nice little bonus…!
So how much was all of this? 1144 pages of manga, two free gifts?
That's right, 500 yen. Actually they charged me 499 yen. That's about 5 bucks, give or take.
I kind of wish manga would continue taking off in the states, rather than stumble into the plateau it's hit… Because man, there's so much further to go.
– Chris
P.S.: Having a wonderful time in Japan, wish you were here. 🙂