Heya! I'm pretty excited about my next trip to Japan, as I'll be bringing along a collective of cartoonists and publishers as part of the work I'm doing with TCAF (The Toronto Comic Arts Festival).
I know I'd mentioned it a few times before, but now that the events are public I thought it warranted a blog post. Here are the quick-and-dirty details, but you can find all of the info and links and graphics and author biographies at http://torontocomics.com/news/tcaf-japan-2012-exhibition-details/.
If you're reading this and you will be in the Tokyo area, I hope you'll come say hi!
Oh, I'd like to thank the Canada Council for the Arts for supporting my trip.
We acknowledge the support of the Canada Council for the Arts, which last year invested $154 million to bring the arts to Canadians throughout the country.
Nous remercions le Conseil des arts du Canada de son soutien. L'an dernier, le Conseil  a investi 154 millions de dollars pour mettre de l'art dans la vie des Canadiennes et des Canadiens de tout le pays.
—
TCAF Presents: En Masse in Tokyo
at Design Festa Gallery WEST Room 1-D
November 13th to November 15th
3-20-18, Jingumae, Shibuya-ku, Tokyo 150-0001
Free to attend
http://enmasse.info/
http://www.facebook.com/events/114548898703824/
On Tuesday, November 13th, a group of Canadian and Japanese artists led by En Masse mainstay Rupert Bottenberg will collaboratively create three brand new works from blank canvas', with the public invited to (unobtrusively) view the creation process. Then, from the 13th to the 15th, all three new narrative art works will be on display and for sale at the legendary Design Festa Gallery, founded by acclaimed contemporary artist Takeshi Murakami.
—
TCAF Presents: Canada Comic Arts!
November 15th to December 2nd (Speaking Event November 18, 7pm)
Place: Shibuya Parco Part One B1F, Inside Parco Book Center at Presspop Gallery.
http://www.facebook.com/events/508510162495190/
We are proud to present "Canada Comics Arts" curated by TCAF of Canada.
In trying to give us a chance to glimpse the presently expanding exciting comics and arts scene in Canada, TCAF has selected and brought over original artworks by amazing artists, Maurice Vellekoop and Love Love Hill, and also books by Canadian artists of their choice. The TCAF crew, artists, and publishers will be in store on November 18th from 19:00 to discuss what's going on now in the Canadian comics/art/publishing scene. Authors will read short excerpts of selected works. Don't miss out on this rare chance!
—

Kaigai Manga Festa, Tokyo, Japan
Featuring The Toronto Comic Arts Festival & Canadian Authors
Tokyo Big Sight, East-West Atrium, 3-11-1 Ariake, Koutou-ku, Tokyo
11:00am to 4:00pm
Admission 1000yen ($12.50CDN)
http://kaigaimangafesta.com/en/
http://www.facebook.com/events/354922114598137/
Kaigai Manga Festa is the first ever Tokyo exhibition of international comics and graphic novels. TCAF will be on hand to represent Canadian comics culture, with the support of Canadian publishers Drawn & Quarterly, Koyama Press, and UDON Entertainment. Authors include Rupert Bottenberg, Omar Dogan, Jeffrey Ellis, Agnes Garbowska, Dax Gordine, Love Love Hill (Collective featuring Wai Au, Kim Hoang, Julie Man), David Namisato, Benjamin Rivers, Miguel Sternberg, Maurice Vellekoop.
In addition, TCAF has created an original doujinshi in honour of the Festival's 10th Anniversary, celebrating the wonderful original artwork that has been created to represent the festival.
—
And just cuz it's kinda neat, here's the TCAF appearances flyer in English/Japanese: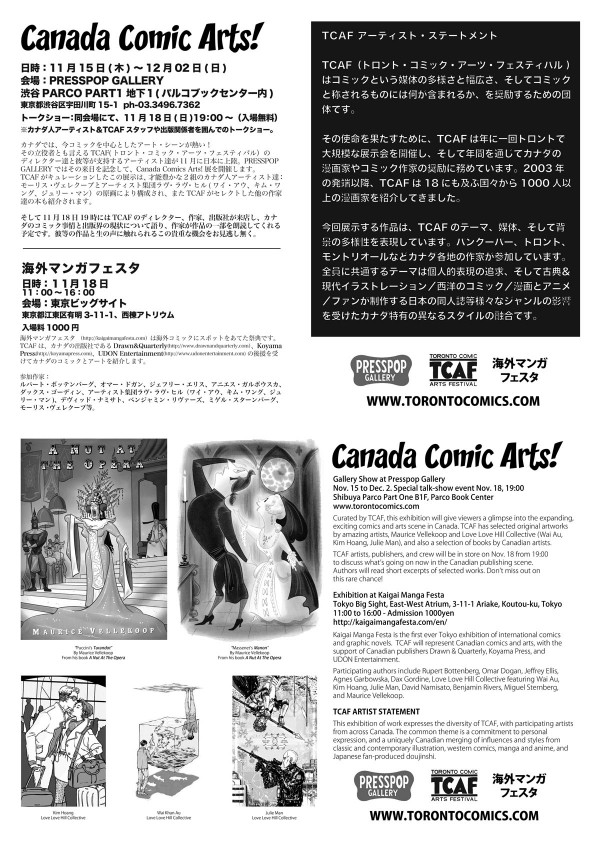 – Chris