Here are some things I like about Christmas, and Christmas things from this year mostly. Pictures and Comics and Songs and things. I'll keep them all on one post so I don't push everything else off the front page. I might not update every day, but I'll have something for every day from the 1st to the 25th. Merry Christmas. 🙂
December 19th: Christmas Lights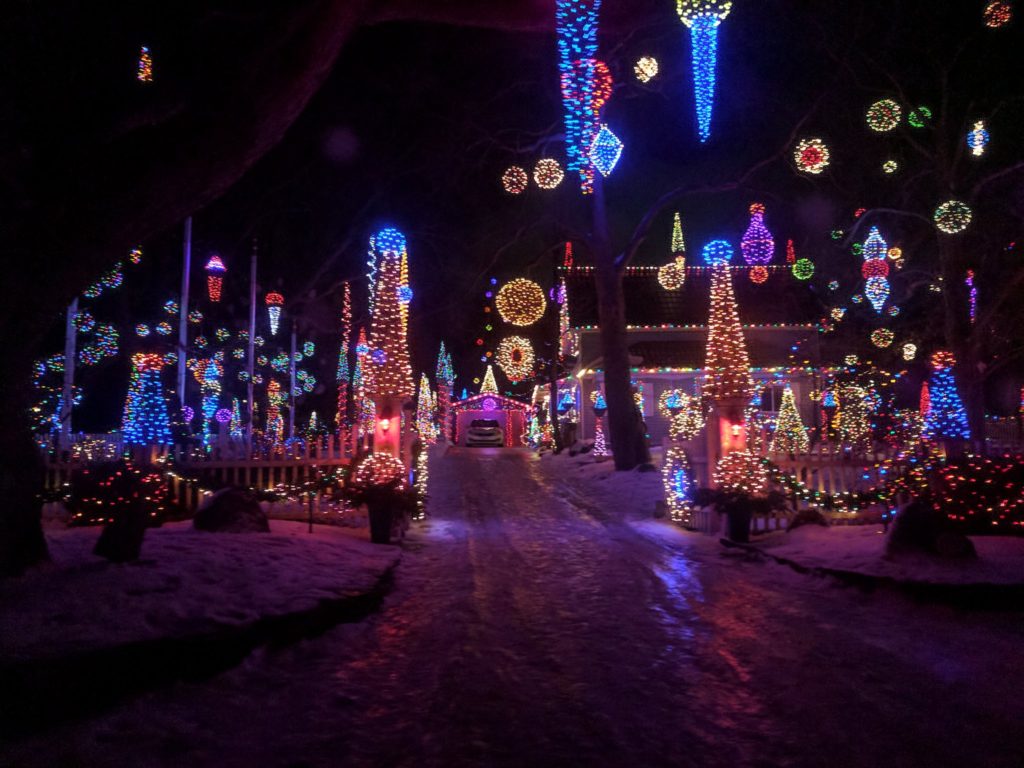 Jon Klassen posted this picture of one of his neighbours' houses Christmas setups and it's so, so good. I'm looking forward to getting in the car and driving through the fancy neighbourhoods to look at the lights. 🙂
Also, back when I had cable I was a sucker for those "Most Extreme Christmas Lights Ever!" shows.
Click for a larger version.
December 18th: Office Christmas Party (Kids in the Hall)
Actually now all I can think about are various Kids in the Hall Christmas skits.
December 17th: Did you know Dave Foley from Kids In The Hall did a Christmas Special? Called "The True Meaning of Christmas Specials?"
I DIDN'T KNOW THAT.  I love the straight-up KITH Christmas Special (The Queen and Buddy Cole, I mean honestly), and I had no idea this existed until Dave Foley himself tweeted it, so I don't feel that terrible about linking it on Youtube.
December 16th: How Many Of These Ways Have You Ruined Christmas?
Have you Hung Stockings By The Chimney Half-Assedly? Donated Blood to Toys for Tots? Or worse? Take this quiz to find out all of the ways you have royally fucked up Christmas over at Clickhole.
December 15th:  Happy Snowflake Day! It's The Clone High Holiday Special
https://www.youtube.com/watch?v=KqFQvekoiv0
My favourite contemporary Christmas television special is The Clone High Holiday Special, in which the characters celebrate the just-invented Snowflake Day, casting aside all of the "exclusionary" holiday celebrations that have preceded it.  Today is the day of the first viewing of this contemporary classic, and it gets better every single time I see it.
December 14th: Christmas Cheer
We had a great event at Page & Panel on the 14th, with Jon Klassen, Matt Forsythe, Kyo Maclear, and John Martz at the shop talking about their new picture books. It was fantastically successful, but the best part was getting to hang out and have a drink and a bite to eat with some great folks afterwards. Andrew and I aren't doing a Christmas Party this year cuz we're just too busy to organize anything, so getting to socialize and raise a cup of cheer is just that much nicer, that much more important.
The evening before I got to have a very rare drink with Mark Askwith and Jim Zub, shooting the shit and 'solving comics' as Jim described, and while I had a few too many, it was just too good of a conversation to leave.
A couple of nice nights.
December 13th: Overwatch Winter Wonderland!
It's really, really good you guys. 🙂 I'm playing on PS4 as Comics212 if you want to add me.
December 12th: It's Andrew's Birthday!
My husband Andrew was born today! Hooray! He is literally the first person I've encountered with a December birthday whose birthday didn't get lumped in with Christmas. He is very well adjusted about this, actually. Still, shout out to all the December babies who got a 'combination Christmas & Birthday gift', that's rough.
December 11th: Mariah Carey Wrote The Last Great Christmas Song: Deal With It.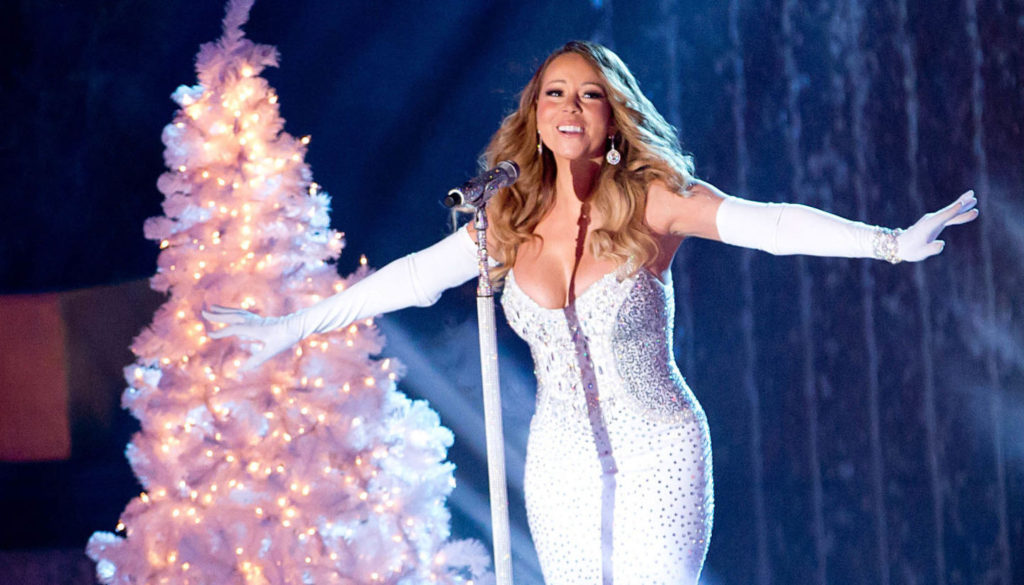 "In 1994, I wrote the last good Christmas song. Deal with it, world.
"It's called "All I Want For Christmas Is You." I wrote it with a man named Walter Afanasieff, who went by the nickname "Baby Love" in the 80s. We won't speak of him again.
"Back to the song. Not only was I on top of the damn world when I released it, but give it a listen. It's got bell chimes. I do that "ooooohh hooooo oooooh baby" thing. There are so many octaves. The message that love matters more than gifts connects with everyone in a "nah, not really, but I'm not gonna disagree publicly with it" way."
Read the whole thing, it's great: http://www.secondcity.com/mariah-carey-last-good-christmas-song
December 10th: Community Christmas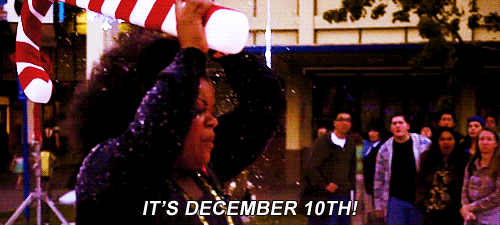 I love the Christmas episodes of Community. They're always the right mix of incredibly heavy and blissfully light. This one struck a chord because I was bullied in school and the school bullies sort of brought that back, but I did love that the characters had each others' backs. My favourite though is probably the GLEE send-up, though the best is obviously the Claymation one.
December 9th: Santas by Chris Schweizer!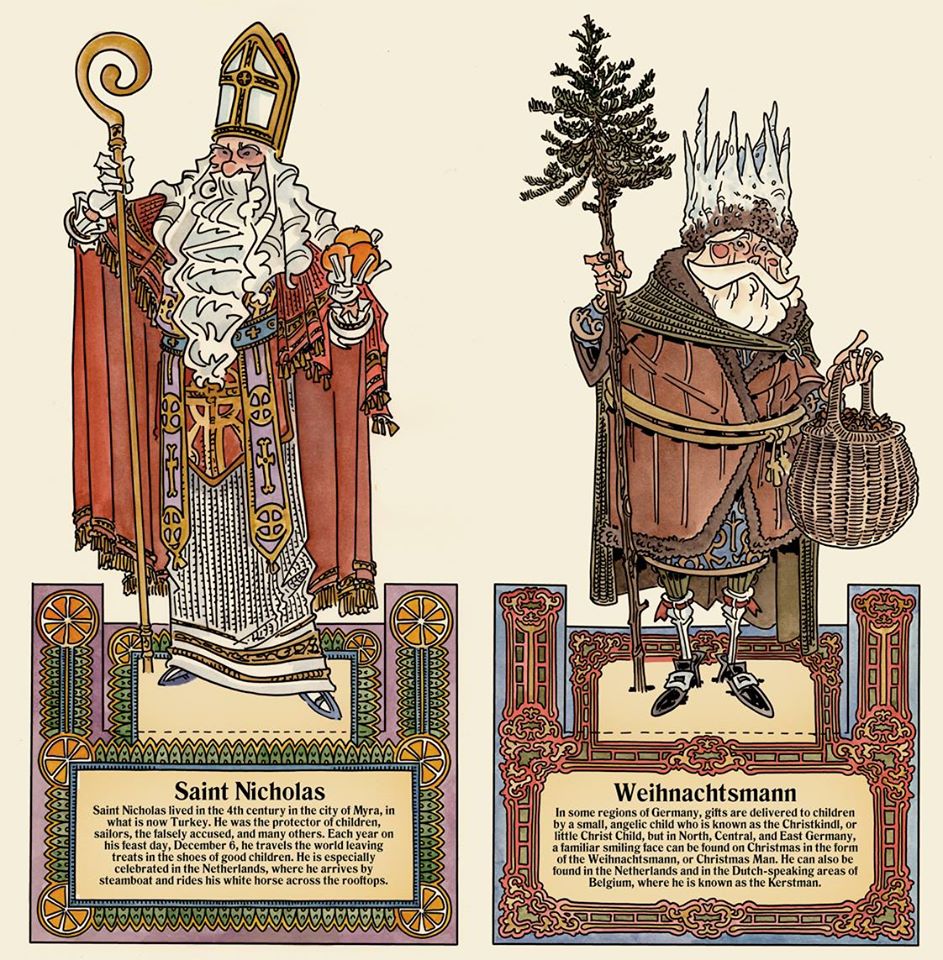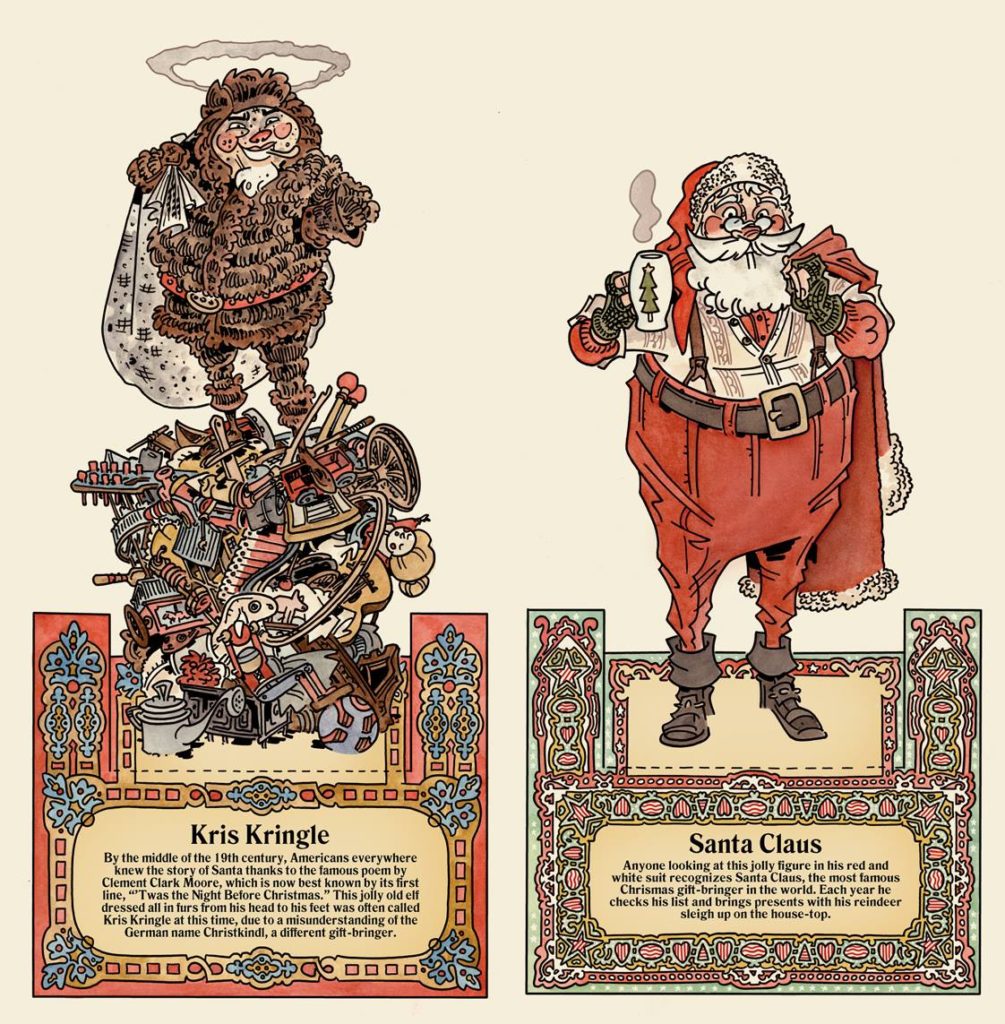 Chris Schweizer, the creator of the "Crogan's" series of graphic novels from Oni Press, came up with this cool idea for a bunch of the historically-informed real and mythical characters that informed our idea of the contemporary Santa Claus. You can buy some of the original art, as well as papercraft versions, at his online store: http://crogan.bigcartel.com/
You can also see his (better) explanation of the project on his Facebook: https://www.facebook.com/chris.schweizer.comics/posts/10101571439405027?pnref=story
December 8th: Christmas Eve, 3am
I made my first Christmas mix CD back in 2003. It was themed around always having to work when I went home for Christmas, because deadlines. Some things never change.
I made an online version for people to download (PIRACY!) and I mailed out burned CDs to some of my friends too. I really massaged the hell out of it too, using a mixing software that had songs smoothly fading into one another, big volume changes to have songs start with a bang (the fanfare at the beginning of Baby It's Cold Outside was particularly nice next to the jazzy fade on Ella's Have Yourself…). I was so proud of this, and I think it still holds up.
I actually don't have a copy of this anymore, James Lucas Jones might have the last copy in existence and was nice enough to send me this photo of it so I could see the track listing. I made a Spotify playlist of it too, so you could listen if you like: https://open.spotify.com/user/christopher.butcher/playlist/2zM1LeB1Vo0YRdXGyjCbqp . Sadly due to the music industry being weird and fucked, a bunch of songs on the list there aren't on Spotify (although I get that Spotify itself is a sort of shitty service for musicians), so you'll have to to pause the playlist and insert your own copies of Slade's MERRY CHRISTMAS to kick things off, and the lovely tension of Bing and Bowie on Peace On Earth / Little Drummer Boy. It's not the right version of Anne Murray's Winter Wonderland either, I need the one from my youth, from the late 70s or early 80s. Ah well. Ah well.
I made maybe 3 or 4 of these mixes over the years, and I always think I'll make another, and then I never get a chance to because Christmas has gotten too busy to even write these little blog updates, let alone actually spend 4 or 5 hours making the perfect Christmas mix. Maybe one day I'll get to make another. 🙂
December 7th: Happy Holidays from Overwatch…?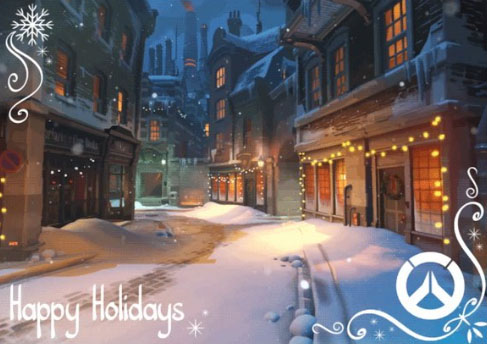 I've been playing a lot of Overwatch on PS4 lately. It's a nice easy way to get out of my own head for a while. I was delighted when I saw this posted, that there'll be a special holiday event for the game, presumably with Christmas/Holiday-themed outfits for the characters and more. 🙂
December 6th: Michael DeForge and Jillian Tamaki's Holiday Illustration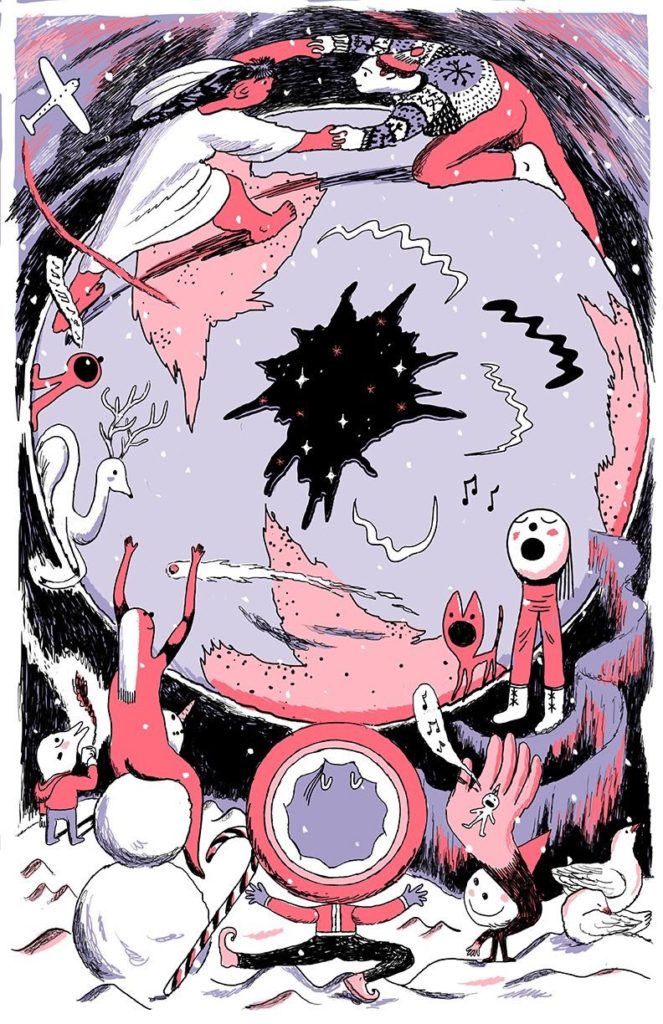 Released on Twitter and apparently printed and posted around the city. Love it. 🙂
December 5th: Krampusnacht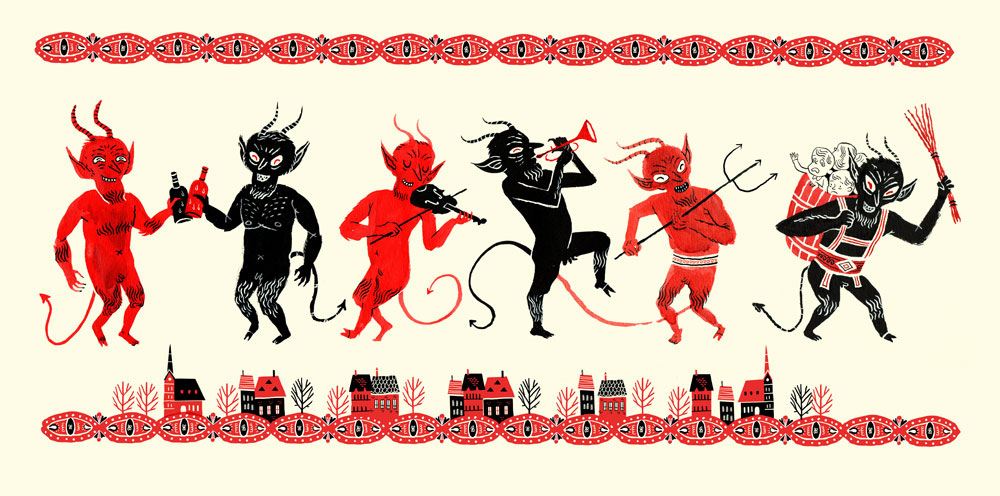 December 5th is Krampusnacht, or the night of the Krampus, when Santa's dark twin comes to whip the bad children with a switch, or steal them away. So, you know. This particular Krampus illustration hangs on my wall at home, and it's by Matt Forsythe. I got it from a Krampus art show in 2010, I think that's where I maybe met Anne Koyama for real, for the first time? Anyway, she's great, and Matt's great, and this illustration is great too.
December 4th: Illumination in Japan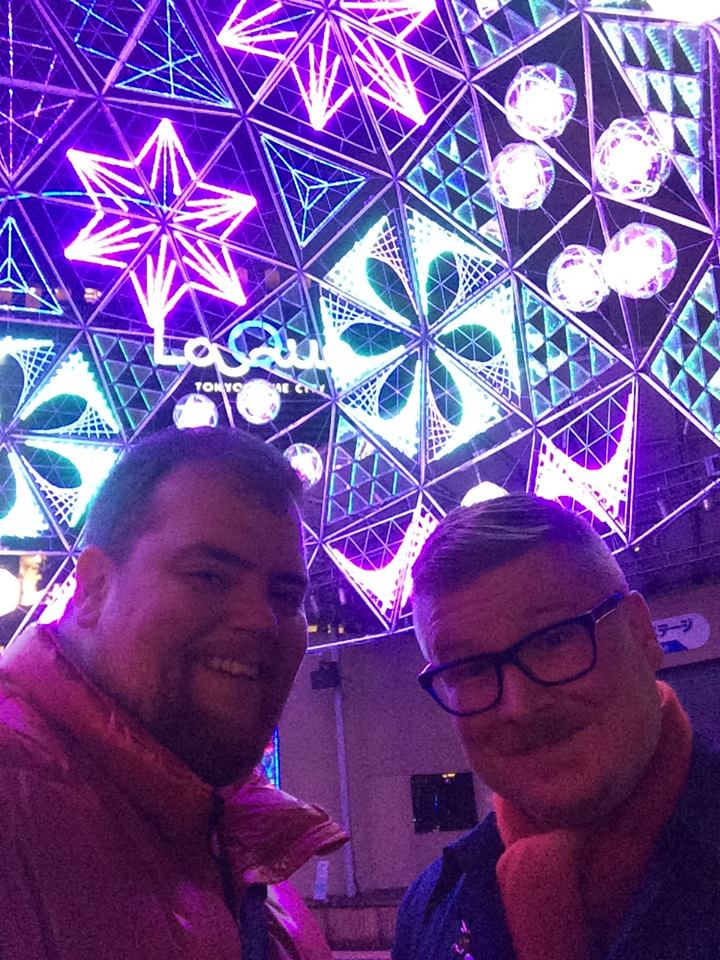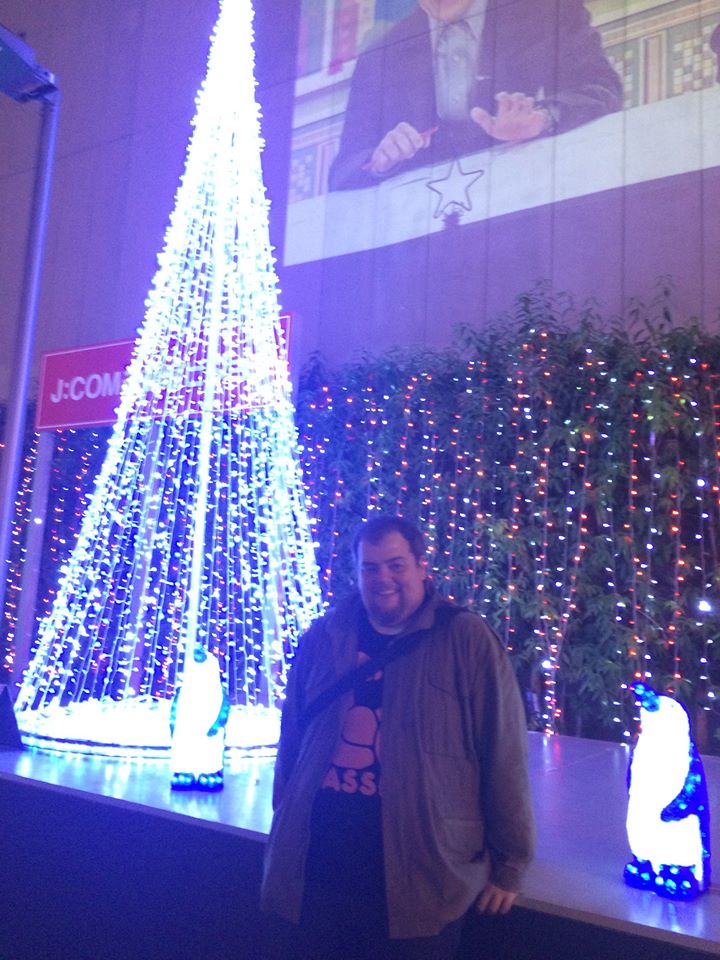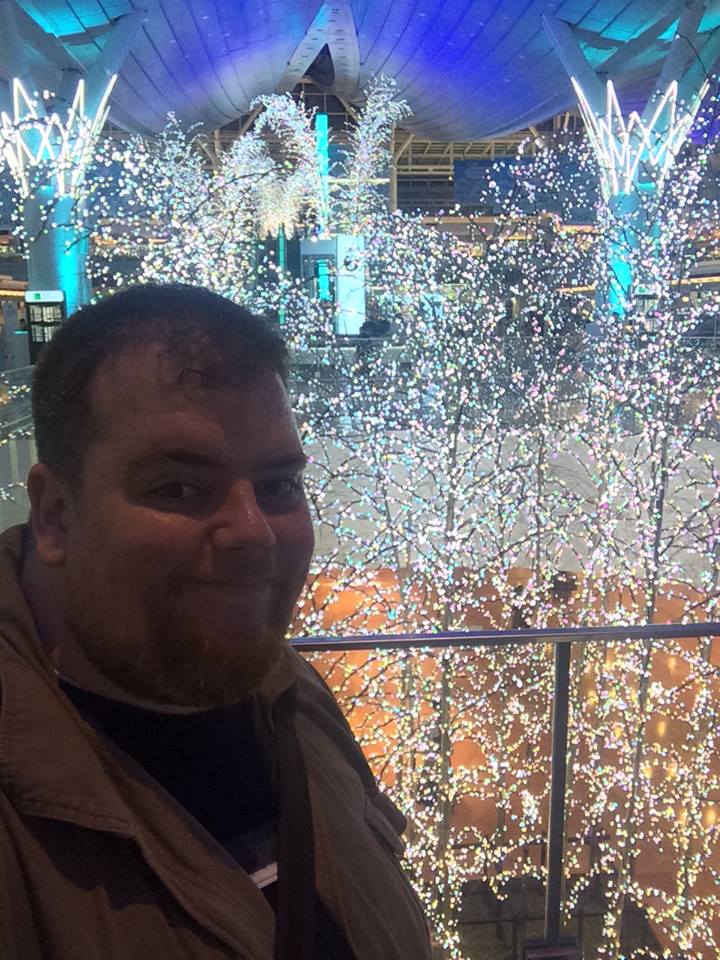 (Various Tokyo Illumination installations)
I'm not able to go to Japan this Christmas or New Years as I have for the past few years, although I did get a record three trips there this year and I realize how lucky I am for that. I still really miss it though, there's something about Christmas there that's very deeply different than here in Canada… but in this instance, I really like their Christmas Lights displays. They call them "illuminations" and they're all over Tokyo and the biggest cities in Japan. Usually there'll be 10-15 really high end, remarkable illuminations in Tokyo, with smaller ones dotted throughout the city at department stores and what not. It's really beautiful, simultaneously over the top without being too gaudy. I used to stare at the lights on our Christmas tree for hours, back when I was a kid (and a teen), and this is like that but writ large across my favourite city.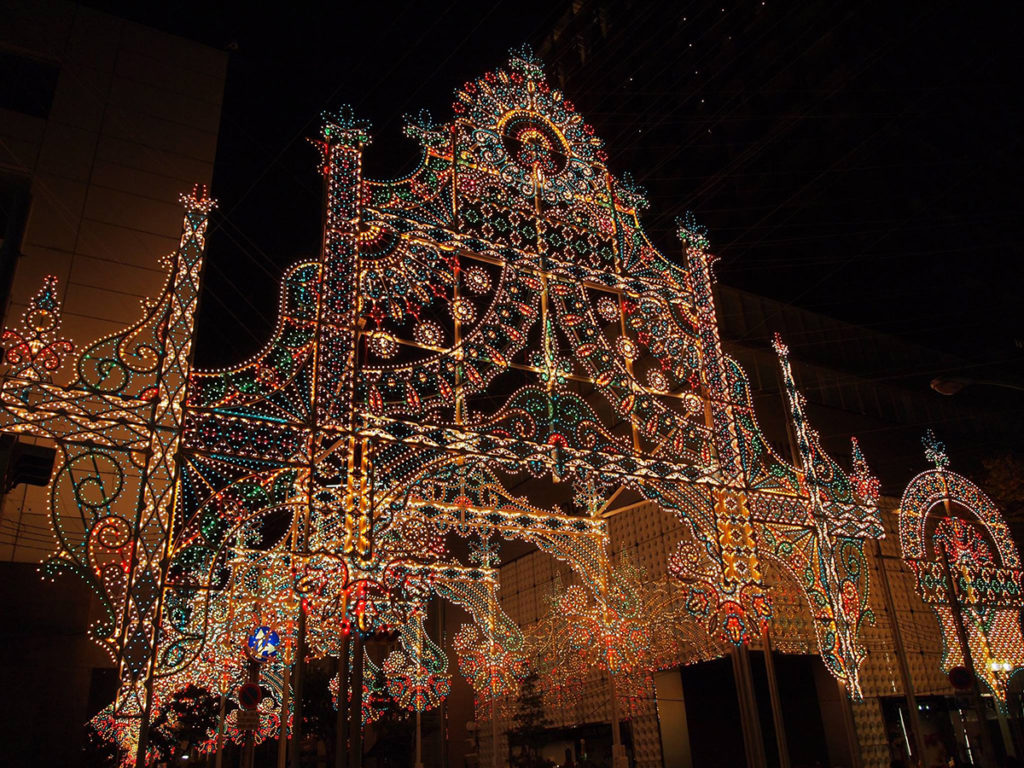 The reason I thought of this today was because I bumped into my friend Robin Nishio, who IS planning a trip through Japan for the last half of December. I told him that the best thing I saw at Christmas time in Japan was probably "Lumiere", the Kobe illumination display. It was and is a marvelous installation of lights, up and down the main streets of Kobe, nearly a kilometre long and ending in a giant part with huge structures seemingly comprised of nothing but light. It was a tradition begun following the great Kobe earthquake, an attempt to show the rest of Japan that Kobe was resilient, was rebuilding, and that they should come and support the city. Citizens and government banded together to create this and it added an amazing, poignant air to the already beautiful and affecting display. I was grinning ear to ear until it finally overwhelmed me and I teared up. It's one of my favourite experiences and memories of Japan. I'm grateful to Emi and Graeme for showing it to me.
December 3rd: Christmas at Retail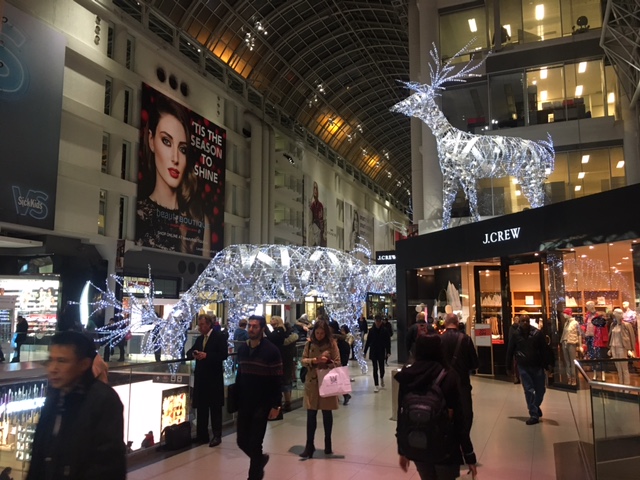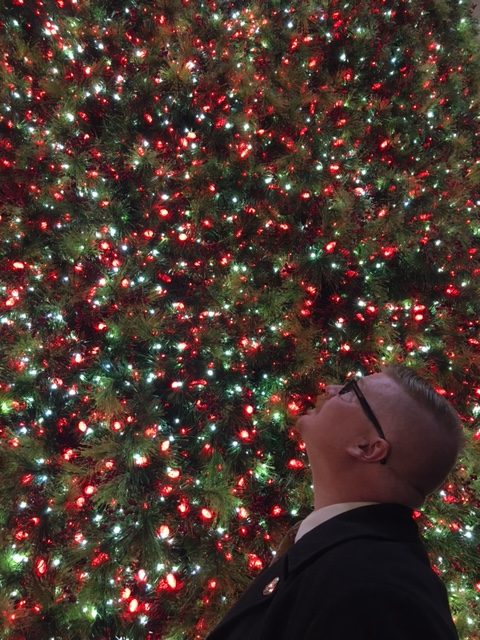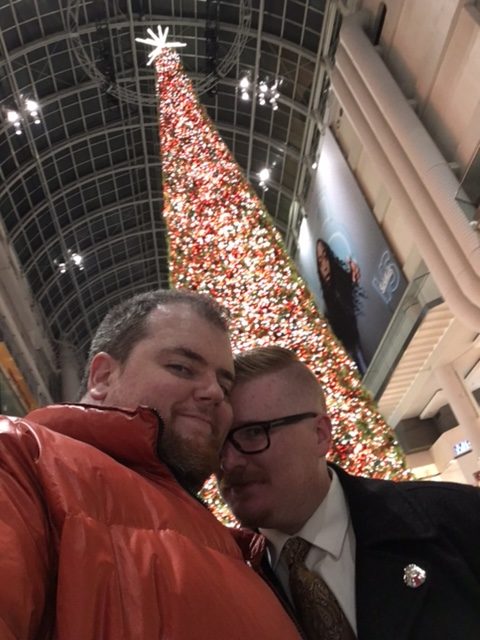 Despite working in retail for most of my adult life, I actually really love how all-out retail establishments will go to celebrate Christmas and the holidays. Sure, it's in the service of consumerism and capitalism, but if we can get stunning, beautiful things like this because people are encouraged to spend more, I'm personally willing to take that trade-off. This also marked a rare instance for Andrew and I to go and take in a little holiday spirit together, and that was lovely too.
December 2nd: Simply Having A Wonderful Christmas Time
On her Facebook, my friend Liz Clayton is holding here annual(?) Wonderful Christmastime Challenge. The rules for the challenge are simple, as Liz explains: "You enter by simply existing and lose by hearing this terrible song while just trying to go about your peaceable business. Covers count. Humming or someone singing it to knock you out does not count. Your goal is to survive unscathed for as long as you can: contest begins at 12:01am EST Thursday, November 17, one week before Thanksgiving."
Andrew and I were both knocked out of the running on December 1st, basically the first real day of Christmas music. Me, earlier in the day, when I put on a spotify playlist that I was _sure_ didn't include the song, and then him, later, as we stood in line at Shopper's Drug Mart after an otherwise lovely evening out.
I used to truly hate this song, and it's repetitive, droning nature. I've softened on it a lot of over the years though, as its early-days synthesizer noises are actually kind of incredible, and it doesn't sound much like any other piece of Christmas pop that there is. It also doesn't implore or demand anything of its listener (other than 'Don't Look Down' at one point). It's not telling you to deck anything, to carol, or warning you to watch out. It's just Paul and the crew sitting around singing about how much fun they're having, and that's not so bad, is it?
I mean, it's still a little bad.
December 1st: The STYLE Christmas Comic

Once upon a time I lived with Bryan Lee O'Malley, creator of Scott Pilgrim, and this other guy, and we used one of the rooms in the house for our office. It housed all of our computers. I was kind of poor, so I had a pair of hand-me-down speakers for my computer and no headphones, wheras Bryan and Other Guy both had pretty bitch'n headphones. So it made sense to me that I could just play the music I wanted because they couldn't hear it anyway. About the time Christmas rolled around and I started listening to Christmas music 24 hours a day, I was informed that my music could in fact be heard, and was in fact intolerable.
That did not deter me. So Bryan made me a comic strip.
I still consider it a tribute, rather than a threat.
—
I posted this on Twitter on December 1st, at like 12:30am, and I was susprised how many people had never seen it, despite posting it here annually for a few years. A good reminder that if I ever start writing here regularly again, it'll be to a bunch of new people. And I'll be able to reuse a lot of old material. 😉
—
…more to come.