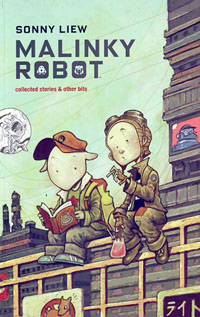 I received this adorable little Christmas Card from Sonny Liew, creator of Malinky Robot, this morning. What better time to remind you to all rush out and pick up a copy of this book for someone on your Christmas list?
For the uninitiated, It's a bit like TekkonKinkreet without the ultra-violence, or the FLIGHT anthologies before there were FLIGHT anthologies. Gorgeous sprawling cityscapes and small stories about big things, the detritus of childhood writ large, it's fun stuff.
Malinky Robot: Collected Stories & Other Bits
Created by Sonny Liew
Full Colour, 128 Pages, $16.95
Published by Image Comics
I'll try and run all of the comics-related Christmas Cards I get this year up here on the blog… it's the least I can do during this very low ebb of content.
– Chris