On June 17th, Viz Media will release CAT-EYED BOY, a two-volume collection of the shonen horror classic by Kazuo Umezu weighing in at over a 1000 pages combined (for a bargain-price of about $50 total). This is a pretty radical publishing departure for Viz, and they're putting a lot of promotional effort behind one of the most unique and important manga-ka in Japan, and one of his most beloved works.
I'm growing ever more interested in the localization and design of manga as it makes its way from Japan to North America. The culture and design of manga in its native country is a pretty unique beast; Japanese graphic design (at least so far as it extends to manga) is very different, generally, to how book design is presented here in the west. So when the fellas over at the Same Hat blog announced that the next Viz Signature manga (read: mature/arty/non-mainstream) would be Kazuo Umezu's CAT-EYED BOY, I was both excited and curious to see how the work would be presented to North American audiences, and I was lucky enough to score an interview with the folks responsible at VIZ to talk about the ins and outs of the process.
Anecdotally I've heard from several manga publishers (and mangaesque publishers) that book buyers favour book covers with big faces on the cover. Covers that prominently feature the lead characters, big images, emphasizing their manga-ness, if possible staring directly at the reader. Contrast this with Japan and Japanese manga design… The covers are frequently dense with text (both on the monthly magazines and the book collections), with a greater range of stylistic choices available to the artist. Frequently in North America, we'll see manga book covers that feature interior illustrations blown up and re-coloured for the cover, as North American publishers decide (for a variety of reasons) that the Japanese covers just don't work for this market…
Viz is almost finished releasing another Umezu manga, Drifting Classroom, to much critical acclaim in North America. The story of a an entire elementary school (full of children!) whisked away to a post-apocalyptic wasteland is incredibly compelling; vicious and bleak in its treatment of its young protagonists and wearing a grim opinion of the human condition on its sleeve. Nevertheless, it is amazing, and one of my favourite comics released in 2007. It's also being released in North America as a "Mature Readers" book, implying a readership of 18+ (but not in an Icarus sort of a way). But when it was originally released in in the early 1970s, this story was intended for readers a lot closer in age to its 10 year-old protagonists (originally running in "Shonen Sunday" Magazine) than to the readership it is finding in North America. So when published in North America, did Drifting Classroom get the "Shonen Jump" treatment, featuring bright bold heroes in full colour grinning at the reader with a GANBATTE! spirit?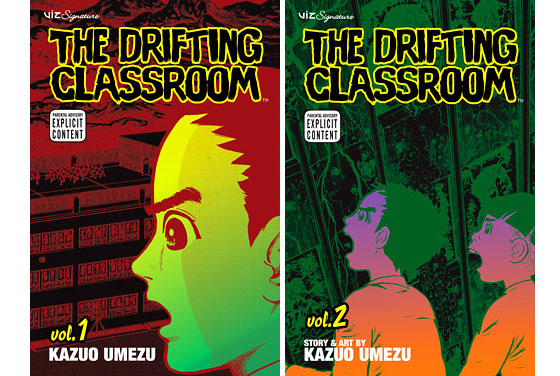 Not exactly, no. Instead, the books are coloured and designed to look as unsettling as possible. Contrasting colours in sickly shades and terrified children are the stars of the show; only the meanest parents would pick this one up alongside Naruto and Shaman King for little Billy. I mean, the life-lessons in Drifting Classroom are probably much more important to any 10 year-old (i.e.: When the shit goes down, your friends are more likely to stone you to death than they are to pull together and work for the greater good…) but far less likely to be imparted by a loving parent… or loving manga publisher.
So back to Cat-Eyed Boy. When I saw these covers on the SAME HAT blog I loved the hell out of them.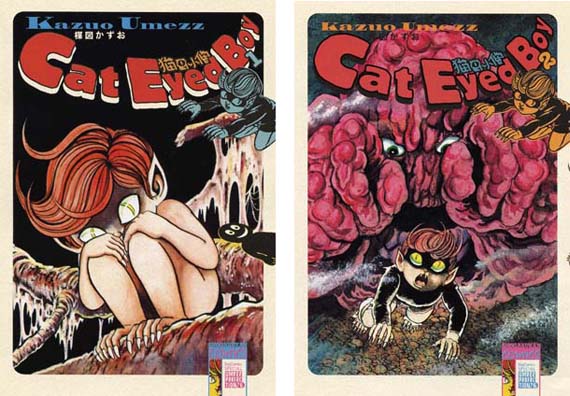 These are the covers for the "perfect" collections of the manga in Japan, which roughly correspond to the forthcoming English omnibus editions. They're everything that I want out my classic manga. Solid illustrations, an eye-catching logo, a clarity of design, intent, and audience. It's all really, really good… for Japan (and for me…).
Looking at it from a North American publisher's perspective, there are some problems. Having a naked little boy on a book cover doesn't fly in North America, for the most part (even if he's got creepy claw feet). The book also looks a little young… Though its original audience is likely that same "Shonen Sunday" crowd as Drifting Classroom, in North America these are quite clearly going to be intended for an adult audience that is equally as likely to appreciate these works as viscerally enjoy them. (Though I feel it's important to note that these re-releases were probably intended for an adult audience in Japan, likely the same adults who bought the stories as children originally). I'd love to own these two book covers, and chances are I'll just pick them up next time I'm in Japan, either that or a nice Umezu art book maybe? But on North American shelves, they'd be pretty unlikely at best.
So what IS Viz cooking up for their North American editions of this material?: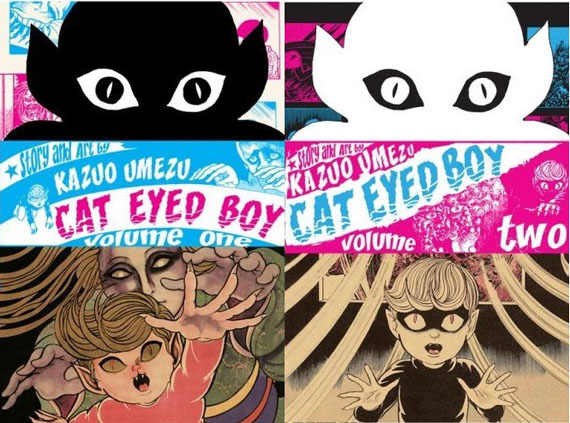 These covers are striking, bold, and graphic, but very different in style and tone than the Japanese editions, even though they incorporate original Japanese art by Kazuo Umezu. The acid magenta and cyan tones are just-about the most eye-catching colours you can print on a book without adding a special ink, implying that this is a book that the publishers really want to catch your attention. It also features the unsettling silhouette of the boy staring you down, which is pretty darned creepy (and attention grabbibng!). Very different… a much bolder statement about the work.
To discuss the changes between the two and maybe try and get some insight into the process, I conducted a short e-mail interview with Alvin Lu, Vice President, Pubishing, VIZ Media.
Christopher Butcher, Comics212.net: What led to VIZ Media considering the publication of Kazuo Umezu's CAT-EYED BOY? Particularly in a format so completely different than other Viz Media releases… How do you expect readers to react?

Alvin Lu, Vice President, Publishing, Viz Media: VIZ Media is currently in the process of a long-held dream: gradually revealing to an English-reading audience a cross-section of the totality of the works of one of the 20th century's greatest artists (all categories), Kazuo Umezu. Having completed our run of the long serial, the work many consider to be Umezu's masterpiece, THE DRIFTING CLASSROOM, we are now embarking on releasing a representative earlier work, CAT EYED BOY, which we intend to publish, in swifter fashion, in its entirety. In the case of each of our Umezu releases, we consider the ideal format to feature that work. In such a long and varied career, a "one size fits all" approach is not necessarily appropriate.

This is a case where we would like the publisher's motives and angles, and speculation over market reception, to be less the subject of chatter than simply the work itself. The work will speak for itself. Our role in the cases of these publications, which over time will be (and have already been) regarded as cornerstone works in the history of manga, is to feature the work to its best advantage.

Comics212: The trend in 2006-2007 was to collect older manga material in "omnibus" volumes. Did the relative sales successes of these omnibus editions affect your decision on the format for CAT-EYED BOY?

Alvin: The decision to publish CAT EYED BOY in this format was made around the time we decided to the same for TEKKONKINKREET. At the time, we had no real idea if the format would be viable in the marketplace or not, although it seemed to us that this would be ideal format to feature this work.

Comics212: The covers for the Japanese and English editions of CAT EYED BOY are very different, though the latter does incorporate elements of the former. Can you detail some of your decision-making regarding designing the English-edition covers? Do bookstore buyers influence your designs?

Alvin: VIZ Media wanted to create something exciting and strange, something that would make the book an object that wouldn't be out of place within the manga itself. We do solicit and respect feedback from buyers, but over broader strategies. I can't think of a case of soliciting feedback regarding a specific cover.

Comics212: Does Kazuo Umezu have any input into the English language editions of his work?

Alvin: When we first started discussions about publishing Umezu's work there was more back and forth and yes, sometimes there is very specific requests on the proposed cover.

Comics212: Will the VIZ media editions of CAT-EYED BOY include any extras, along the lines of the "TEKKONKINKREET" release? Ie: original covers, posters, interviews, creator profiles, etc.

Alvin: Not on the same scale. As I said, the idea was to make the book as much an object as the contents of the book itself. The manga images themselves carry this out far more effectively than any other information… though there is an interview at the end of the second book.

Comics212: Finally, why should everyone pick up CAT-EYED BOY when both books are released June 17th?

Alvin: Because it is strange and beautiful.
It's pretty clear that the content is a heck of a lot more important to Mr. Lu than the packaging, and in general I understand, though the art, design, and aesthetics of manga have become more and more a factor into my appreciation of the work. I think that the covers for the forthcoming English-language editions of CAT-EYED BOY are actually quite nice, fitting nicely into the design ideology for classic manga material defined by Vertical Publishing on their reprints of works by Osamu Tezuka, and Keiko Takemiya.
To be completely honest I was sold on CAT-EYED BOY before I saw any cover art at all. Umezu's Drifting Classroom has been so consistently engaging and enjoyable over the past year that I can't imagine not picking up everything released into English by this creator for as long as I'm buying comics. I think that the weight and heft given to this series by it's massive binding and one-day release schedule will draw the right kind of attention to this work and continue to establish Umezu as a name worth knowing for North American comics readers.
– Christopher
Check The Viz English Edition Covers of Cat-Eyed Boy in a much larger size behind the cut: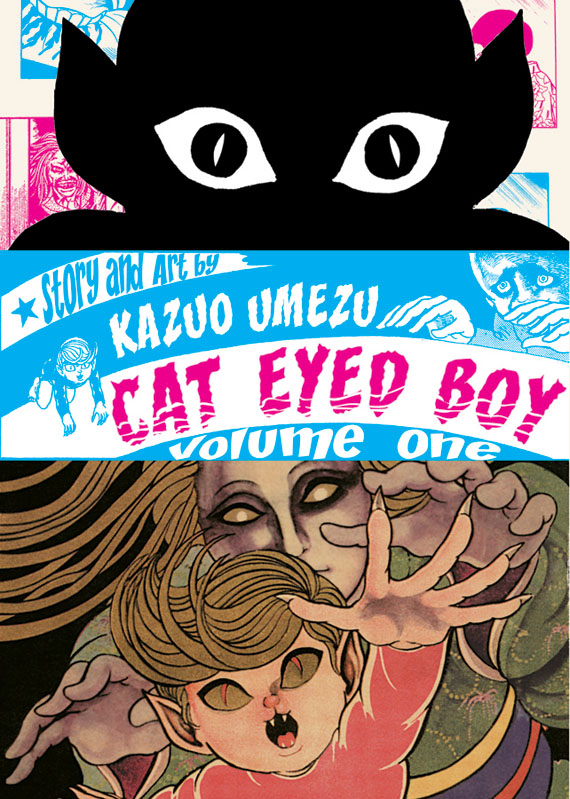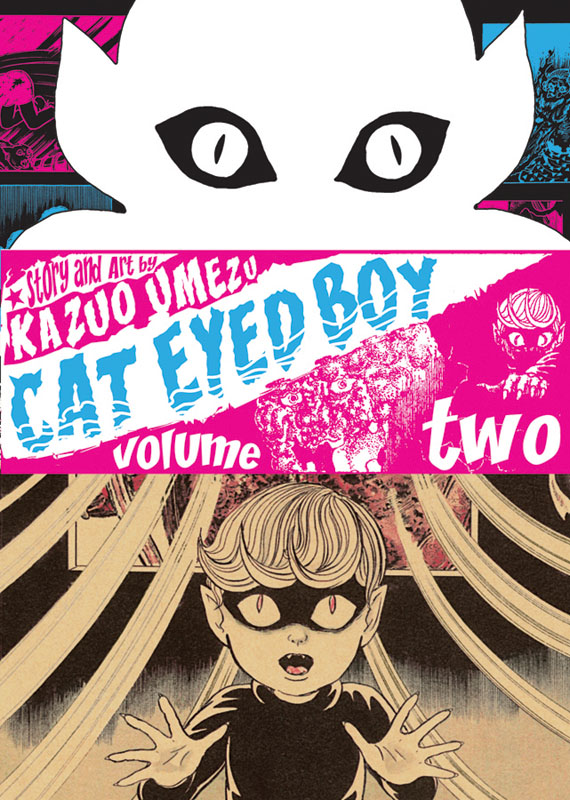 CAT EYED BOY Volume 1 & 2 • Rated "T+" for Older Teens • MSRP: $24.99ea • 544/496 pages
Available June 17, 2008
Cat Eyed Boy is a half-human, half-monster child whose mostly human appearance bans him from the demon world. He lives hidden in the shadows of the human world, hated by humans and demons alike. Wherever he goes, awful events occur as the humans and demons interact. In 11 stories of revenge and retribution full of disturbing images, Cat Eyed Boy acts as a trickster, saving the innocent and helping the wicked receive the punishment that fate metes out. The first volume contains four stories and the first part of a fifth and longer story. CAT EYED BOY was created by Kazuo Umezu, the undisputed master of Japanese horror manga and creator of the critically acclaimed DRIFTING CLASSROOM (also published by VIZ Media). Cat Eyed Boy offers up a concoction of dark vignettes dripping with the macabre and the absurd.
—