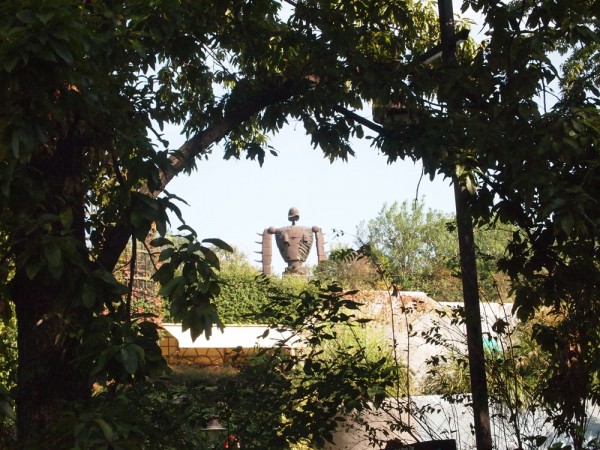 It's been over a year since my last Japan Travelogue, and that was from 2010. I've been to Japan three times since then, and taken thousands of photos during that time. My busy life (the reason I've been three times…) has kept me from updating as much as I'd like, and while I can't promise that's going to change any time soon, I've got about an hour right now (at 3am on Friday night) and I figured, what the heck!
Two things before we dive in.
1. Sincerely, the Ghibli Museum is a wonderful, surprising, lovely space, and if you plan on going don't read this post. Experience it for yourself.
2. I've actually already blogged about the Ghibli Museum before, following my 2007 trip. You can see that one–which is much more in-depth–at http://comics212.net/2007/12/12/japan-2007-mitaka-ghibli-museum/.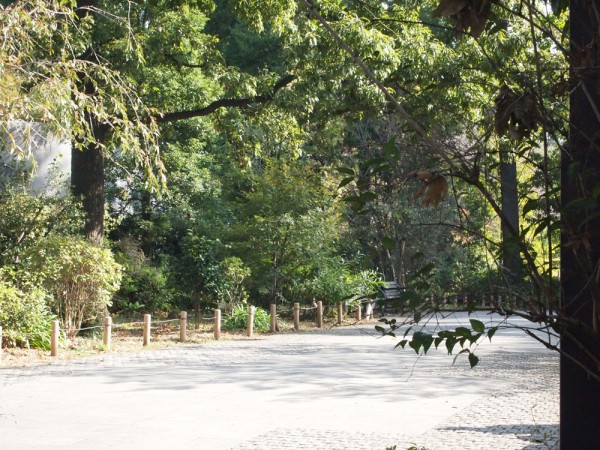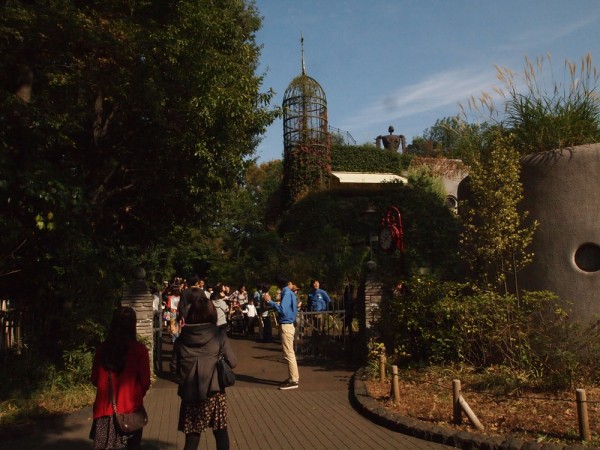 The Ghibli Museum
Mitaka (just west of Tokyo), Japan
Website: http://www.ghibli-museum.jp/en/
Adjacent to a huge and lovely park, and specifically designed to blend into the surrounding parkland and neighbourhood, The Ghibli Museum sits as a wondrous and somewhat understated tribute to the genius of Animator Hayao Miyzaki. It is, in effect, the opposite of Walt Disney's 'World' and 'Land", a themed attraction in observance of a particular animator's creativity, but one the discourages abandon in favour of consideration, appreciation, and harmony. It's as perfectly integrated into the fabric, the seemingly shared world of Miyazaki's works, as any of his films.
I've been 3 times and I'd go back any time anyone asked me. I'm planning a trip in November 2012, and I'll be going then as well.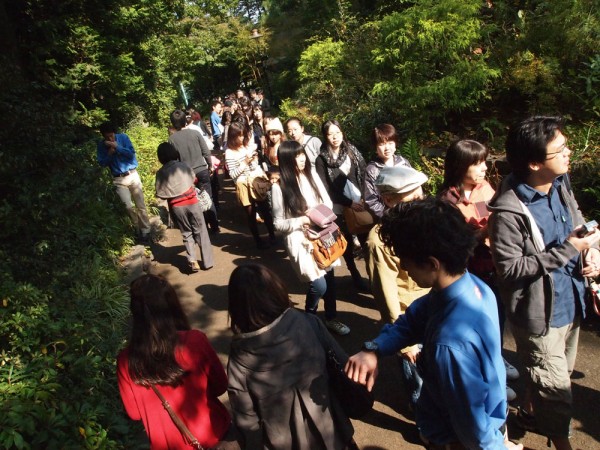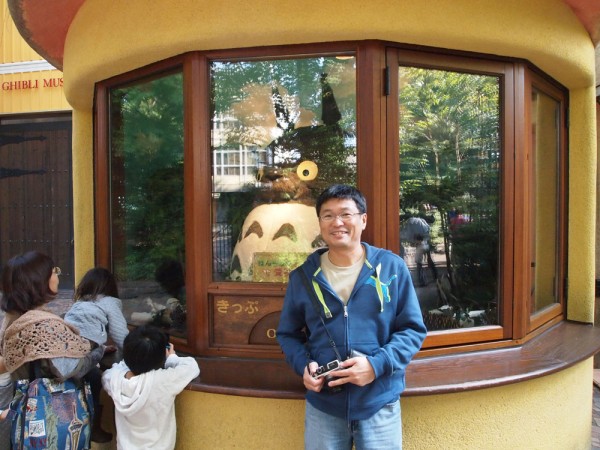 When my friend Kimi (pictured) and I arrived, it was a warm autumn morning  just before the museum opened for the day and the line of folks waiting to get in was formidable! Like many attractions in Japan, The Ghibli Museum is on a timed-admittance policy, where your ticket (which must be purchased in advance) says not just what day you can visit, but what time you can enter as well. This is to keep the swell of the crowds manageable, but since they never kick anyone out, the earlier in the day you go the easier it will be to get around and see things, and the more fun you're likely to have.
Fun fact: If you buy your ticket from overseas, there's no timed admission! Just show up whenever!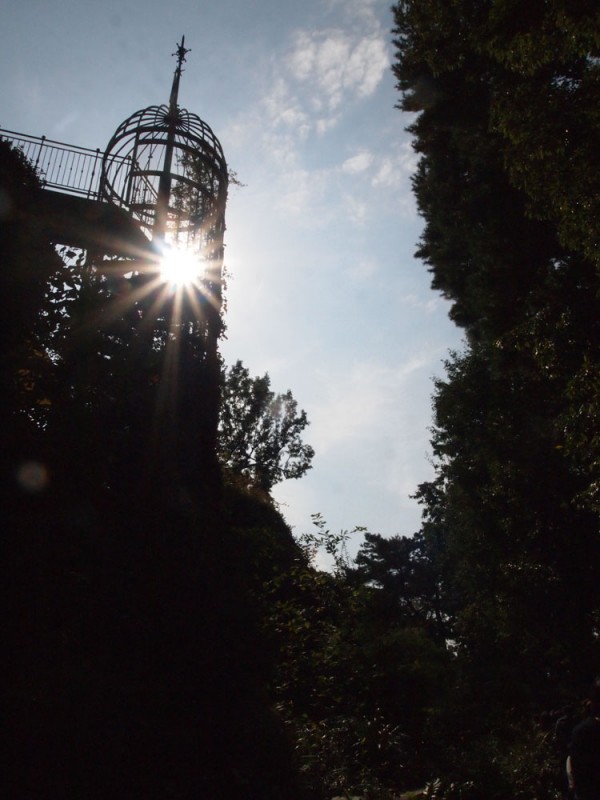 Kimi is from Hokkaido, Sapporo specifically, and I met him a few years back on my first visit to the city. He's an interesting guy, traveling all the time, and was willing to come down to Tokyo to meet me on my trip. He's actually a bit of a closet nerd too, so we get along great. He'd never been to The Ghibli Museum before and his enthusiasm was pretty infectious. 🙂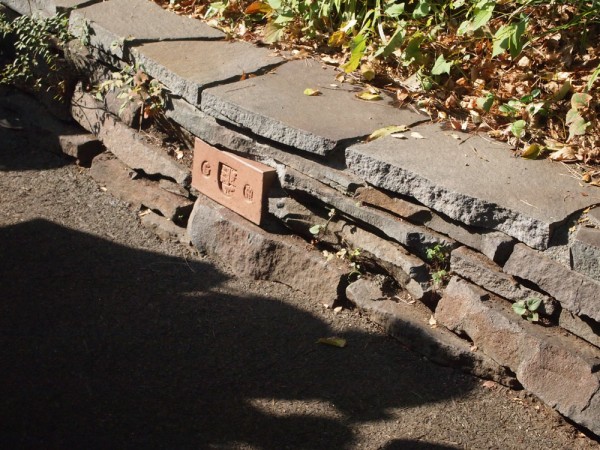 There are a lot of lovely little details like this to discover on your trip.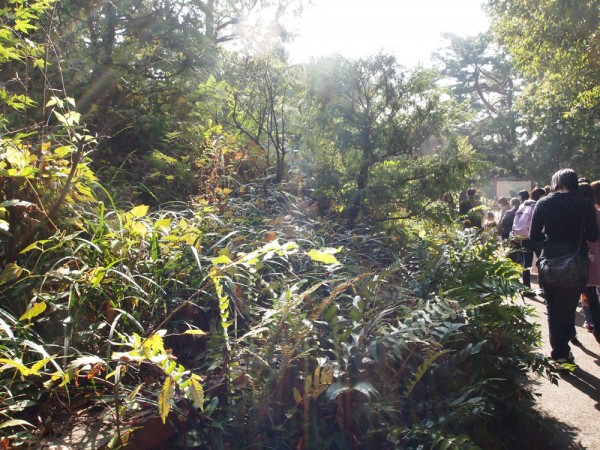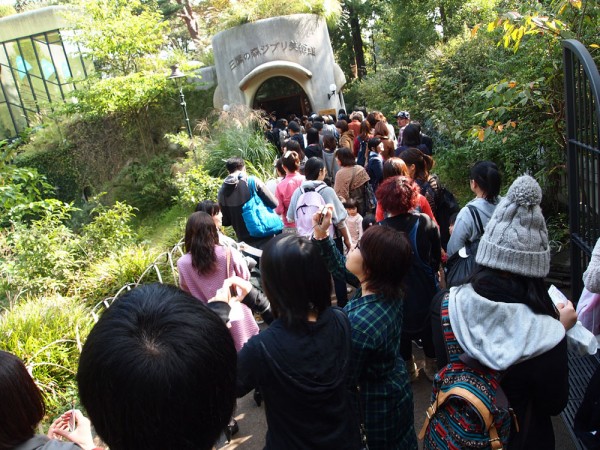 Tickets in hand, we approach the entrance archway.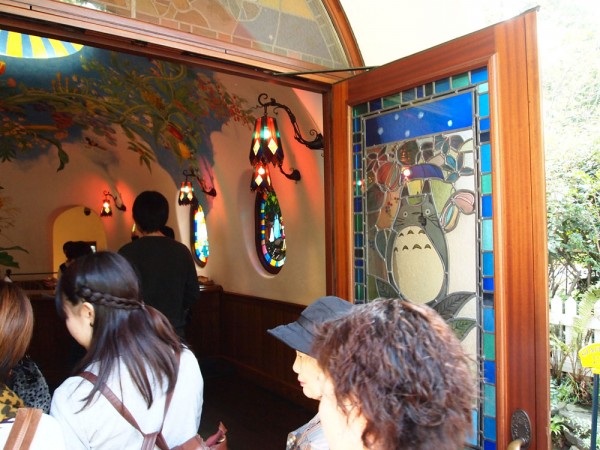 The Ghibli Museum has a very strict rule about photography, where you're not allowed to snap any photos inside the building, but you can take as many as you like outside of it. Or as they put it on the Museum's web page:
*Photography and video recording are not allowed inside the Museum.

-The Ghibli Museum is a portal to a storybook world. As the main character in a story, we ask that you experience the Museum space with your own eyes and senses, instead of through a camera's viewfinder. We ask that you make what you experienced in the Museum the special memory that you take home with you.
The first few times I visited the museum my opinion of this ranged from contemptuous to simply disdainful, but having experienced so many attractions in Japan and elsewhere through other people's viewfinders, for example going to the Moma and having there be a crowd of people 10-deep taking pictures of "Starry Night" with their cameraphone, I think maybe I appreciate this policy now…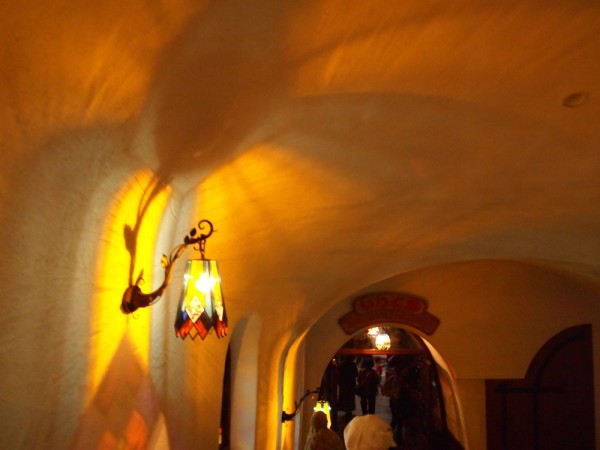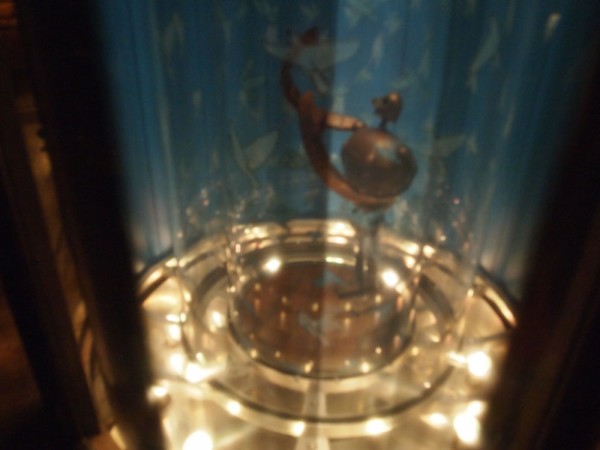 Which isn't to say that I didn't try to sneak a few photos. 😉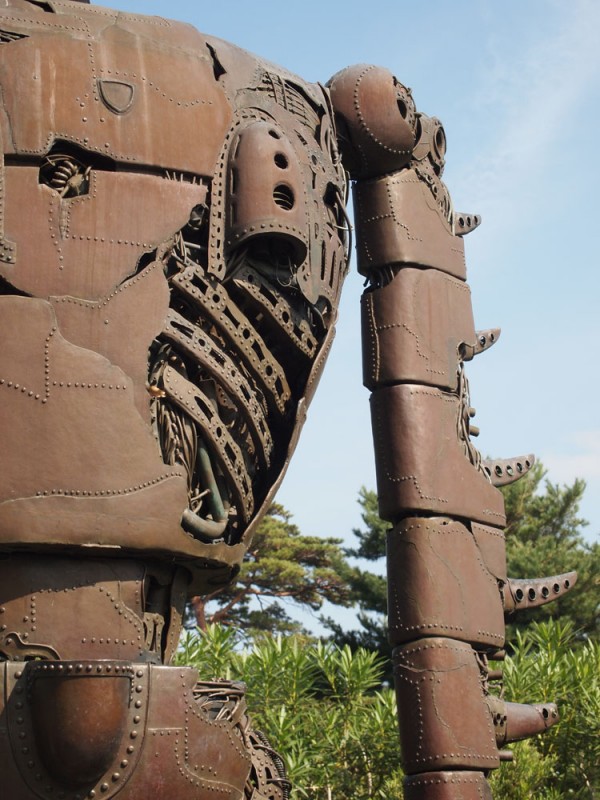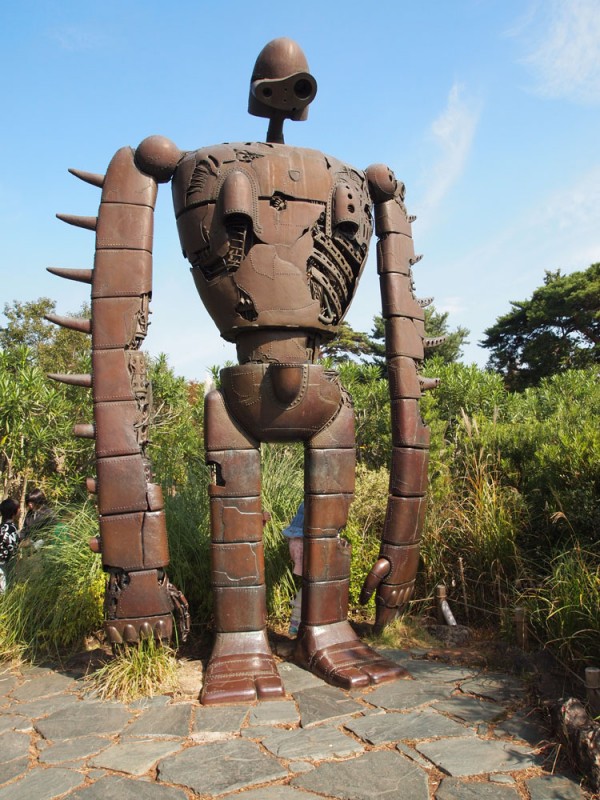 Back outside and on the roof of the building, we see one of the most amazing pieces of the museum, the Robot Soldier from Lupin: Castle in the Sky (one of the cubes is there too). It's just perfect. I hope if we ever get robots, they're Miyzaki robots.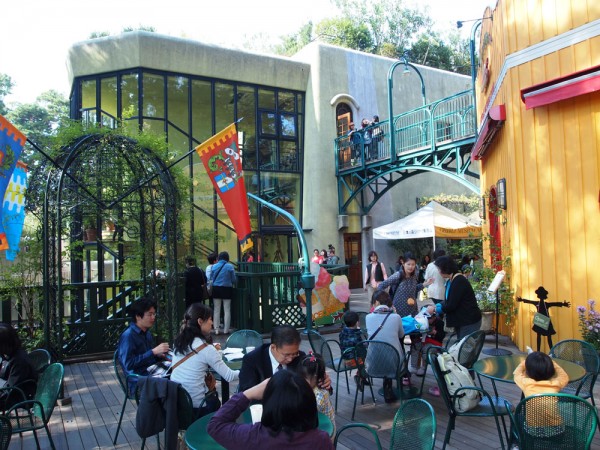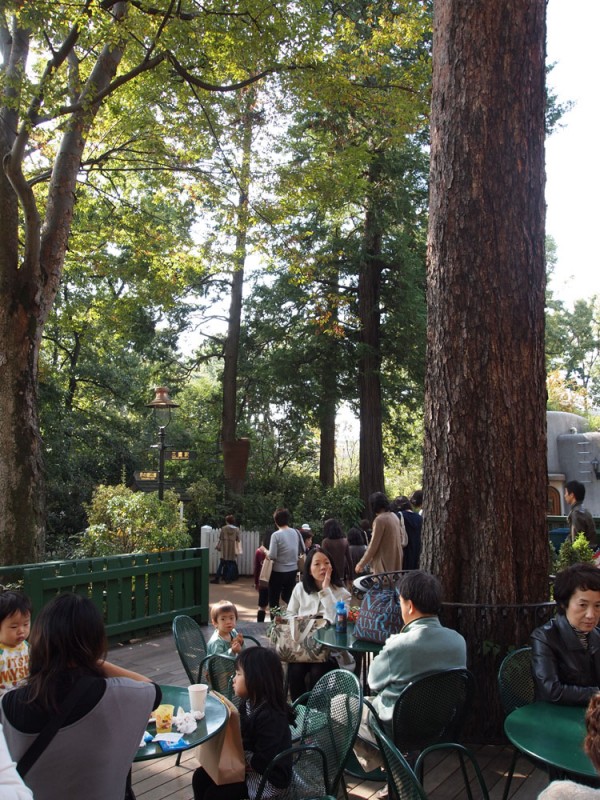 Wrapping around the back half of the museum (not visible from the front road) is a large deck/patio, a gorgeous outdoor space amongst the trees and looking onto the park. It's an additional exit from the museum, if you've decided your visit has come to an end, but it's also a lovely place to sit and rest, and maybe grab a hot dog, ice cream, or beer.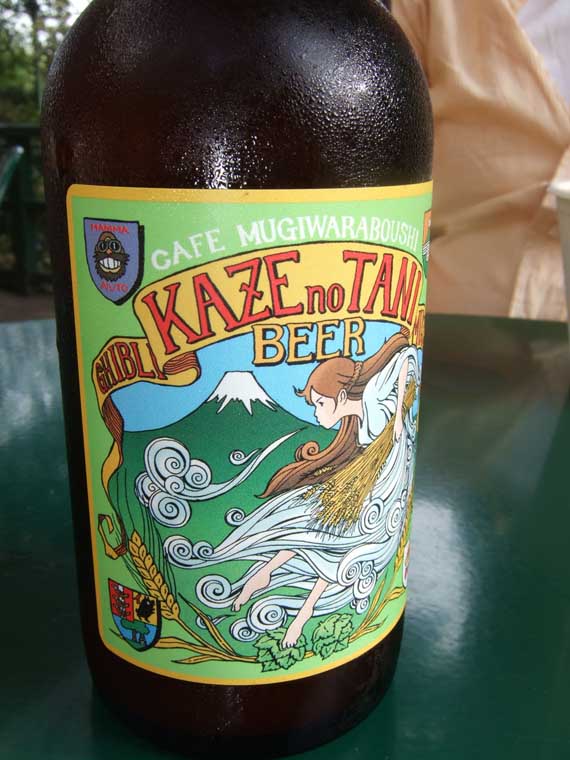 Nausicaa beer. Er, rather, "Valley of the Wind" Beer. Recommended. 🙂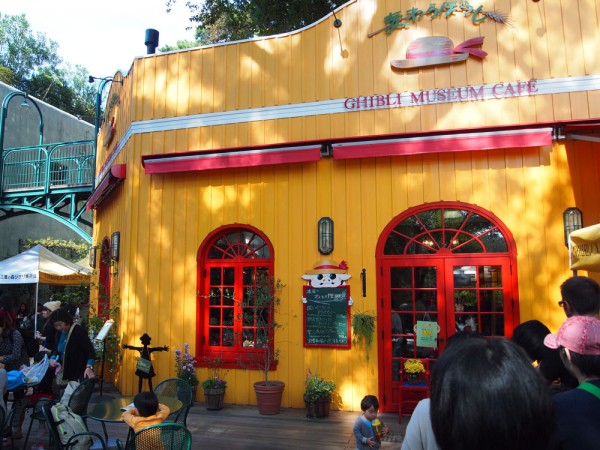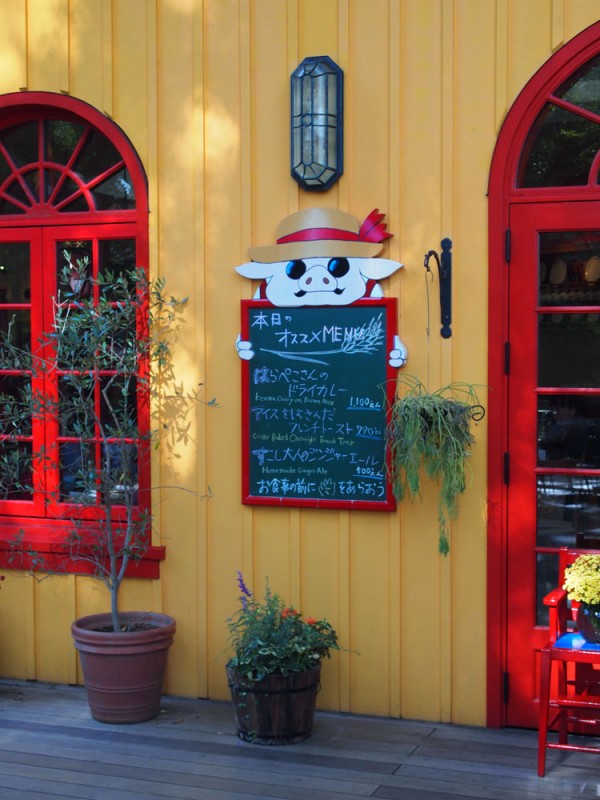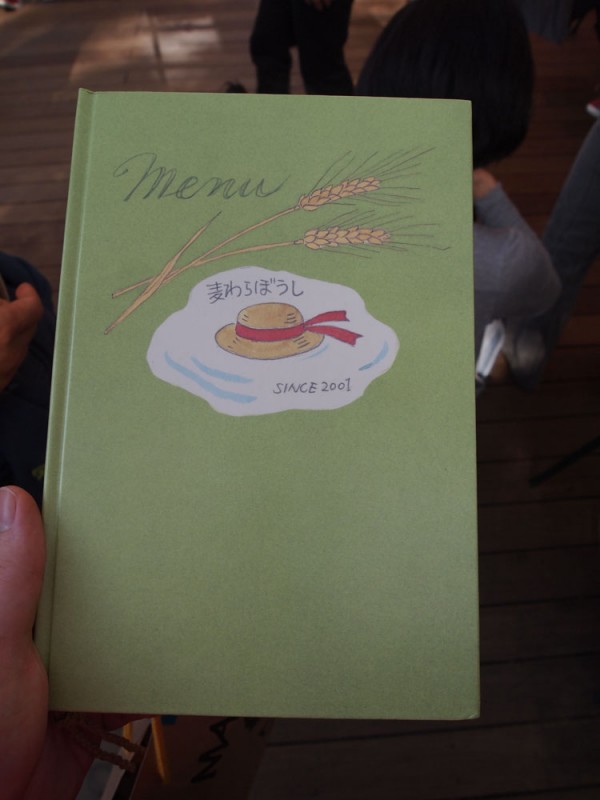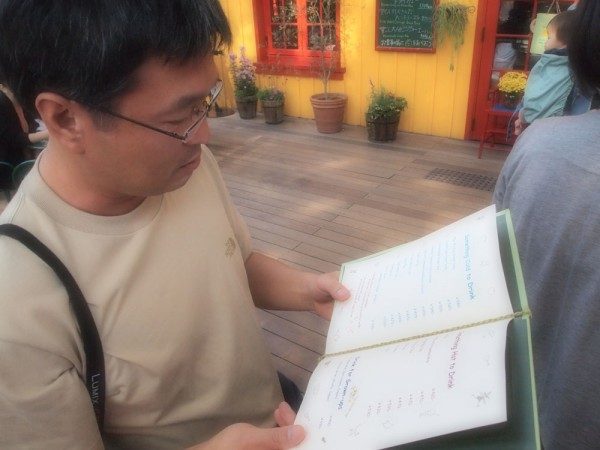 The deck is also where you can enter The Straw Hat Cafe. This is different than the little food-service window serving snacks, this is a full-service, sit-down restaurant that there is always (in my visits) a 40 person line for. But Kimi didn't travel down from Sapporo to not go to the cafe, and so we got in that line.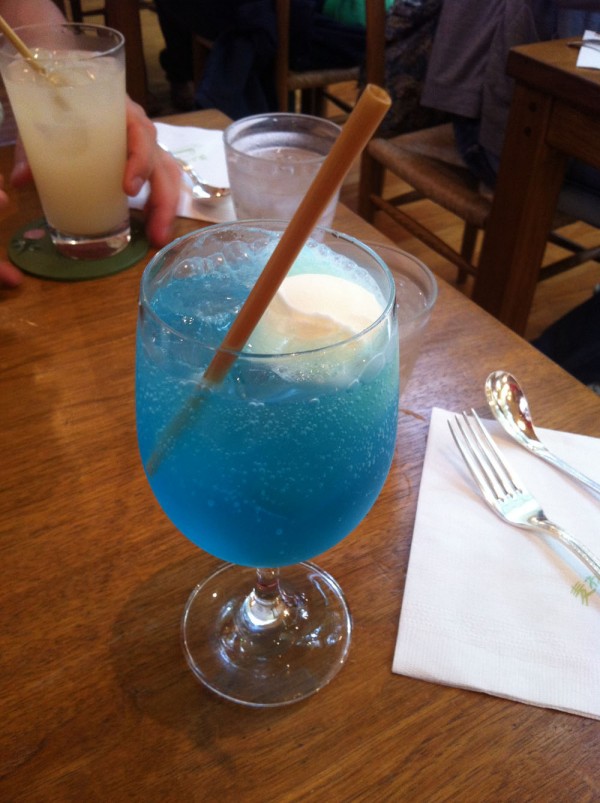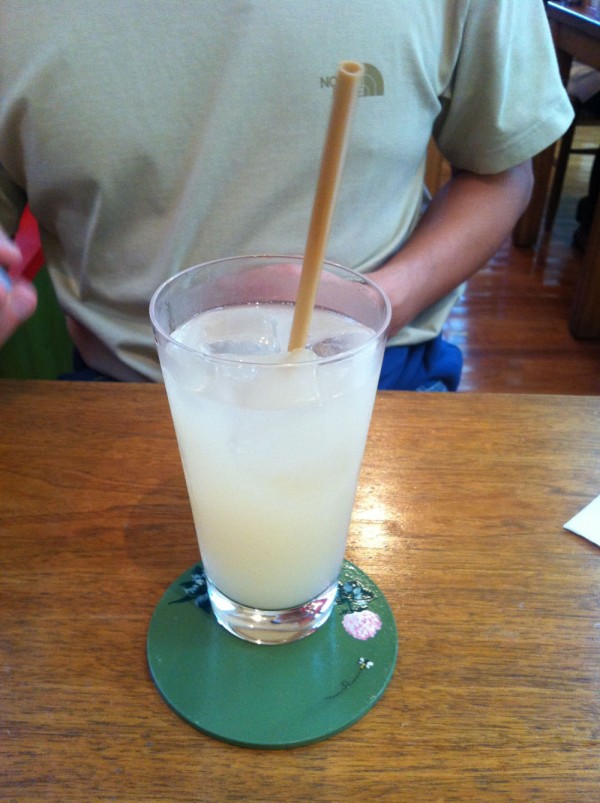 I got some sort of blueberry pop with ice cream in it (delicious) and Kimi got, I believe, home-made ginger ale. Both were excellent! Oh, and? Real straws made of straw.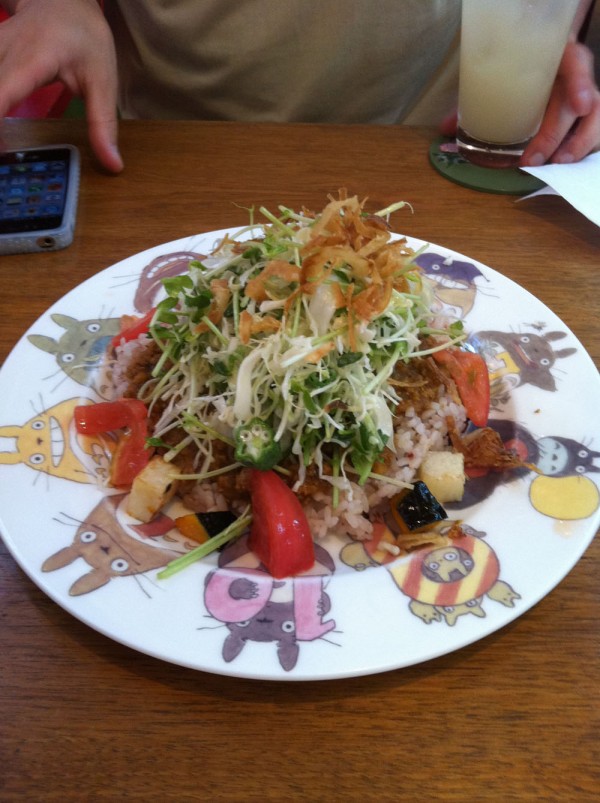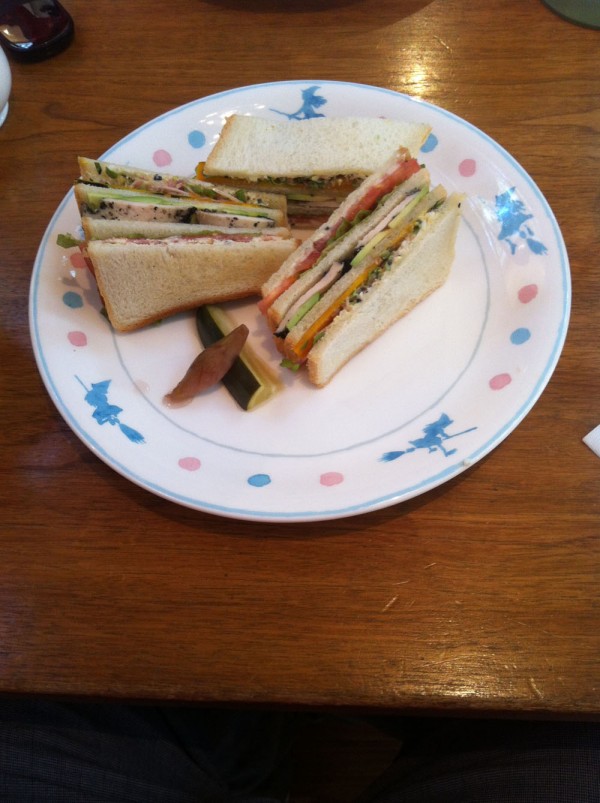 From the website:
The Cafe serves both cold and hot meals, snacks and desserts. The menu is simple and the variety is limited, but almost everything comes from organic farms, is very fresh and nutritious, and we cook them with loving care and patience. We specially recommend the jumbo fried pork cutlet sandwich, the fruit sandwich, and the strawberry short cake.
Kimi had some sort of curry vegetable/rice dish that was delicious, and they were sold out of the pork cutlet sandwich that day, and so I ordered a chicken club. This is a chicken club, perhaps the most immaculately prepared I have ever had, or ever will have. It had avocado too. It was pretty seriously delicious.
Oh, and the dishes! The food is served on Ghibli-themed dishes, which are, conveniently, available for sale in the gift shop. 🙂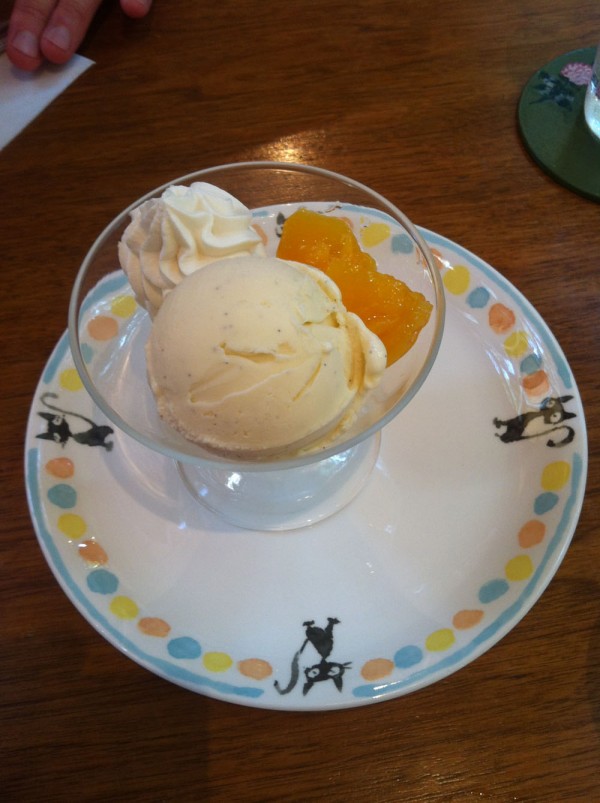 I'm not much of a dessert person, but after how good my sandwich and drink were, I had to see what they'd do with it. Kimi got vanilla ice cream with some sort of compote, and I got strawberry shortcake, that again, was immaculate and light and airy and delicious. Gigi the cat on my plate probably helped make it even more delicious.
Hi Kimi!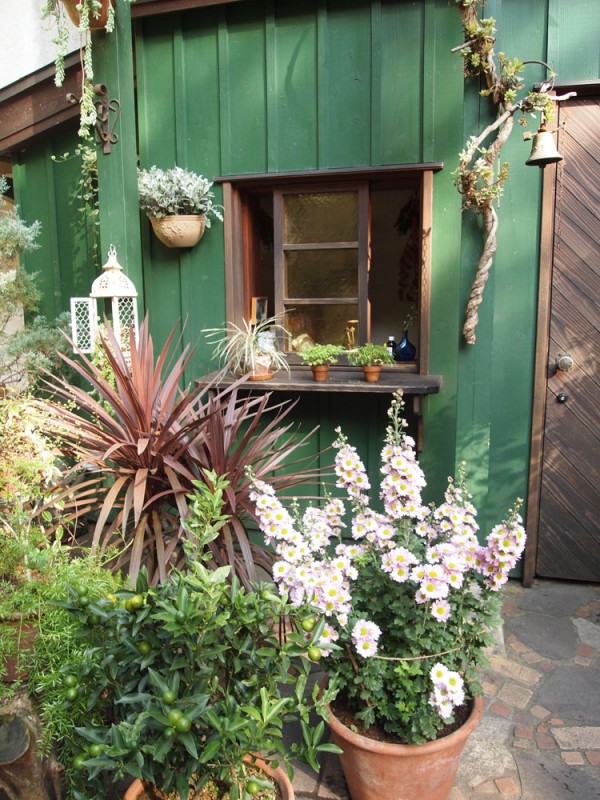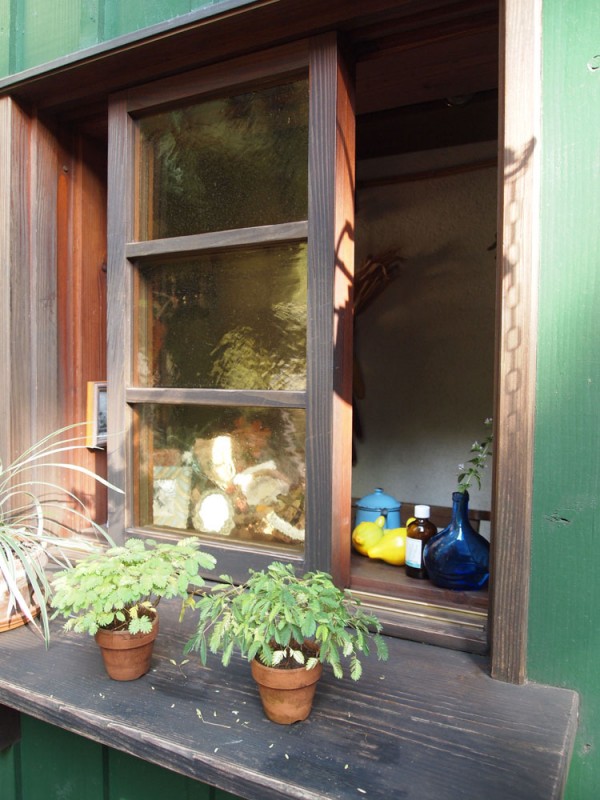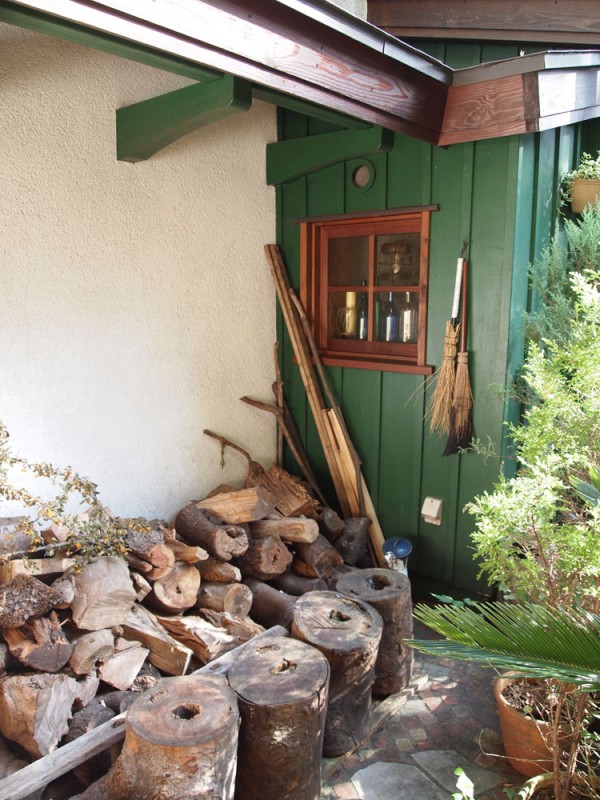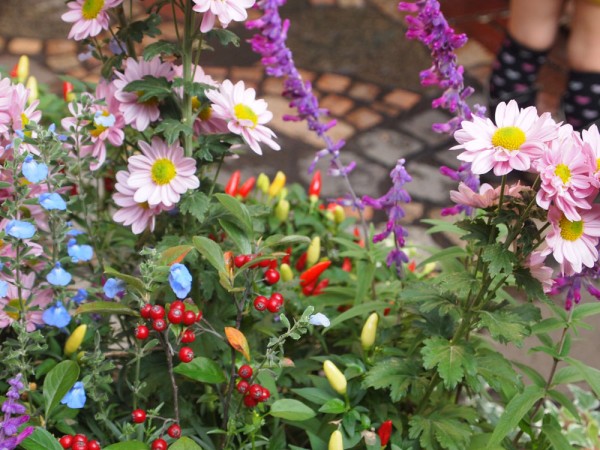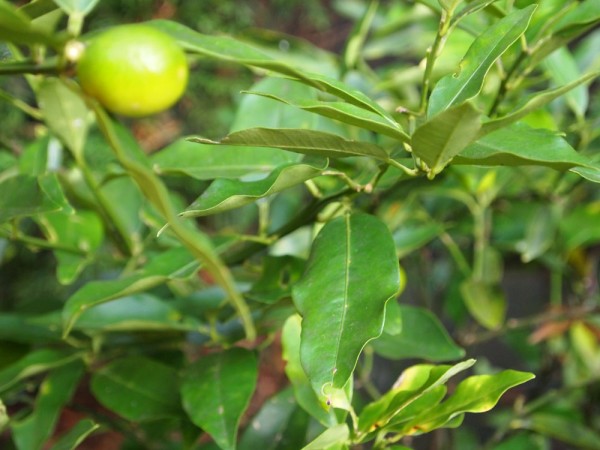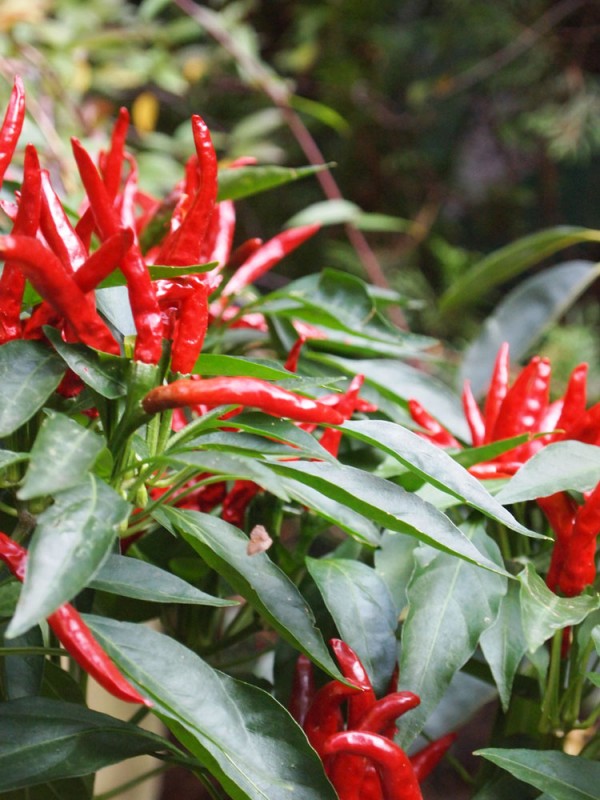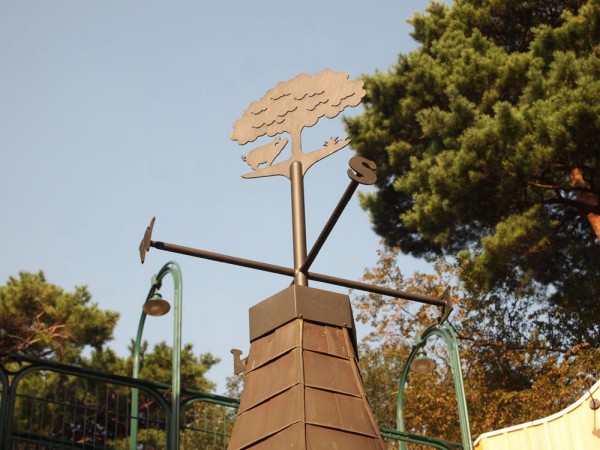 The outdoor spaces are fascinating and detailed and beautifully appointed, and the interiors I would say are even moreso. It really is wonderful just being here.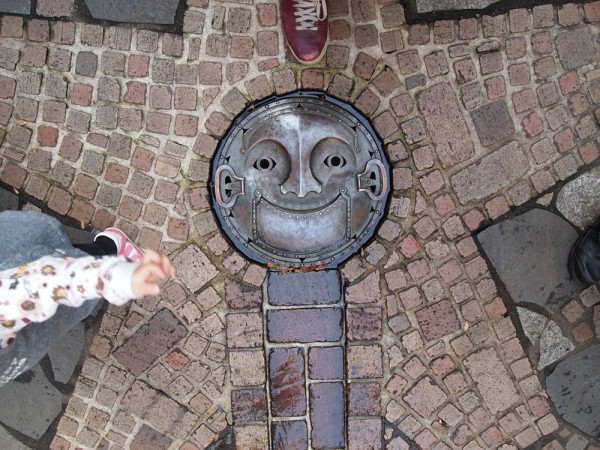 So that was my 2011 trip to The Ghibli Museum. I'm sure my 2012 (and 2013, 2014, 2015…) visit will be just as enjoyable. I'll see if I can find a few more things to take photos of for you. 🙂
– Chris
BONUS: As I was digging through my archives for this post, I realized I never posted my photos from the 2009 trip to Ghibli. My husband Andrew and I went on my birthday in July of that year, with my friends Dave & Kiko, and their kids Noa and Hana. Here's the photos from that trip that don't duplicate what's above too badly. 🙂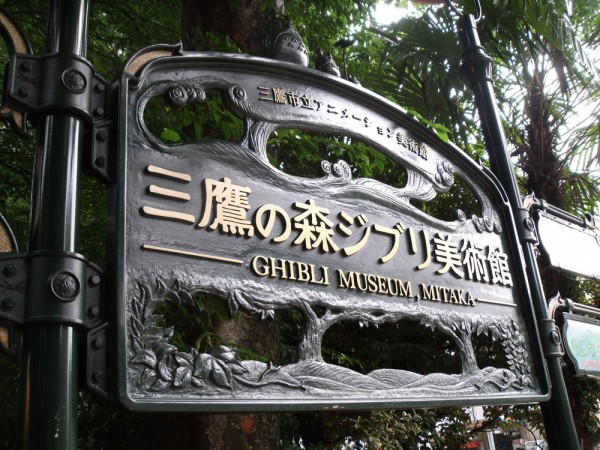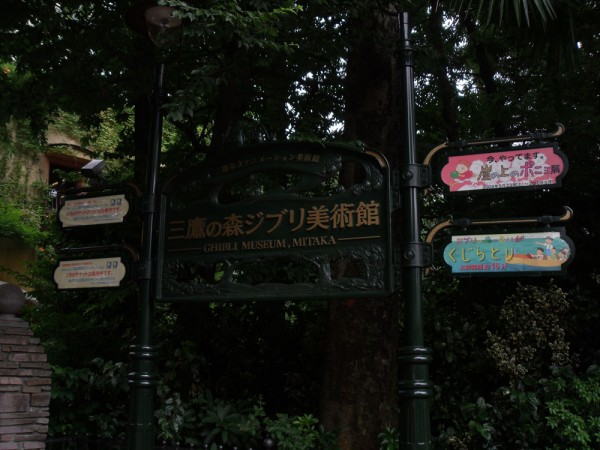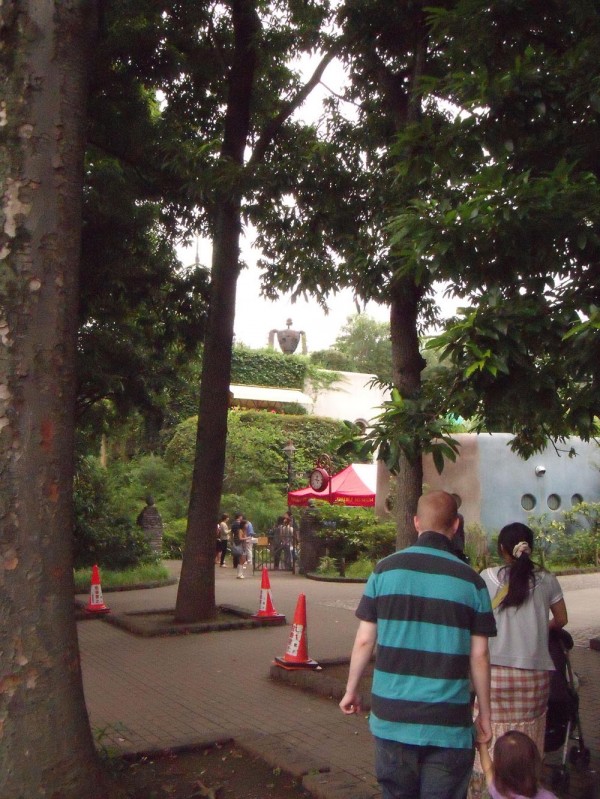 David, Kiko, and Hana.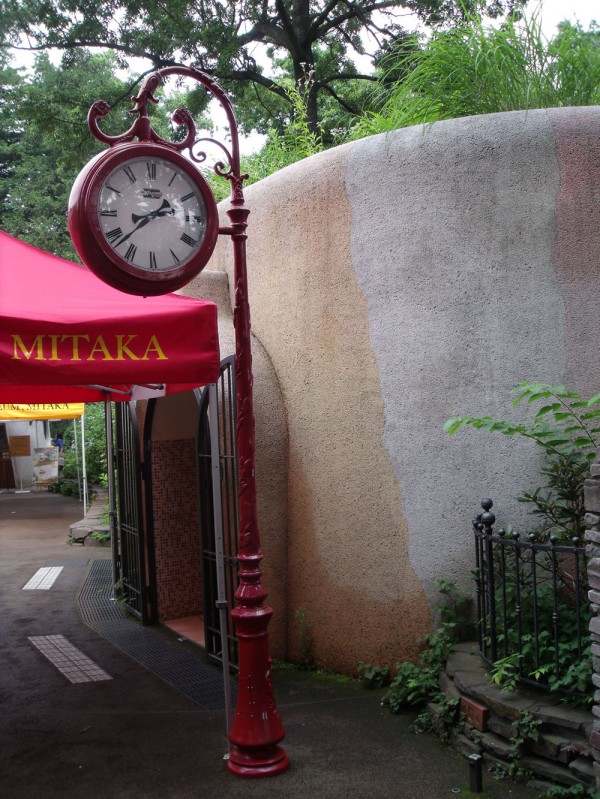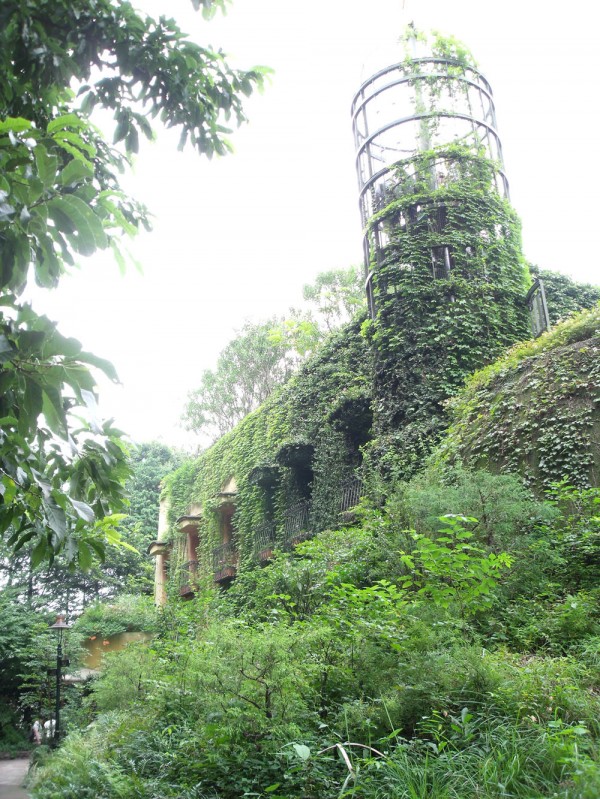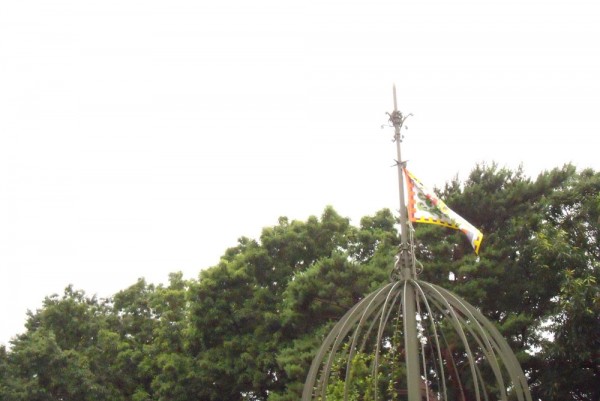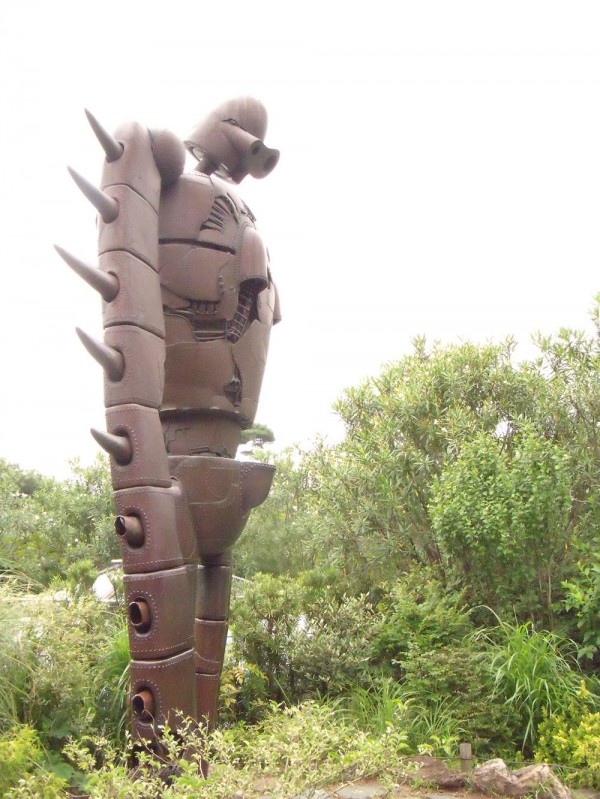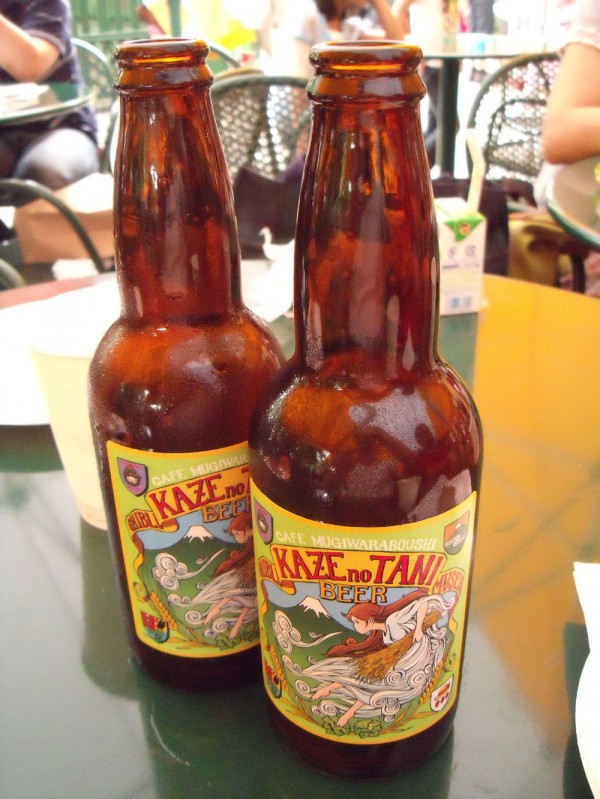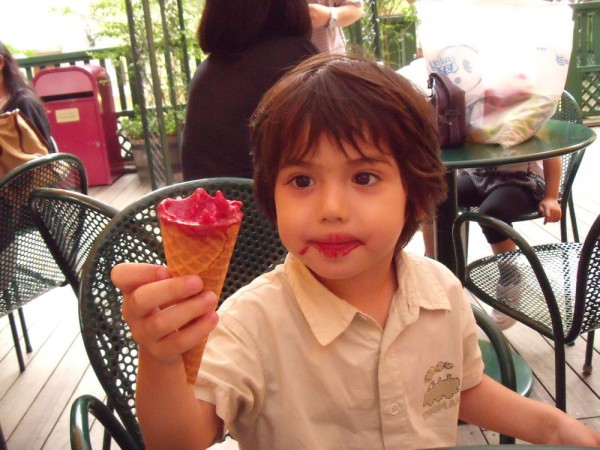 Noa really liked the Ice Cream.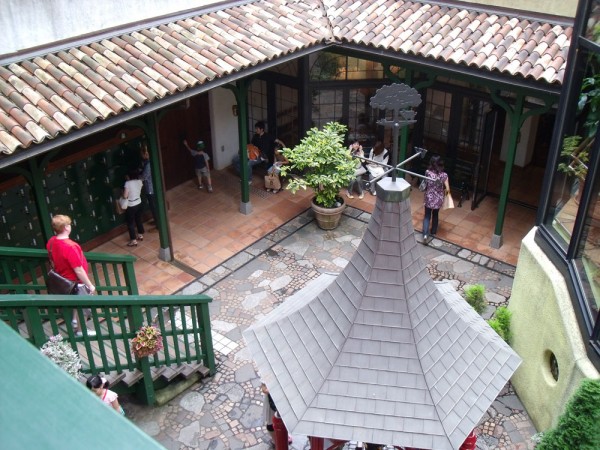 Representing TCAF in Tokyo. 😉
Thanks for reading!
– Chris