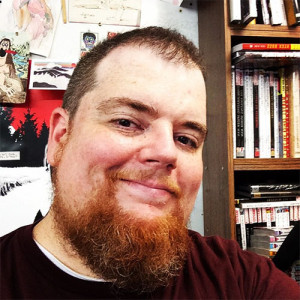 Hello! I am happy to say that I will once again be attending Comic-Con International: San Diego this year. I'll mostly be stationed at the Drawn & Quarterly Booth, #1629, as the good folks there have given my erstwhile employer The Beguiling a small corner from which to sell a gorgeous array of original comics artwork. I'll be helping Peter out there on and off through all five days of the show. If you want to say hello that's not a bad place to look for me. You can also tweet me @comics212 to see what's up.
I'm also happy to say that I have a very full panel and programming schedule this year, as I'll be participating in or moderating 5 different programs at the big show. Every panel is very different from the other too, which is great. It'll be a busy show. Here's a quick run-down:
Friday, July 10th
Hopey, Julio, Skim, Oafs, and beyond,
Friday, 7/10/15, 1:00p.m. – 2:00p.m., Room: 28DE 
Emerging from the undergrounds and into the alt-comix of the 1980s, queer characters and voices have always been loud and proud in alternative and indie comics. Gilbert Hernandez and Jaime Hernandez were at the forefront of queer characters' visibility with their groundbreaking and award-winning comic book series LOVE AND ROCKETS, featuring brilliant characters like Hopey, Maggie, Israel, and Julio. Contemporary authors Mariko Tamaki and Ed Luce have contributed new queer icons in their books SKIM and WUVABLE OAF. Join all four creators and moderator Christopher Butcher (Comics212.net, Toronto Comic Arts Festival) for a discussion of the history of queer character visibility in alt and indie comics.
How to Survive Conventions as an Indie Creator
Friday, 7/10/15, 8:30p.m. – 9:30p.m. Room: 8
Calling all artists, small presses, and makers: Are you interested in or currently touring comics and pop culture conventions? Christopher Butcher (Toronto Comic Arts Festival) moderates a panel of experienced exhibitors Daniel Davis (Steam Crow, Booth Bastards), Shing Yin Khor (Sawdust Press), Paul Roman Martinez (The 19XX), and Geoffrey Golden and Amanda Meadows (The Devastator) to discuss making a full convention calendar work alongside a heavy production calendar. They'll also answer questions raised by the Comics Beat + The Devastator 2014 Convention Survey –– what should creators expect from conventions and how can we make the most of them?
Saturday, July 11th
Kids Comics Summit
Saturday, 7/11/15, 11:00am – 12:00pm. San Diego Central Public Library – Shelley Special Events Suite

What's the state of the children's comics industry?  Publishers talk about their publishing programs; discussing how kids comics have changed in the past decade and how they'll change more in the decade to come. A conversation with Alex Segura (Archie Comics), Filip Sablik (Boom), Kuo-Yu Liang (Diamond), Gina Gagliano (First Second), Sven Larsen (Papercutz), and David Saylor (Scholastic). Moderated by Christopher Butcher (Toronto Comics Art Festival).
Best and Worst Manga of 2015
Saturday, 7/11/15, 7:00p.m. – 8:00p.m., Room: 23ABC

I don't have the official description for this one, but myself, Brigid Alverson,  David Brothers, Eva Volin, and moderator Deb Aoki are once again participating in an hour of chaotic fun, as we run down our choices for some of the best and worst manga of the year. It's gonna be fun, and it's always a packed house!
Sunday, July 12th
Nickelodeon Returns to Comics!
Sunday, 7/12/15, 12:30 p.m. – 1:30 p.m. Room 8
Eric Esquivel (writer, Sanjay & Craig), Sam Spina (artist, Sanjay & Craig) and Jim Salicrup (editor-in-chief of Papercutz) plus special guests give you an inside look at how Nickelodeon's hit properties Sanjay & Craig, Breadwinners and Harvey Beaks are being turned into Papercutz Graphic Novels. Featuring the editors, writers and artists who make comics out of these awesome shows! Moderated by Christopher Butcher (The Beguiling, Toronto Comic Arts Festival).
—
And that's it for now… I think. I'm always terrified that I've agreed to be on a panel and then forgotten about it completely. Heh. Anyway, I really am looking forward to Comic-Con again this year, as even the years where I have a miserable time are also years where amazing things happen. It's a neat show that way.
Cheers,
– Christopher