The following is a list of books scheduled to ship to The Beguiling Books & Art in Toronto next week. This doesn't mean they're shipping to every store, but it's probably at least worth asking about if these books don't show up in your local shoppe.
…finally, a big week for comics. It seems like the last couple of weeks saw a lot of 'oddball' titles that made our subscribers happy, but very few of the broad-ranging, broad-interest titles that drive customers into the store. What are those titles? Well, because of the handy-dandy 'read more' function on WordPress, I'm going to put the list as a whole behind a cut and just list my picks for the week. Lemmie know what you think of the format…
Chris's Picks of the Week:
NOV063549Â CALVARIO HILLS #1Â 7.95
NOV063560Â REFLECTIONS #2Â 7.95
NOV063562Â THE END #1Â 7.95
The new IGNATZ books are shipping this week, for reals. Fantagraphics is always a little eager to announce their book releases, counting "it's in stores" as "It's in our store, Diamond will get it 2-4 weeks from now." It's a little frustrating explaining this to our customers, but I can understand their enthusiasm: there's no line of books out right now as consistantly attractive both aesthetically and authorially as the Ignatz line. By no means is every book a success, but I certainly enjoy the successes a great deal. This selection of books features the debut titles from American Anders Nilsen and Spanish creator Marti, and the second installment of Italian Marco Corona's Reflections. Cool beans.
NOV062292Â DAREDEVIL #93Â 2.99
OCT060273Â EX MACHINA #26 Â 2.99
SEP061832Â WALKING DEAD #34 Â 2.99
A bunch of ongoing genre comics that I enjoy reading, though primarily in trade paperback (or in hardcover as Walking Dead goes…). Still, if I didn't have the luxury of waiting for the collection, these are three titles I'd be picking up every week thanks to the visceral and immediate satisfaction they provide… I guess it's no surprise that Brubaker, Vaughan, and Kirkman are have die-hard fans; they write comics that people want to read, not feel that they have to read because they tie into 300 other titles…
NOV063327Â GARTH ENNIS CHRONICLES OF WORMWOOD #1 (OF 6) Â 3.99
I'll give this a shot, it feels like more Garth Ennis Hellblazer, which isn't necessarily a bad thing.
NOV060011Â USAGI YOJIMBO #100 (NOTE PRICE)Â 3.50
I just wanted to take the opportunity to once again commend Dark Horse for bringing these trade paperbacks back into print to celebrate the anniversary of this great series. It makes this issue considerably less shameful than just a few short months ago. Congrats to Stan Sakai on an amazing run!
JUN063099Â BEASTS HCÂ 28.95
Well, the Fanta blog has been talking up this collection of illustrations by top artists for so long that I'm genuinely curious to see if it can live up to the hype. Looking at the list of participants, it's not hard to imagine that it'll be excellent. For the record, that includes: Craig Thompson, Souther Salazar, Jeff Soto, Glenn Barr, Dave Cooper, Tim Biskup, Seonna Hong, Anders Nilsen, Art Chantry, Brian Chippendale, Brian Ralph, Bwana Spoons, Colleen Coover, Jason Miles, Jesse LeDoux, Johnny Ryan, Jordan Crane, Keith Shore, Kevin Scalzo, Marc Bell, Martin Cendreda, Mat Brinkman, R. Kikuo Johnson, Richard Sala, Sammy Harkham, Stan Sakai, S. Britt, Steven Weissman, Ted Jouflas, Tom Gauld (and many more…).
OCT060288Â DOOM PATROL VOL 5 MAGIC BUS TP Â 19.99
NOV060237Â SEVEN SOLDIERS OF VICTORY VOL 4 TP Â 14.99
You know Grant Morrison is cursed when even his trade paperbacks are delayed. Poor guy. I hope 2007 is much kinder to him. It's already going to be kind to us though, with the publication of this classic and acclaimed series, and the conclusion to the most interesting (and successful…) superhero project of 2006. It's all out in trade paperback now folks, no messing about. Make sure to pick it up!
NOV063235Â RED EYE BLACK EYE GN Â 19.95
Apparently this is a post-9/11 journal comic about rediscovering America, by Thor Jensen. I have so many conflicting ideas about what this could be like… I'm curious to read it though. It's apparently got a blurb from Perez Hilton of all people too. Just… wierd. Worth flipping through in the store I think.
NOV063863Â HEAVEN!! VOL 1 GN (OF 3)Â 9.99
This is the first of Tokyopop's "Direct Market Exclusive" titles… I'm curious if that affected sales at all. I know we're gonna do a little thing in store to help promote it and track the sales pretty closely, but… yeah. If you happen to be curious about it though… it sounds like stereotypical manga. Seriously, if I was going to describe popular manga to someone who had never heard of it, I'd say "Well, it's a bit like… a girl who can see and exorcise ghosts, right? The school punk saves her from getting hit by a truck, but ends up in a coma himself, and so she, and his disembodied spirit must defend his prone body from being possessed by this, that and the other local spirits. Unfortunately, she fails in her task, and an ancient playboy takes over the punk's body, leaving him to inhabit a pink stuffed monkey. Hilarity ensues."
I'm gonna get in trouble for this…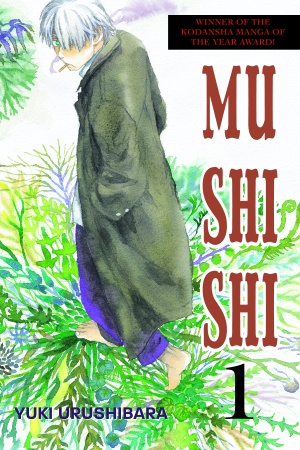 NOV063489Â MUSHISHI VOL 1 GN Â 12.95
I was really curious about this one myself, but then Jog went and saved me the trouble of wondering and wrote up an extensive, glowing review of this first volume.
"If it's really the author's wish that fabulous creatures do exist, her greatest success is in prompting the same feeling in her readers, despite the horror that understandably courses through the thoughtful author's world. She manipulates the senses, like a Mushi herself. She's got me hooked, and I'm not going to be the last." – Jog, http://joglikescomics.blogspot.com/
It sounds almost like manga-as-magical-realism, actually, which I can't really think of too many examples of in manga.
AUG060058Â SATSUMA GISHIDEN VOL 2 TPÂ 14.95
Apparently, Dark Horse and/or Diamond put this stupid fucking book on a shipping list before Christmas some time, and we're JUST getting it this week. Lots of angry, annoyed customers that don't understand how both Dark Horse and Diamond are both saying this book is out, BUT IT ISN'T AT THEIR LOCAL STORE. I only ordered like 15 of these things, but thanks for making me look like an asshole anyway guys, really appreciated.
So, alright, let's see if I can work the "more" feature. The complete shipping list is behind the cut…
– Chris
New Comics
NOV060201Â 52 WEEK #39Â 2.50
NOV061849Â ADVENTURES OF SPAWN #1 DIRECTORS CUT #1Â 5.99
NOV060291Â AMERICAN VIRGIN #11 Â 2.99
NOV062339Â ANITA BLAKE VH GUILTY PLEASURES #4 (OF 12)Â 2.99
NOV062282Â ANNIHILATION #6 (OF 6)Â 2.99
NOV060179Â BATMAN AND THE MAD MONK #6 (OF 6)Â 3.50
NOV060177Â BATMAN LEGENDS OF THE DARK KNIGHT #214Â 2.99
NOV062287Â BLACK PANTHER #24 CWÂ 2.99
NOV060206Â BLUE BEETLE #11Â 2.99
NOV063549Â CALVARIO HILLS #1Â 7.95
NOV060255Â CARTOON NETWORK BLOCK PARTY #29Â 2.25
NOV060211Â CREEPER #6 (OF 6)Â 2.99
NOV062292Â DAREDEVIL #93Â 2.99
NOV060268Â DEATHBLOW #3Â 2.99
NOV060269Â DEATHBLOW VAR ED #3Â 2.99
NOV063927Â DEVI #7Â 2.99
NOV061868Â ELEPHANTMEN #6Â 2.99
OCT060273Â EX MACHINA #26 Â 2.99
NOV063328Â GARTH ENNIS CHRON OF WORMWOODWRAPAROUND CVR #1 (OF 6) Â 3.99
NOV063327Â GARTH ENNIS CHRONICLES OF WORMWOOD #1 (OF 6) Â 3.99
NOV063329Â GARTH ENNIS CHRONICLES OF WORMWOOD INCV CVR #1 (OF 6) Â 5.40
NOV063276Â GD SOURCEBOOK OFF HANDBOOK TOTHE GD UNIVERSE #2Â 3.95
NOV062296Â GHOST RIDER FINALEÂ 3.99
NOV063274Â GOLD DIGGER #81Â 2.99
NOV063275Â GOLD DIGGER 15 YEAR ANNIVERSARY SPECIAL #2Â 4.95
NOV060228Â HAWKGIRL #60Â 2.99
AUG061803Â HUNTER KILLER ROCAFORT CVR A #11Â 2.99
AUG061804Â HUNTER KILLER ROCAFORT CVR B #11Â 2.99
SEP063460Â INFINITEENS #2 Â 3.50
NOV060216Â ION #10 (OF 12)Â 2.99
NOV060299Â JACK OF FABLES #7 Â 2.99
NOV060223Â JLA CLASSIFIED #33Â 2.99
NOV060227Â JSA CLASSIFIED #22Â 2.99
AUG062092Â KABUKI #8 Â 2.99
AUG062094Â KABUKI KENT WILLIAMS VAR #8 Â 2.99
NOV060253Â KRYPTO THE SUPER DOG #5 (OF 6)Â 2.25
NOV062269Â MARVEL SPOTLIGHT DARK TOWERÂ 2.99
NOV062308Â MS MARVEL SPECIALÂ 2.99
OCT061877Â NEGATIVE BURN #8 Â 5.99
NOV063280Â NINJA HIGH SCHOOL #146Â 2.99
OCT063381Â NODWICK #36Â 2.99
NOV061851Â PIECES FOR MOM A TALE OF THE UNDEAD (ONE SHOT) Â 3.99
NOV062342Â PTOLUS CITY BY THE SPIRE #4 (OF 6)Â 2.99
NOV063560Â REFLECTIONS #2Â 7.95
NOV063304Â SABRINA VOL 2 #82Â 2.25
NOV063667Â SCARFACE SCARRED FOR LIFE #2 Â 3.99
NOV063939Â SHONEN JUMP MAR 07 #51 Â 4.99
OCT063247Â SIMPSONS SUPER SPECTACULAR #4Â 2.99
NOV063935Â SNAKEWOMAN BLUE CVR #7Â 2.99
NOV063934Â SNAKEWOMAN RED CVR #7Â 2.99
SEP061830Â SPAWN #164Â 2.95
NOV060035Â STAR WARS KNIGHTS OF THE OLD REPUBLIC #13 Â 2.99
OCT063033Â STRANGERS IN PARADISE #87Â 2.99
OCT063565Â TALES OF TEENAGE MUTANT NINJATURTLES #30Â 3.25
NOV063756Â TALES OF TEENAGE MUTANT NINJATURTLES #31Â 3.25
NOV060247Â TEEN TITANS #43Â 2.99
NOV063562Â THE END #1Â 7.95
NOV063659Â TRANSFORMERS ANIMATED MOVIE ADAPTATION #4 (OF 4)Â 3.99
NOV062278Â ULTIMATE CIVIL WAR SPIDER-HAMCRISIS #1Â 2.99
NOV062270Â ULTIMATE FANTASTIC FOUR #38Â 2.99
NOV060249Â UNCLE SAM AND THE FREEDOM FIGHTERS #7 (OF 8)Â 2.99
NOV063583Â UNCLE SCROOGE #362 (NOTE PRICE)Â 7.50
NOV060011Â USAGI YOJIMBO #100 (NOTE PRICE)Â 3.50
OCT063032Â VAULT OF MICHAEL ALLRED #4 (OF 4)Â 6.99
SEP061832Â WALKING DEAD #34 Â 2.99
NOV063584Â WALT DISNEYS COMICS & STORIES #677 (NOTE PRICE)Â 7.50
NOV063800Â WASTELAND #6 Â 2.99
OCT061848Â WONDERLOST #1Â 5.99
NOV062332Â X-MEN #195Â 2.99New Magazines
SEP063707Â ILLUSTRATION MAGAZINE #18 Â 10.00
DEC063194Â WIZARD COMICS MAGAZINE CIVIL WAR THE END CVR #185 Â 5.99
DEC063196Â WIZARD COMICS MAGAZINE GHOST RIDER PHOTO CVR #185 Â 5.99
DEC063195Â WIZARD COMICS MAGAZINE HEROESPHOTO CVR #185 Â 5.99
New Books
APR063572Â ANDRU AND ESPOSITO PARTNERS FOR LIFE SC Â 29.99
NOV062359Â ASTONISHING X-MEN VOL 3 TORN TPÂ 14.99
OCT060162Â BATMAN SECRETS TPÂ 12.99
JUN063099Â BEASTS HCÂ 28.95
NOV062375Â CABLE DEADPOOL VOL 4 BOSOM BUDDIES TPÂ  (JAN062096)Â 14.99
DEC063563Â CHARLES BURNS LIBRARY VOL 2 BIG BABY SCÂ 16.95
NOV063696Â CHICANOS VOL 2 TPÂ 19.99
SEP061793Â COYOTE VOL 4 TPÂ 14.99
NOV063551Â CURIOUSLY SINISTER ART OF JIMFLORA GNÂ 34.95
NOV062369Â DEFENDERS INDEFENSIBLE TPÂ 13.99
OCT060288Â DOOM PATROL VOL 5 MAGIC BUS TP Â 19.99
NOV062377Â ESSENTIAL GHOST RIDER VOL 2 TPÂ 16.99
SEP063096Â FRANK MILLERS ROBOCOP TP (C: 0-0-2)Â 29.99
SEP063928Â FRANK PUPSHAW AND PUSHPAW IN LUTE STRINGÂ 5.69
NOV061858Â GEAR GNÂ 14.99
OCT063404Â GRAVE ROBBERS DAUGHTER GNÂ 9.95
SEP060025Â HELLBOY ANIMATED VOL 1 BLACK WEDDING TP Â 6.95
AUG061806Â HUNTER KILLER LTD ED HCÂ 19.99
OCT060196Â ION VOL 1 THE TORCHBEARER TPÂ 14.99
NOV062366Â IRON MAN EXTREMIS TPÂ 14.99
NOV062348Â MARVEL MASTERWORKS ATLAS ERA HEROES VOL 1 HC VAR ED 73Â 54.99
NOV062347Â MARVEL MASTERWORKS ATLAS ERA HEROES VOL 1 NEW ED HCÂ 54.99
NOV063846Â MR BIG GNÂ 9.99
DEC063866Â NORM SUNDAY COLLECTION VOL 1 TPÂ 14.95
OCT063412Â PIN-UP ART OF BILL WARD Â 19.95
NOV063235Â RED EYE BLACK EYE GN Â 19.95
DEC064155Â REVELATION X BOB APOCRYPHON REVISED ED Â 18.95
NOV060237Â SEVEN SOLDIERS OF VICTORY VOL4 TP Â 14.99
OCT060173Â SUPERMAN BACK IN ACTION TPÂ 14.99
NOV062343Â XIII TP Â 14.99
New Manga
NOV063883Â AI YORI AOSHI VOL 15 GN (OF 17) Â 9.99
NOV063484Â AIR GEAR VOL 3 GN Â 10.95
NOV063887Â BLOOD SUCKER LEGEND OF ZIPANGU VOL 3 GN (OF 9) Â 9.99
NOV063888Â BOYS BE VOL 12 GN (OF 20) Â 9.99
DEC063593Â CANTARELLA VOL 6 GNÂ 10.99
NOV063904Â CINDERELLA III CINEMANGA GNÂ 5.99
DEC063981Â CLAYMORE VOL 3 TP Â 7.99
DEC063982Â CLAYMORE VOL 4 TPÂ 7.99
DEC063594Â CROSSROAD VOL 6 GNÂ 10.99
NOV063890Â DRAGON KNIGHTS VOL 24 GN (OF 24)Â 9.99
NOV063891Â FAERIES LANDING VOL 15 GN (OF18)Â 9.99
NOV063485Â FREE COLLARS KINGDOM VOL 1 GN(OF 3) Â 10.95
NOV063981Â GOLGO 13 VOL 7 GNÂ  Â 9.99
NOV063907Â GORGEOUS CARAT VOL 4 GN (OF 4) Â 9.99
NOV063893Â GTO EARLY YEARS SHONAN JUNAI GUMI VOL 3 GN (OF 15) Â 12.99
NOV063486Â GURU GURU PON CHAN VOL 7 GNÂ 10.95
NOV063863Â HEAVEN VOL 1 GN (OF 3)Â 9.99
NOV063604Â HER MAJESTYS DOG VOL 3 GN Â 10.99
NOV063908Â JUNJO ROMANTICA VOL 2 GN (OF 7) Â 9.99
NOV063896Â KAMICHAMA KARIN VOL 6 GN (OF 7)Â 9.99
DEC063438Â KAMUI GN #6 Â 9.99
NOV063487Â KITCHEN PRINCESS VOL 1 GNÂ 10.95
NOV063905Â MEET THE ROBINSONS CINEMANGA GNÂ 5.99
NOV063489Â MUSHISHI VOL 1 GN Â 12.95
NOV063488Â NODAME CANTABILE VOL 8 GN Â 10.95
OCT060249Â PENGUIN REVOLUTION VOL 2 Â 9.99
NOV063490Â PICHI PICHI PITCH VOL 4 GNÂ 10.95
NOV063873Â PIXIE POP GOKKUN PUCHO VOL 1 GN (OF 3)Â 9.99
NOV063900Â QUEENS KNIGHT VOL 8 GN (OF 17)Â 9.99
NOV063902Â SAMURAI DEEPER KYO VOL 21 GN (OF 38) Â 9.99
AUG060058Â SATSUMA GISHIDEN VOL 2 TPÂ 14.95
NOV063491Â SUGAR SUGAR RUNE VOL 5 GNÂ 10.95
DEC063595Â TENSHI JA NAI (IM NO ANGEL) VOL 6 GN Â 10.99
NOV063492Â TSUBASA VOL 12 GNÂ 10.95
NOV063882Â WELCOME TO THE NHK VOL 2 GN (OF 5) Â 9.99
NOV063869Â WILD ADAPTER VOL 1 GN (OF 5) Â 9.99