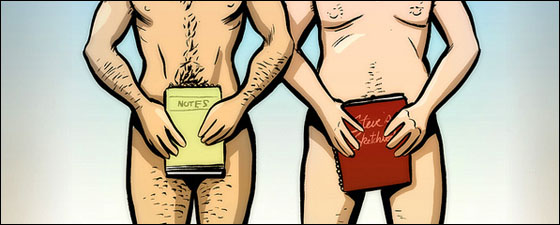 My friend Chip Zdarsky has moved from comics creation for the direct market to comics creation for the masses, as he chronicles his unique experiences in sequential format for The National Post (it is a newspaper, in Canada). This time Mr. Zdarsky joins The Post's star reporter Ben Kaplan and heads to a nudist resort. Yes, that's right, it's Chip Zdarsky's Nudist Resort Funnies. Both the comic and accompanying article are well worth a read.
Nude Dudes: Comic Strip Version – Newspaper Article Version
—
Meanwhile, Time Magazine is running an article on the guilty pleasures of famous authors. #1? Why it's Pulitzer Prize winner Junot Diaz talking about his love of Naoki Urasawa's MONSTER:
"Urasawa is a national treasure in Japan, and if you ain't afraid of picture books, you'll see why." – Junot Diaz, Time.com
Maybe there's some hope that adult manga fiction will cross over into the mainstream after all, eh?
– Christopher